I mentioned awhile back that I've reached the point where I feel like we have enough solid recipes on file that I don't need to be experimenting with new dishes for the majority of courses every week and that I was going to start focusing on one at a time. That sort of went by the wayside with vacation and the series of vacation inspiration dinners, but my plan is to really start approaching our menus that way. It means I can feel confident that four out of five of the dishes will be ones that I feel are representative of what we do and that we've had repeated good reaction from guests to them. And, I can put more time into making sure that the one dish I'm playing around with for the week is really the way I envision it. So, I'll likely be giving short shrift to four dishes each week – I'll still pop up the photos and say what we served, and where it makes sense link back to more detailed descriptions from past dinners, but the spotlight will be on "the new plate".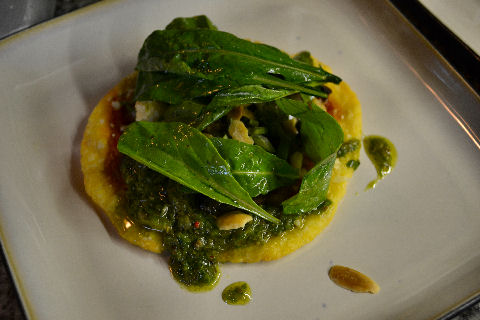 Galette: Polenta and manchego crust, sun-dried tomato and garlic puree, mushrooms sauteed with molasses and chili, toasted almonds, manchego cheese, arugula and chive salsa verde, arugula dressed with tomato vinegar.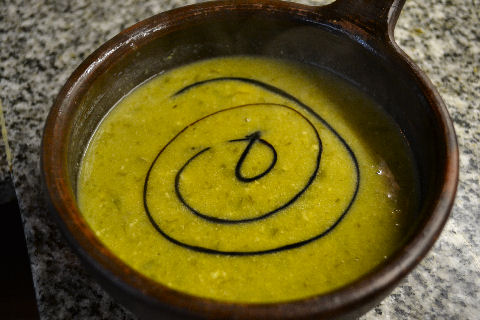 Timbuche – freshwater fish and cilantro soup.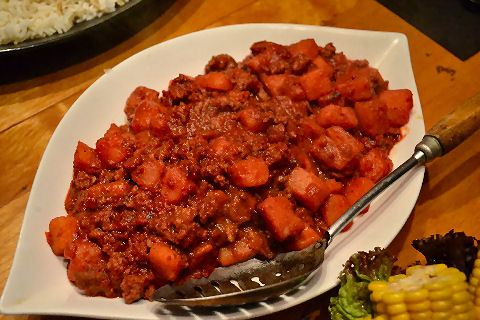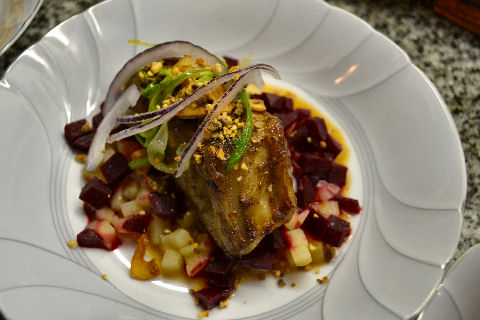 So, here's the dish. The first photo is of the classic dish from one of our recent classes on offer, puka picante, or "spicy red". As I described it then, "A traditional potato based dish from the Ayacucho area where the potatoes are first boiled and cut in cubes, then added to a flavorful meat stock with garlic, onions, red chilies, ground peanuts, and, beet juice – giving it a vivid red color. At the last minute some kind of sauteed or fried meat is added in or laid atop."
I've been playing with the potatoes and beets and gone through various iterations. I knew I wanted to start off with the idea of a potato risotto, and I didn't want to just infuse the whole thing with beet juice at the end as it would really have not been all that different from the original dish other than the size of the potato dice. My first iteration was to use the beet and chili caramel that I played with around a potato risotto a couple of months ago – and there's no question that approach worked, but it wasn't quite what I had in mind. In the end I decided that I wanted the beets to play a bigger role than just a drizzle or squirt on the plate. So I made two "risottos". First I made a basic bacon stock and then divided that into portions of roughly 1/3 and 2/3. I cooked some finely diced beets in the smaller amount. To the larger I added caramelized onions, garlic, and a healthy dose of rehydrated ají panca, the Peruvian dried red chilies, pureed that, strained it, and then cooked the potato dice risotto style in that. The potato risotto went down first in the bowl with a scoop of the beets scattered over the top for contrast.
For the meat, rather than deep-fried pork belly (chicharrón) as is traditional, I decided on spicy glazed pork ribs, basically bringing in an Asian element – a classic Hong Kong dish of ribs marinated in garlic, miso, spicy bean paste, rice wine, soy sauce, five spice, sugar and salt for the day and then broiled until cooked through and caramelized, flipping them and basting them with the marinade several times. Over the top a dusting of crushed, spiced peanuts, crispy fried garlic slices, fried threads of green onion, and thinly sliced red onion. Overall result, quite happy with the dish – perhaps some fine tuning next time around, but pretty much what I set out to produce.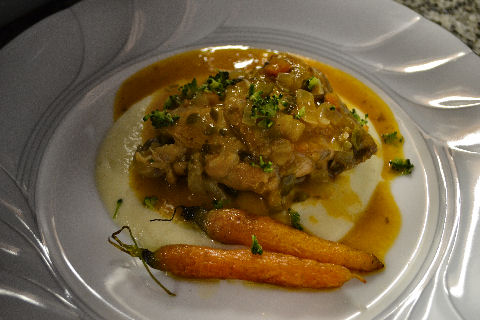 Chicken in "Piquant Sauce" of gherkins, capers, anchovy, garlic, wine vinegar, tomato paste and parsley, cauliflower puree, broccoli "couscous", and roasted baby carrots.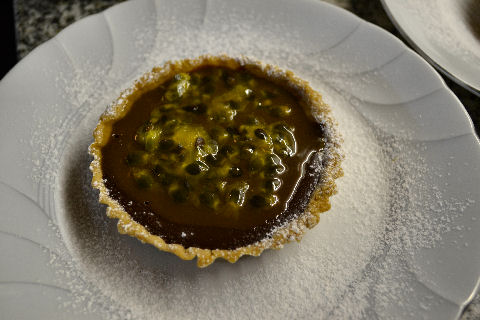 Espresso crust, chocolate lemon and mace ganache filling, passionfruit and bay leaf syrup, dusting of powdered sugar.