A foursome of mini-reviews playing through…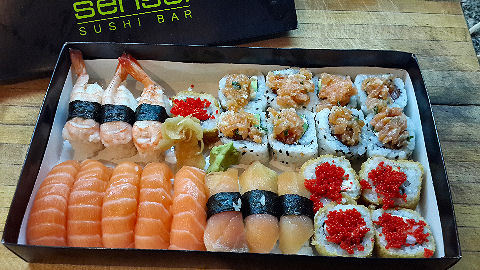 One of the first nights after getting back from La Paz I needed a sushi fix. A new branch of
Sensei Sushi
just opened up nearby at Arenales 2019, in a spot that was a short-lived mistake of a coffee house (their specialty was the infamous kopi luwak coffee, the stuff where the beans pass through the digestive tract of a civet – good coffee, I've tried it back in New York, but expensive stuff anywhere – they were charging nearly three times what it cost in New York, while claiming that they were offering a bargain compared to "other world capitols"). The menu on the Sensei website looks interesting, so I picked a few things, overdid it as usual, but that just means leftovers for snacking on with coffee the next morning (some people eat cold leftover pizza slices, I eat cold leftover sushi). Efficient phone transaction, quick delivery, a bit pricey I thought – but then, it is Recoleta, and hey, I'd been away a month, perhaps everything skyrocketed. All good quality but my problem with it was that not one thing was correct. The 10 piece
nigiri moriawase
was suppose to be a combo of salmon, white fish, prawns and octopus, but arrived with 11 pieces (okay, no complaints on an extra piece), of salmon, smoked salmon, and prawn. I really don't get smoked salmon sushi. The lovely to look at in the picture 5 piece
ikura
roll, or salmon roe, arrived with cheap colored cod roe. And the spicy salmon roll was anything but picante. I called to let them know I wasn't overly thrilled, and the woman who answered put me on with the sushi chef. His response to the first two was "I didn't have salmon roe or white fish or octopus and I didn't think you'd notice" and to the latter, "I don't want to make it too spicy so I just put a little" (the point of a spicy roll is for the people who DO want it spicy). No offer to do anything to fix it (
like, say, my go to spot, Koi
), and at more than 200 pesos, just a fail.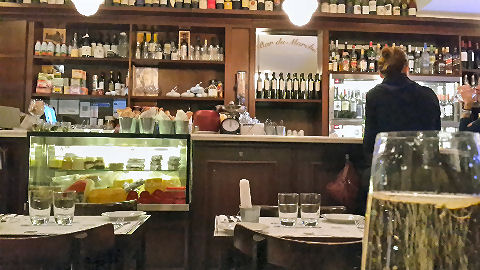 Not really a review since I didn't really eat. The night I met up with visiting friends to go to
El Baqueano
we started off at
Bar du Marche
, Nicaragua
5946
 6002, just around the corner from their hotel, the Fierro. Great selection of wines by the glass – it's so nice to finally have a real wine bar here. Fifty some selections by the glass! And not only did I get my glass of bubbly that I ordered, but when I did my Foursquare check-in I got a "first-timer" prize of a small glass of red to try. We did end up having a tabla of meats and cheeses – nice selection that we let them pick for us. Overall the pricing seemed reasonable for the neighborhood, other than, perhaps, their 75gm (2.6 oz) plate of foie gras served with brioche for which they charge more than I charge for a five course dinner with cocktail, paired wines, bottled water, and coffee/tea! I know the stuff is expensive, but it's not that expensive, I've bought it here from my restaurant supplier. That's not a complaint, I just wouldn't order the foie gras. I'll be back for wine and cheese.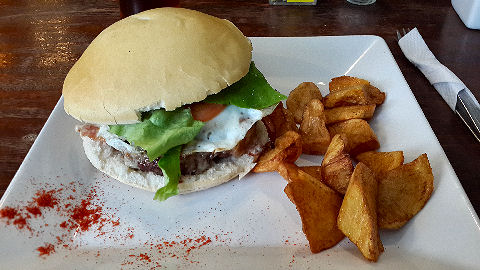 Despite the fact that it's only a couple of blocks away from home, and a couple of folk have recommended the burger, I hadn't tried
Temple Bar
, Las Heras 1822. I was in the mood for a burger and had actually been coming back from downtown and planned to drop in at The Pony Line where I'd yet to try the burger – unfortunately it was closed for "recharging our energy" – so I continued towards home, spotted Temple, and decided to give it a shot. The burger itself, nicely seasoned and a decent sized patty. Despite requesting it be cooked rare to medium rare it was pretty much well done. The toppings were decent, at least the lettuce, tomato, bacon. The fried egg was so overcooked it could have been a rubber floor mat. The bun, weird, like a wide, squashed bread roll that more or less fell apart as I made my way through the burger. The "cracked potatoes" would have been great had they been crispy and had they been served with the garlic mayo listed on the menu. I asked for the latter, the waitress had never heard of it (really, it's right there on the menu, "all sandwiches served with cracked potatoes and our homemade garlic mayonnaise"), but went and asked and returned with a ramekin of it – good stuff. They could use a spicy mustard for the burgers – the packet stuff they have is too sweet. Pint of their house brand pale ale on tap was decent if nothing to write…, oh wait, I just did. I'd go back and try a different sandwich, maybe even the burger again, I'd just be more insistent about the rareness, and try another of their beers (great selection by the bottle too).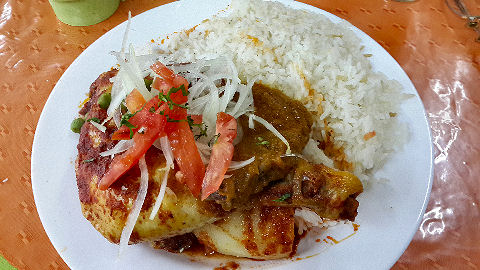 I pop out to the Bolivian markets in Liniers whenever I need a bunch of ingredients for dinners that I just can't get anywhere else. If I just need one or two things I can usually get the folk at the verduleria around the corner to bring it for me with a day or two's notice – they charge more than I'd pay out there, but I save the time, effort, and cost of getting to Liniers. This week, with our La Paz tribute in the offing, I had a whole list, so I figured I'd head out there. A friend asked about lunch and she'd never been out that way, so while I normally don't stop to eat other than maybe grabbing a
salteña
while I'm there, I said sure and we headed out. A quick look at GuiaOleo and the most recommended spot in the market zone seemed to be
Miriam
, Ibarrola 7184, so we stopped in there before shopping. A pitcher of
chicha de maní
– a peanut based soft drink; my friend ordered a plate of pork chops and I got the
picante mixto
, a mildly spicy plate of a chicken leg and thigh plus a slice of veal tongue all served over mashed chuño, and, of course, accompanied by a pile of rice. Completely authentic to the sort of food that I saw and tried in La Paz and also in parts of Peru. Decent quality, and reasonably priced at around 50 pesos a person for food, plus the drink. They also have a much cheaper option of a
menu del dia
, with a large bowl of noodle soup and then a choice of a small steak topped with an egg and piled with rice, or chicken the same way.