Wrapping up our look back at Peru with inspirations from Lima, last weekend's dinners brought a bit of heat to the table. We started off the evening with a cocktail of pisco, szechuan pepper infused sugar syrup, and fresh orange and lime juices. From there, we began with a dish you've seen before here…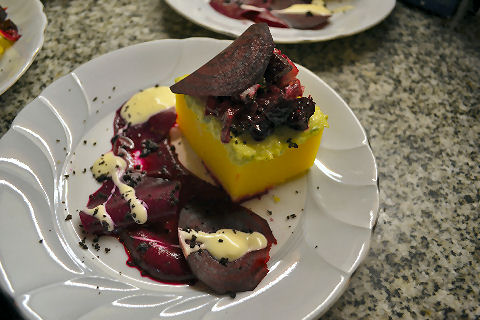 Our roasted beet causa. But a few changes, some of which was inspired, actually, by my dinner at El Baqueano last week. The core of the dish stayed the same – potato infused with olive oil, lemon and yellow chilies, topped with an avocado and cilantro puree, and then our roasted beet salad. But I decided to play around with the "textures of" idea and added in a beet puree, raw beet and pickled beet slices, a blue cheese cream and black olive crumble.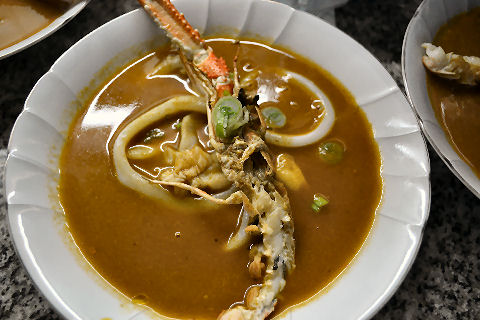 Inspired by lunch at La Picanteria, our version of a parihuela – the broth a fish and shellfish one flavored with tomato, onion, garlic, soy, paprika, yellow and red chilies, oregano, cilantro, parsley, bay leaf and white wine. Simmered together, pureed, strained, and served over a medley of shrimp, cockles, mussels, squid, and fish, and then a grilled crayfish laid across the top.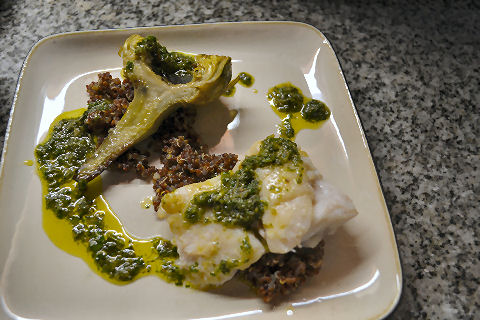 A mashup of several ideas – quickly seared cod served over toasted red quinua, roasted artichoke heart, and a huacatay salsa verde.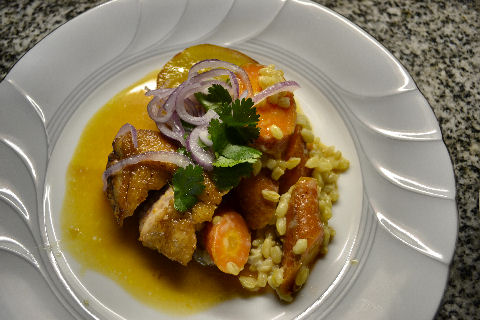 But, the winner, I think, of the evening, a reworking of our duck ceviche. Seared duck breast served over a slice of sweet potato, and a mix of roasted carrots, peeled wheatberries, and yogurt, and a sauce of duck stock, lemon and orange juices, ginger, garlic, red onions, rocoto peppers, cumin, salt and white pepper, all cooked down to a thin glaze, strained and then finished with a little cold butter whisked in.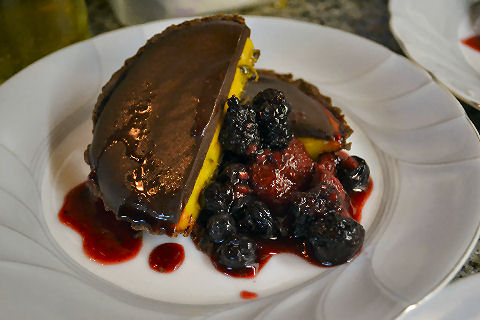 And, finished off with chocolate and passionfruit tartlets and mixed berries infused with a little vanilla.
This week on to a look back at La Paz, and then, we'll see where we go next.