Once upon a time there were five singing maidens living on a flowered island in the sea who lured mariners to their death on the rock. We know them (at least any of us who've studied classic literature) as the sirens, and one of them was named Partenope. Her main claim to fame was that she failed at her task one day when attempting to lure the famous Ulysses to his demise on the shoals, threw herself in the ocean, and washed up on mainland Italy, where, promptly, an ancient town was formed in her name. This was around the 8th or 9th century BCE. A couple of hundred years later, in the 6th century BCE a new urban center sprung up around the area called Neapolis, and Partenope became known as Palaipolis, or "the Old City". Neapolis, over the centuries, became what we know as modern day Naples, though it's interesting to note that (perhaps tongue in cheek, perhaps not), some folk in the region don't refer to themselves as Neapolitans, but as Partenopei… or, I suppose, in English, Partenopeans.
Now, leaving aside the question of whether or not it's advisable to name a restaurant after a mythological woman who lured men to their death with the beauty of her voice, it makes sense that if you're going to go "old school" and open a Neapolitan pizzeria, you might just go for the ancient moniker and call the place Partenope. And an old colleague of mine from New York and his Argentine partner have done just that, opening up at Av. Libertador 4004 in La Lucila, just a short distance north of the city along the river. And just a few days ago, Maurizio, my old friend, contacted me out of the blue and invited me to come check the place out. So earlier this week Henry and I hopped the Tigre line up to La Lucila (currently a bit of a chore – there's major track work going on along the whole line and the trek from Retiro station to La Lucila, what would normally take about 15 minutes, took 50) and met up with Maurizio's partner Julio for lunch.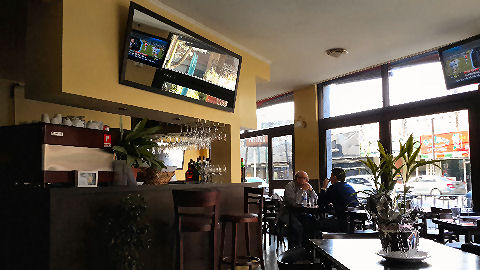 The place itself is nothing to get worked up over – it's nicely appointed, it's got a great corner location just a block from The Lincoln School (and in the three weeks the place has been open much of their business has come from the staff there, as well as US Embassy staff, many of whom live in the immediate area), but it looks basically like any small suburban pizzeria anywhere, other than the big beehive oven. Now, I'm a big fan of Neapolitan style pizza, and until now, the only real purveyor of the stuff around these parts was Siamo nel Forno in Palermo.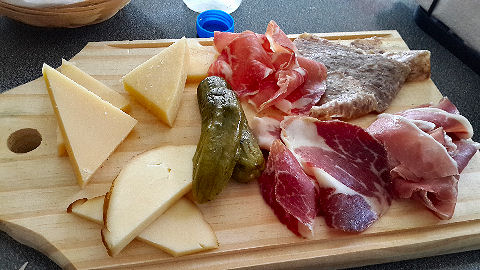 We chatted a bit with Julio and then decided to start off splitting a tabla para 1 – a nice touch – so many places only make tablas for 2+ people it's nice that they're thinking about the solo diner. It's also a quite generous portion for a solo diner. What was particularly a delight was that it didn't consist of the usual suspects, instead, a selection of cured meats that were from a bit further afield – a fantastic headcheese from Córdoba, and a Malbec cured ham from Mendoza were my two favorites, and the three cheeses were also not the usual suspects. Really good and we polished off everything on the plate, along with a duo of focaccias from the oven.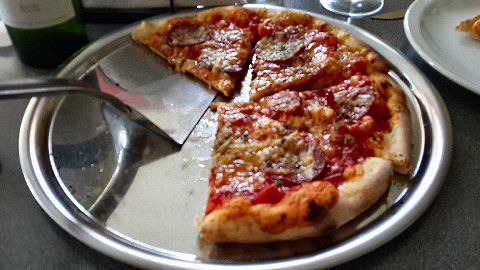 The list of pizzas is a short one, five each "classics" and "moderns", we decided on one of the latter, a diavola, with sopressata, chili, and provolone, right up our alley. It's basically unavoidable to compare and contrast to the pizzas of Siamo nel Forno. Both are, upfront, excellent. The Partenope pizza crust is noticeably thinner, near cracker thin. The sauce is more generously ladled on the pie and both it and the toppings (great sopressata) are extended right to the edge. The picante could have been ramped up slightly, especially if, at least right now, the main clientele seem to be norteamericanos, but even a bit more wouldn't have been too much for the porteño palate. It's less smoky and charry than the Siamo version, and doesn't get the nice drizzle of olive oil over the pie. When it comes down to it, I'd eat either of them, happily.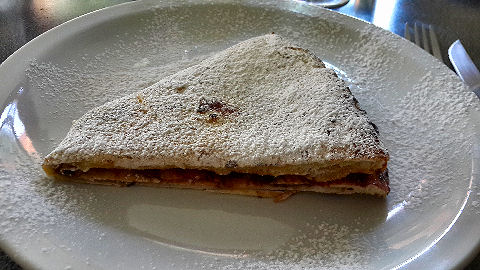 Again, the individual is thought of – the nutella pizza, versus Siamo's nutella calzone, is offered in individual portions for dessert, basically a wedge of doubled over pizza. Smart move. It has less nutella than the Siamo one, but still plenty.
So, is it worth the trek? Well first off, for those of you who live up in the northern suburbs, and I know there are a bunch of you, you've got an easy to get to option now, and well worth it. For those of us in the city, of course, it's probably easier to get to Siamo, but on the other hand, Partenope is open for both lunch and dinner, not just dinner, and it's a short five block walk from the train station. Right now with the Tigre train delays it's a bit of a pain (the 168 bus from Plaza Misere/Once stops right in front, however), but once the track work is done it should go back to being a quick trip from either Retiro or Belgrano C. The pizzas are priced quite reasonably for the quality, ranging from 45-75 pesos depending on toppings, a little less than I think the current prices are at Siamo, but that's not unusual for the difference between Palermo and the northern suburbs. So the answer is, yes, it's worth it. Both places are, and both will stay on my Recommended list!