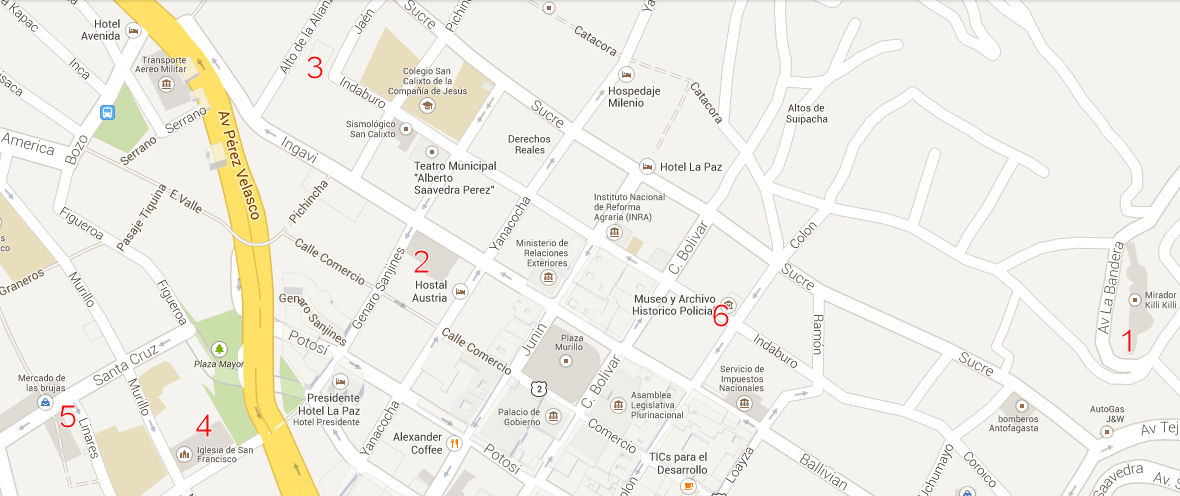 [Right click on the map and display it on a separate page to see it full size.]
Let's get to the really touristy stuff – I'm going to do one post on the things in-town, and another on the couple of things I did outside of the city. I took zillions of pictures, and at some point I'll put up a flickr album, but for now, a few select photos and other media for your day's entertainment. Today, mostly museums, but first, another look at the city. These weren't all visited on one day, I'm just doing a mash-up.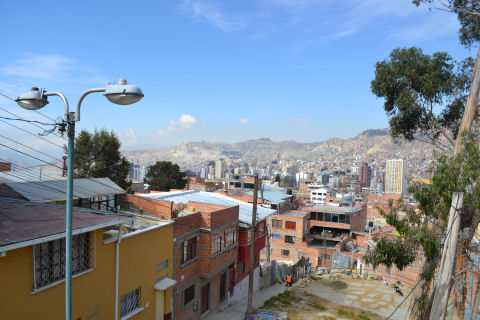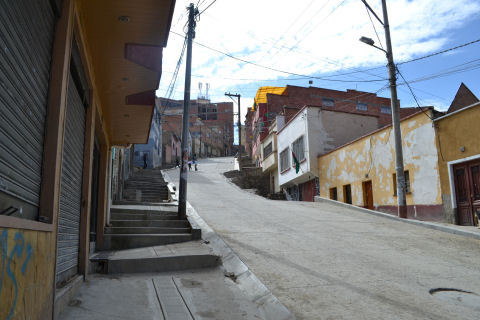 I'd been told that an even better vantage point to view the city from was the Killi-Killi mirador, or lookout (#1 on the map). I talked to the folk in the hotel about it, along with wanting to go see the Valle de la Luna (Moon Valley), which will come up in the next post, and their only suggestion was that they could provide a private car and driver for $40 – which really isn't bad, but I'm at the end of a month long vacation and trying to cut down on spending even smaller amounts other than for food. Plus, their driver wouldn't be a guide, and going to the valley I wanted a guide to explain some of the stuff. They suggested just paying a taxi driver for the mirador, who would take me up, wait, and bring me back – I was going to do that and then looked at the map and realized that the place was only about a kilometer away from the hotel, so I decided to walk. Although interesting, and I suppose I saw a little of the city at a walking pace that I wouldn't have seen otherwise, I don't recommend this unless you're in, well, better shape than I am after a month of eating and little exercise (I think I've put on about 5kg since the beginning of July, and it's showing…). But if you do want to, you basically go north of the main Plaza Murillo to Av. Sucre, then walk along it to the east until you see the "bomberos" station there on the map – pretty much cross-corner from it is a concrete stairway with some unlabeled arrows pointing up. First you climb the steps (the first photo looking down from the top of them), and then you get to this street that seems to be at about a 60 degree angle going up – that took some doing, but it brings you to the base of the mirador, at which point it's a gentle stairway up to the top. Great views of the city – rather than giving you another series of photos, here's a quick panoramic 360 video I took.
Coming down was much easier, though a little tough on the calves and ankles… that angle is a rough one. You can get the video full size by viewing it on youtube.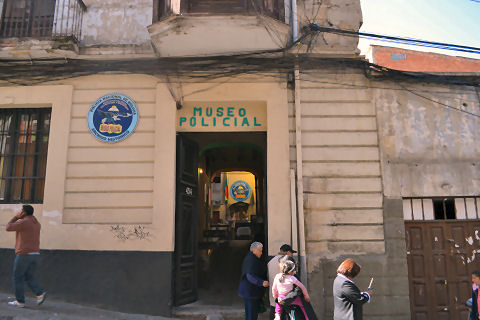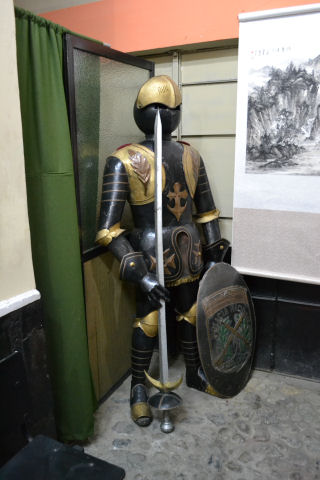 By chance, wandering back, I spotted the Police Museum (#6), which wasn't actually open as they were about to have some sort of ceremony, but the guy at the door said if I didn't mind being in and out in under 10 minutes, he'd let me take a quick look. It's actually a really small museum with a few displays of things related to old equipment, uniforms, photos and such, the coolest thing though was stuck in a back hallway corner – one of the original armor uniforms from the very first police force when La Paz was founded.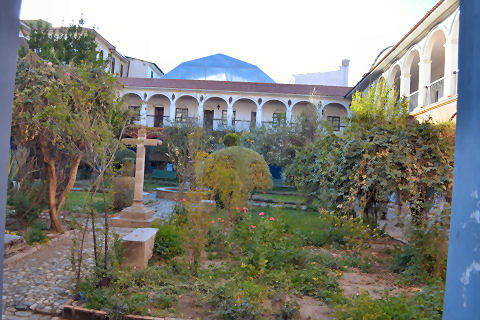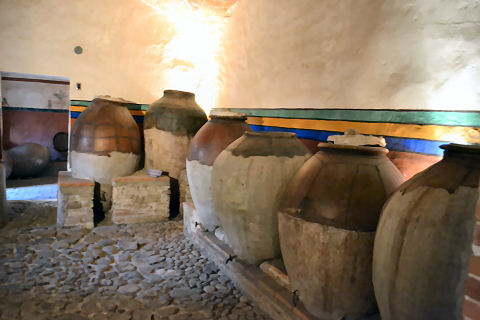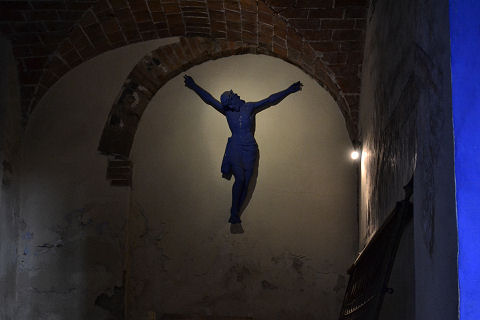 The Iglesia de San Francisco that I mentioned the other day has a museum to one side as well (#4), in what used to be the monastery. The only photos allowed are in the main garden, but, well, hell, no one is actually watching as you wander around and I wish I'd taken more than the few that I did take away from the garden – I couldn't resist some photos in the wine cellar, nor the only blue Jesus I've ever seen. Blue?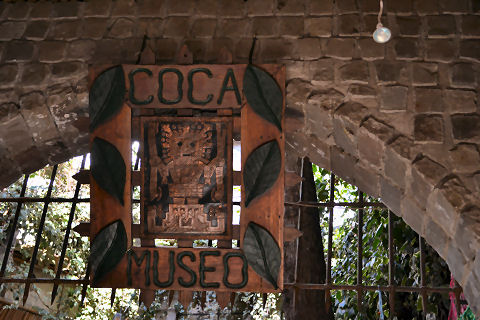 You're here, you may as well go to the Coca Museum (#5) and spend a couple of bolivianos to enter. They don't allow photos inside, but there's nothing really to photograph – it's two small rooms with a series of photographs and charts, tracing the history, agriculture, tradition, mysticism, and science surrounding the growing and use of coca leaves, including the "invasion of the white imperialists who turned it into a drug" – which, is pretty accurate. Coca leaf use here is, as I've mentioned before, quite traditional – some of it is just daily life, you chew on some leaves or drink coca tea, or suck on a coca leaf extract candy just to help you breath better as you walk around. Some of it gets a bit more intense for ceremonial use. The funny stuff is watching the college student tourists who don't have a clue, who start chewing on a couple of leaves and get that little tingle of numbness (the extract of the leaves is actually the base for lidocaine, what your dentist uses to numb your gums), and start going "oh wow, I'm so high, this is cool…" – completely clueless. Cocaine takes a massive amount of processing to produce, it's not the direct extract of the leaves you get by chewing. I was looking at some of the research in the museum and talking to the guy who runs it – if you chew what would amount to two large handfuls of leaves for about 45 minutes straight, which would be kind of disgusting, you'd manage to give yourself a slightly euphoric feeling equivalent to snorting about 1/10 of a typical line of cocaine, with an effect that would last all of about 5 minutes. Mostly, you'd just be completely numb in your mouth and throat.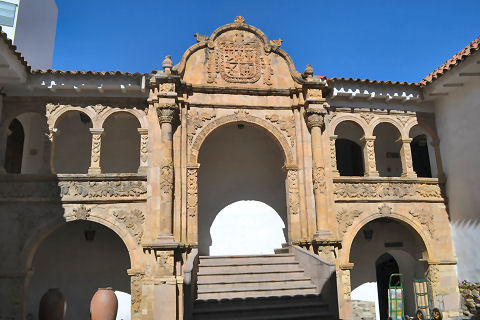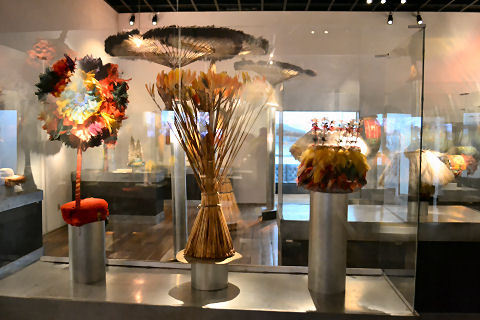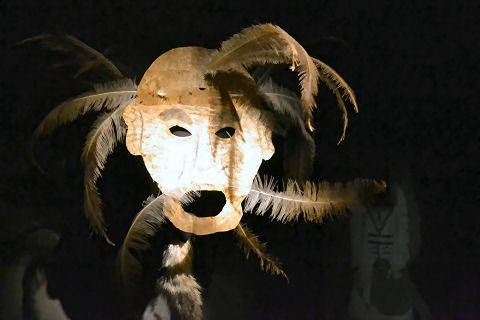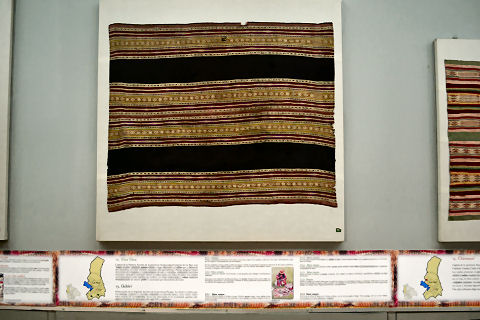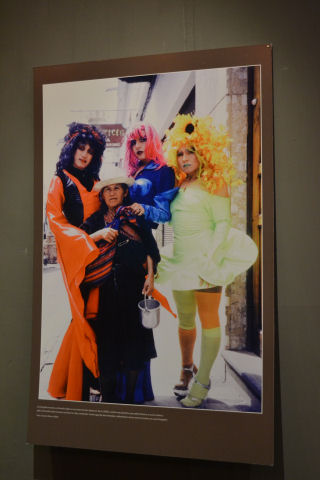 One of the two museums I really wanted to visit was the Folklore and Ethnography museum (#2). It's a good sized museum with close to a dozen different major exhibits including a historical one tracing the populations of the area, a numismatic collection, and various crafts and other historical stuff, including an exhibit of the usage of feathers in traditional ceremonies and art, masks for various regional dances, an incredible collection of weaving from the various indigenous cultures throughout Bolivia, and, currently, a temporary exhibit on the history of the gay rights movement in Bolivia.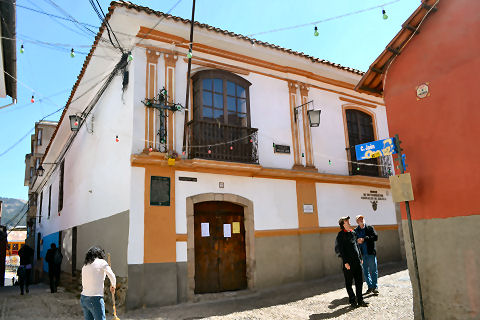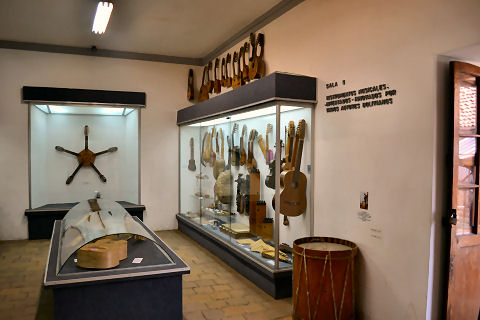 The other I wanted to get to is on a little historic street called Jaen, which has five different museums (unfortunately, because of the Independence Day holiday today, and all the festivities leading up to it, the four municipal museums have been operating with shortened hours and I just haven't made it to them – the only chance left is tomorrow morning, but I don't think I want to spend my last few hours in La Paz in museums, and none of the four is one that I particularly have a great interest in (traditional costumes, precious metals, city history, litoral studies (Lake Titicaca)). Maybe the last of those. But the one I wanted to get to was the Musical Instruments museum. Great exhibits on various different types of instruments, both traditional indigenous and modern, Bolivian and international. Possibly the most interesting of the dozen and a half rooms was the one of local inventions – these are instruments that were created here in Bolivia that are a bit out of the ordinary. Most of them were created by Ernesto Cavour, Bolivia's master charango artist, a real icon of the musical scene, who on the side, creates one of a kind instruments, usually specifically for another musical artist.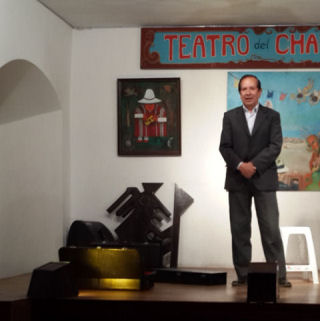 It turned out that there was a concert on Saturday night featuring him playing the charango, and another well known Bolivian star, Franz Valverde, playing one of those instruments, the guitarra muyu-muyu – apparently he used to give concerts where he would alternate between a straightforward 6-string acoustical guitar and a 12-steel string guitar, and carrying both around and switching between them during the same song was a pain. He approached Ernesto Cavour who designed this back to back version of those two guitars (and it has an interior sounding board that separates the two, it isn't hollow straight through. Am amazing sound too. You can find some youtube videos of both of them playing, but I leave you with my 16 minute recording of Franz Valverde's solo portion of the 2+ hour concert (there were a couple of other artists two, and a duo portion of the two maestros, but, well, Cavour likes to talk and joke with the audience a lot, which meant the musical part of his sections were sporadic). Not a great quality recording giving that I was using the voice recorder on my phone, but it comes through – you can actually tell, without the visual, when he flips the guitar over – the sound changes completely.
Franz Valverde – Guitarra Muyu-Muyu