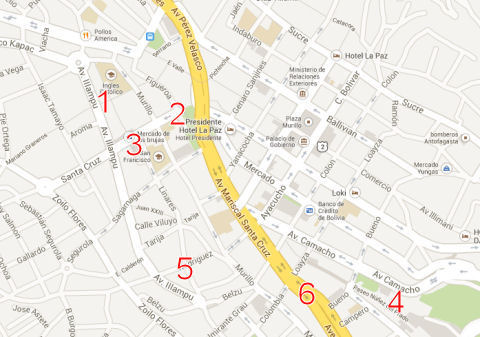 A quintet of markets and one street fair for your reading pleasure. All the major markets in La Paz proper seem to be located around the center of town, I suppose that's somewhat logistical – prior to the boom in El Alto, everyone from all sides of the city could simply walk or ride downhill to the various markets, make their purchases, and head back up. El Alto now has a two day a week market (Sundays and Thursdays I think) that's pretty extensive and covers all the various types of goods, but I was talked out of going solo – it's apparently fairly dangerous for tourists unless accompanied or in small groups – the hotel told me that over the last couple of months they've had three different guests who insisted on going solo and ended up being beaten to a pulp, robbed of everything on them, including some clothing, and left at the side of the road, and no one interfered. Plus, they asserted I wouldn't see anything different than what I could see in the city markets. I did talk to one of the hotel's security guards to see if he might be interested in being a bodyguard for a couple of hours on his day off and he told me I was crazy and that he wasn't crazy enough to go there unless he went with a group of friends – and he's built like a linebacker. Enough said.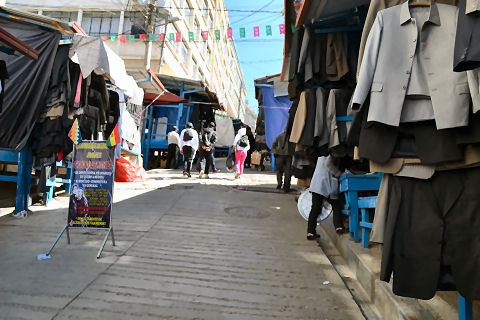 So, the hotel is located more or less between #1`and 3 on the map – quite convenient to all of them. Not in the order visited, but, let's start with #1, the Graneros street market, which is primarily clothing – everything from underwear and socks to three piece suits, plus accessories. Brings a whole new meaning to "off the rack". I do not, repeat, do not, recommend walking up Graneros street – walk down it, that's hard enough, and find a different incline to return. My guess, it's about a 45-50 degree angle – I had to sit down to rest three times just going two blocks coming up.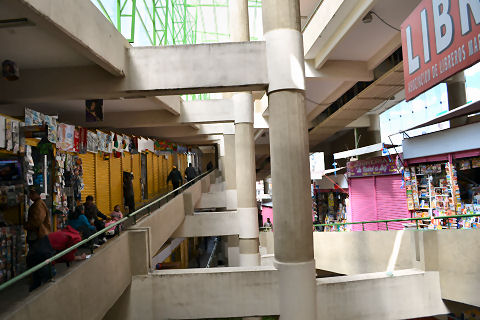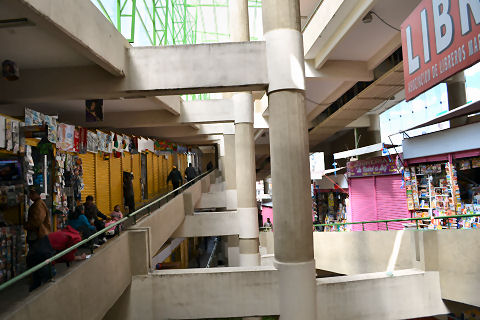 Comercio Lanza is a semi-open mall, at #2 on the map. Think of an open sided parking garage but with market stalls instead of places to leave your car. It's bustling from early morning until late evening, and on the upper floor there's a food court with various local things to eat – nothing of great note, it's mostly sandwiches and pastries, and a few basic stews with rice or noodles – though I've just today been assured that there's one particular stand that serves the Centro area's best fricasee – to be checked out before I leave. The market includes everything from fruits, vegetables and dry goods to a section of book sellers, clothing, household goods. It's a strip mall built vertically.
FAIR WARNING, POSSIBLY DISTURBING PHOTO…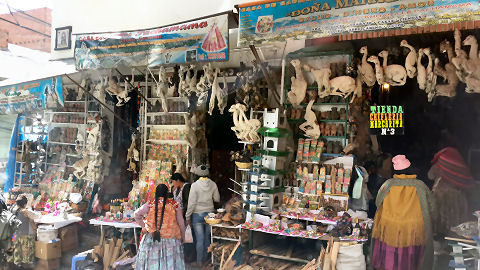 #3, the Mercado de las Brujas, or Mercado de Brujeria – Witches' Market, or Witchcraft Market – they're not overly happy about photo taking, especially if you get close, and I can respect their wishes. Potions, herbs, powders, and yes, hanging there, and in various baskets, dried fetal llamas, vicunas, and various birds that are used in rituals. Everywhere.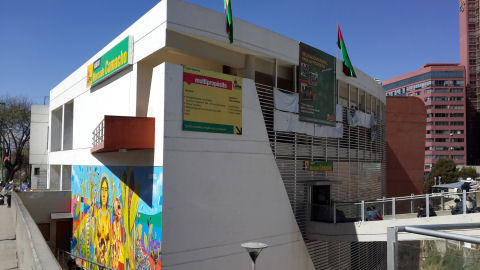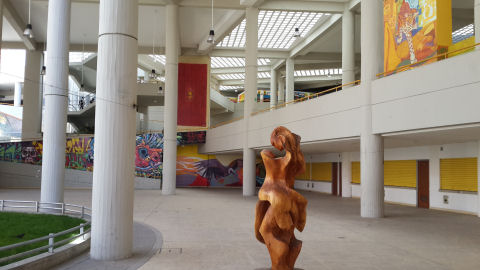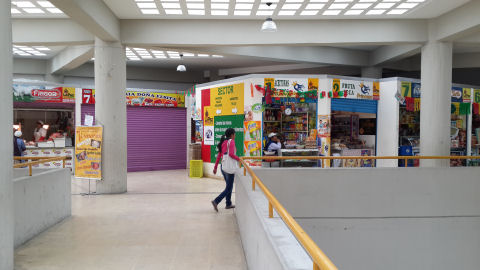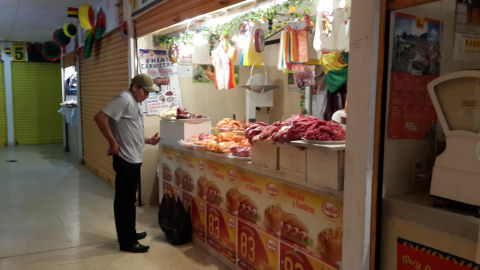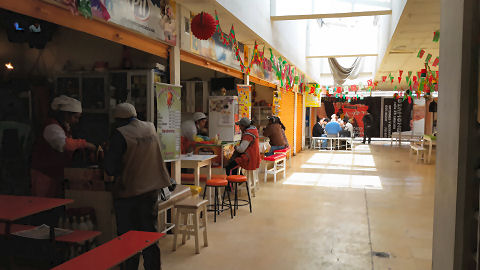 Mercado Camacho, #4, is another mall type market, but it's one that apparently has been a big flop. 90% of it is empty, and I talked to a couple of stand owners who said it's always been that way. There is a small food court on the top floor, though with even less of interest in contrast to Comercio Lanza.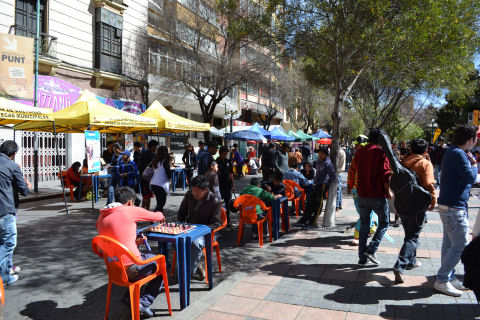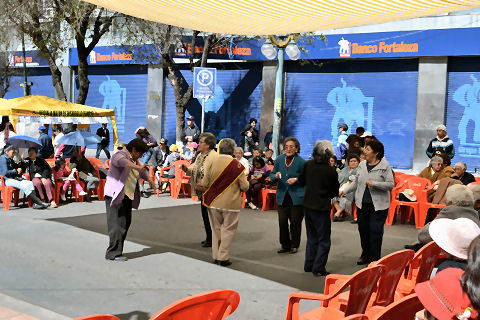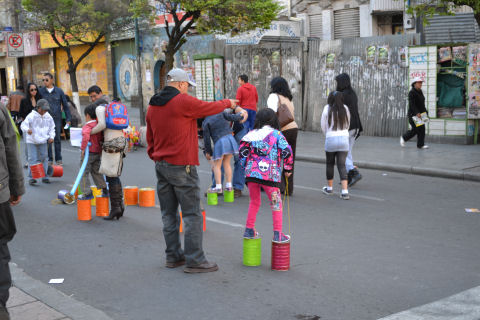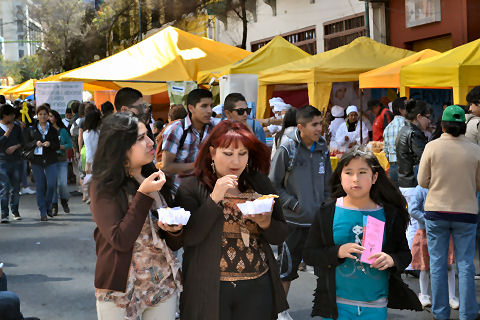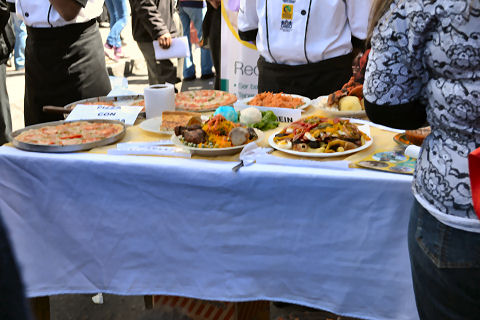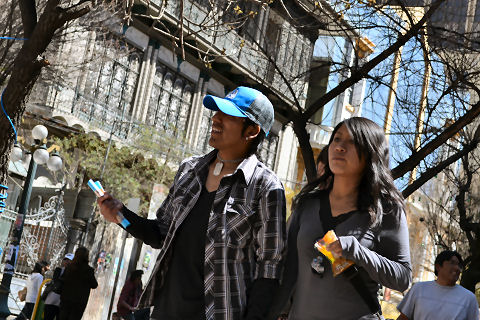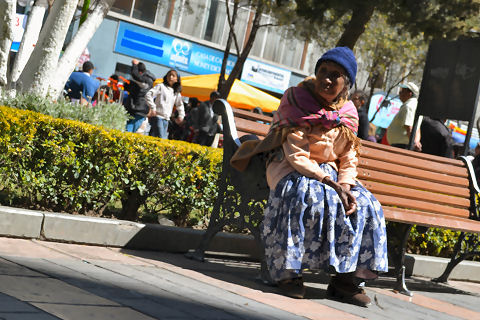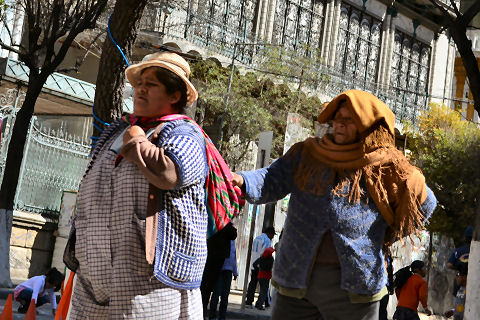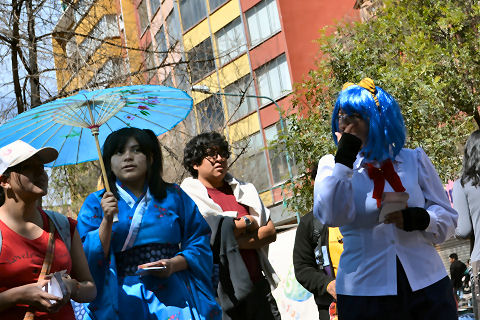 Not exactly a market, but every Sunday is the Mayor's street fair (#6), where a ten block stretch of the main boulevard is closed down to traffic for the morning and early afternoon and becomes, well, a big street fair. Much of it is related to the government – there's a whole block of booths from the Public Health Department each devoted to prevention or cure of one or another diseases, there's a block or two of educational stuff, both public and private, and another devoted to economic development initiatives. But mostly, it's a chance for folk to get out and mingle, dance, play chess (some damn good players from what I saw), play and eat. Young and old, traditional and modern, everyone's there.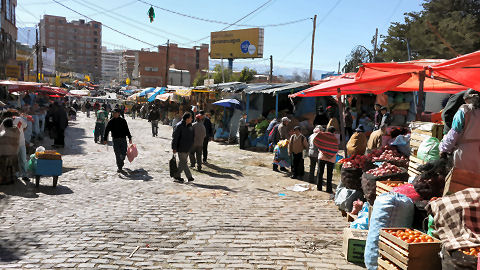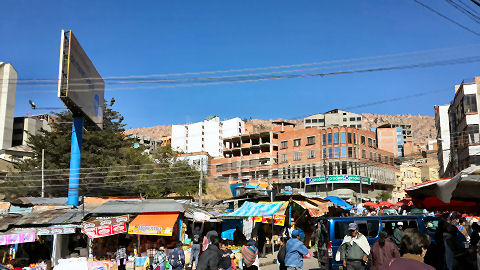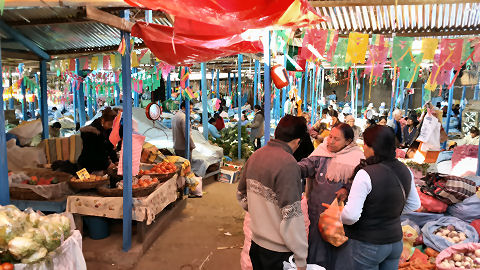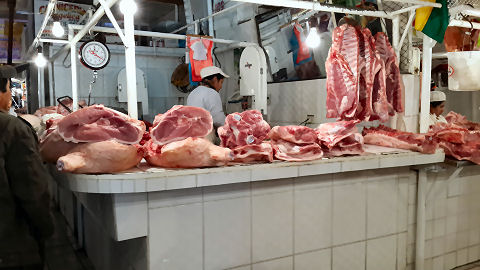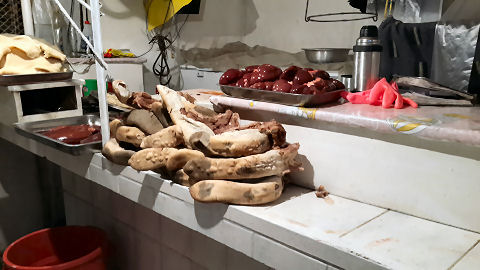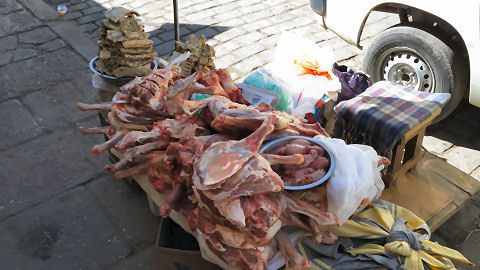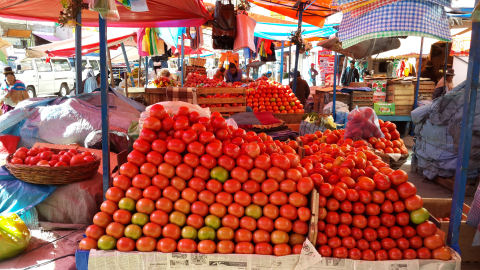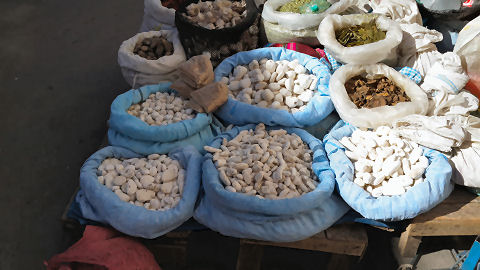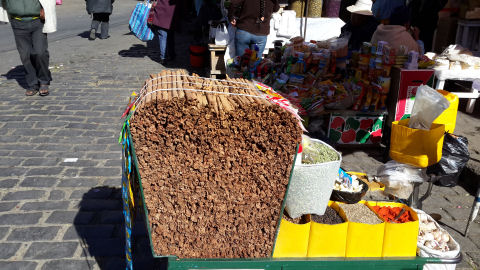 Saving the best for last, #5, Mercado Rodriguez, actually stretches the entire length of Rodriguez street, and a block to either side, it's a huge, open air market, though a few buildings have been co-opted into serving as spots for some indoor stuff, particularly meat that needs refrigeration – not that everyone uses that. Now, you'll have t imagine the following, because I didn't get a video of it. But picture this:
80-something year old woman in full traditional Aymara garb, sitting amid the piles of vegetables, with a table in front of her where she peels and slices and dices and such. Music player of some sort next to her, cranked to the max, blaring out Queen's "We Will Rock You" at top volume. She's got two long chef's knives, one in each hand, hilts pointed down, blades to the sky. And she's swaying back and forth, rocking out, using the knives to keep time. Thud, Thud, Clank, Thud, Thud, Clank – as she hits the hilts onto the table twice in a row and then stretches the knives up in the air and clashes the blades together – along with the music. Best. Image. Ever.