Greetings from Iquitos, Peru, out in the Amazon basin, where we will have limited internet access for the next week.
It may seem like all our days are dedicated to food, and it certainly plays a big part, but we do a lot of other stuff too. For our last day in Lima, however, it was all about the stuff. My day started with an impromptu online conversation with Lucho who I mentioned the other day, who wanted a detailed assessment of his mother's restaurant (he insists that I mention him and this in the blog).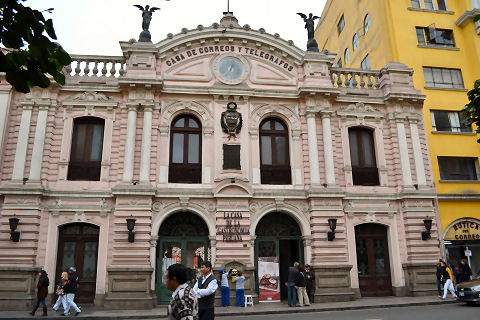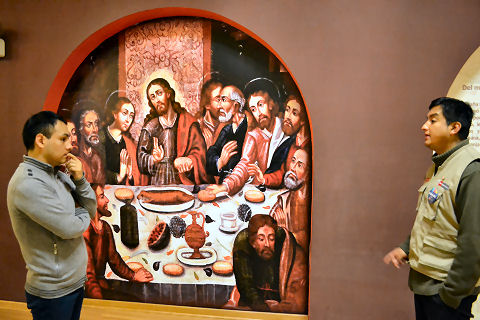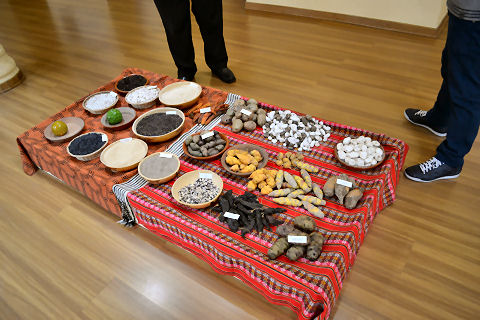 An hour or so at the Gastronomy Museum near to the main Plaza de las Armas, 3 soles to enter, includes a free guided tour on the history of cuisine in Peru from pre-colonial era to the modern day. There's a temporary exhibit currently going on that focuses on quinua and also on the variety of ingredients to be found in the country. While I knew that there were a lot of varieties of potatoes, I didn't know the same about quinua – there are roughly 3000 different species of each! I had to get a shot of the Last Supper with Jesus being served up a roasted cuy, guinea pig – I wonder, does every Catholic culture away from Europe come up with a version of this painting that involves local food traditions? I've seen a fair number of different ones while traveling about.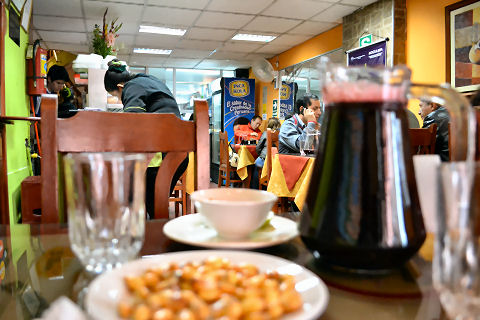 Henry was in the mood for ceviche, and I decided to give a shot at a quick search on Foursquare – limiting the search to a few block radius around the museum. One spot popped up with fairly high recommendations,
El Fayke Piurano
, Jirón Huancavelica 165. Turned out to be a fairly small place sitting in the middle of a rather ordinary downtown commercial street. We had our doubts, but ordered a pitcher of chicha morada and started to peruse the list of ceviches, and it it is a list, a couple dozen or more.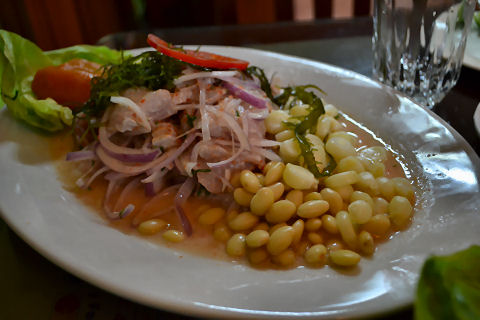 Henry went old school classic with a "simple", the most basic of ceviches – just plain white fish and the usual curing elements. Delicious!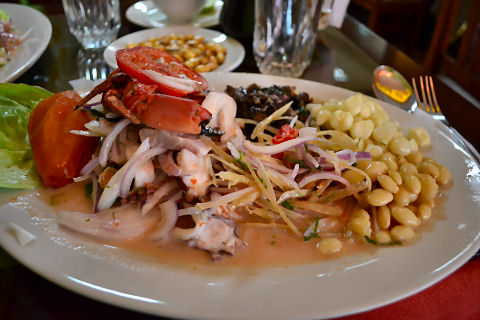 I went my more typical route, with the house special under their own name, my general feeling being if you're going to put your name on it as a signature dish, it better be your best one. I got a mixed ceviche with fish, octopus, squid, shrimp, mussels, and, there towards the back,
concha negra
, black clams, a specialty in Lima in particular. Again, delicious, though for me a bit too many onions piled atop, easily solved by moving them to the side.
Since it turned out that we were only a block away from Lucho's mom's place, we walked over, where she entreated us to eat more, though we declined, instead inviting her out to dinner for the night. Then Henry headed off to meet up with some friends and I went a-wandering. Basically I just criss-crossed the whole area, poking into shops and museums (a naval one and a popular art one, but didn't stay in either), until, you know, I got peckish.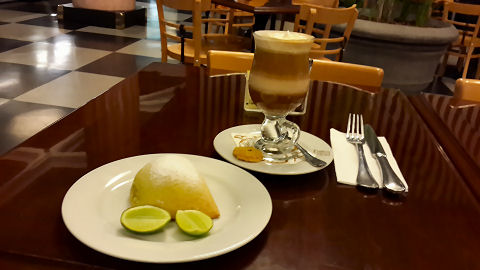 So I popped in to Urban Hall, a sort of upscale mini-mall, with a big cafe in the center,
San Antonio Caffé
, Jr. Miró Quesada 200. I ordered a moka coffee and a "frola" empanada. Now, for me, frola is a type of pastry back in BA, filled with raspberry or other jam and with a lattice work of dough atop. The young attendant at the cafe told me that it refers to the type of pastry – I don't remember from my pastry classes back two years ago that it was a particularly distinctive dough, I'll have to go back and look down the line when we're home again. But, indeed, it was a slightly sweet and very light pastry dough encasing a ground beef filling that was somewhat reminiscent of a Jamaican meat pie, hard-boiled egg, a dusting of sugar, and lime cheeks to squirt all over it.
Then, back to the hotel to relax awhile and await Henry's return, then to pick up "mom" and off to…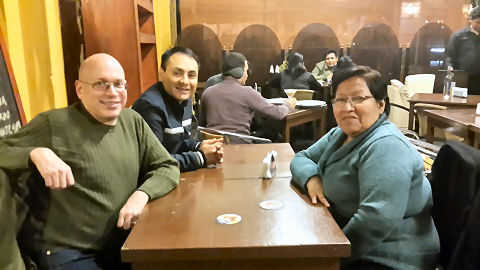 La Otra Salsa
, Pasaje Nicolas de Rivera 118, recommended to us by the folk at the gastronomy museum for interesting takes on local dishes, and confirmed by online reviews.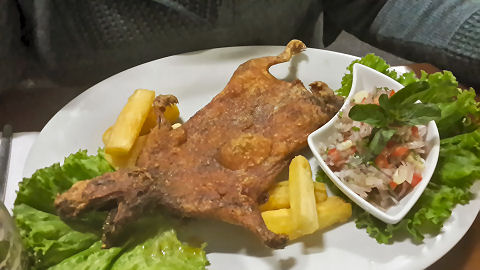 Mom went for a
cuy frito
, fried guinea pig, as always served whole, right down to the head. Nothing particularly creative or different about the plate and I thought it was pretty lacking in seasoning, but she seemed to enjoy it.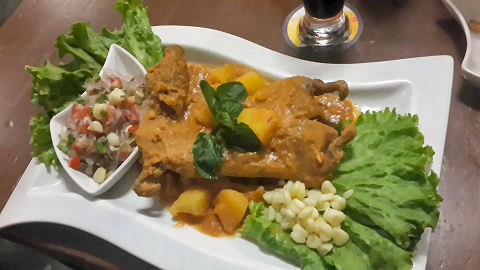 Henry also opted for cuy, but a different presentation, cooked in a mild chili sauce (still probably fried upfront, then simmered in the sauce). Much better, though we still asked for extra chili sauce.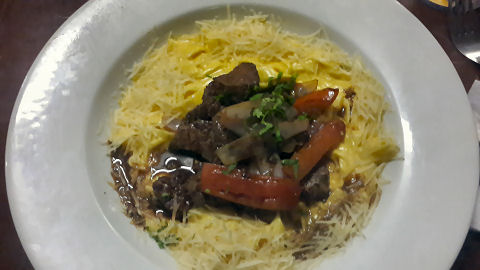 I'd seen several recommendations for their risotto in huancaina sauce topped with a lomo saltado, a combo that sounded interesting. But, it wasn't on the menu, so I asked. Turned out it was from an old menu, but since they had all the ingredients available, they offered to make it, or, the same but with fettucine instead of risotto. Given how much rice and potatoes we've been ingesting, I decided on the pasta. Their huancaina was a bit mild for me, given that the restaurant is focused on tourism I'm sure it's dumbed down a little for the range of palates, but again, extra puree of aji amarillo and we were all set. Really good idea, though I'd definitely up the spice levels if I reproduce it, which I just might. And hey,
my lomo saltado
is better. Still, great service and relatively reasonable for three people with a few beers tacked on, at 200 soles total. 
[Closed]
To the hotel and rest, to get ready for our trip to Iquitos… more soon.