Since we're about to head out on a month long vacation, the only dinners for July are the ones we just held this week. A bit of a Peruvian theme to the evenings, just getting ourselves in the mindset for where we're headed…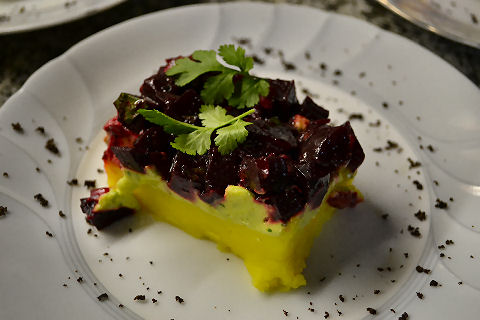 Started off with our ever popular roasted beet causa – sans the mango, it's not the season.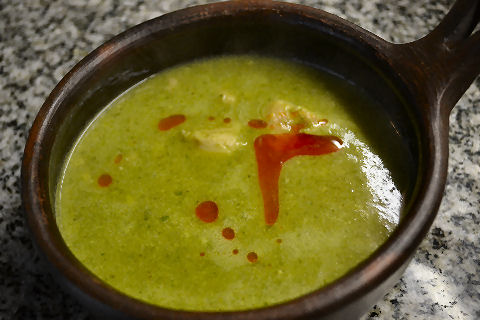 Our new favorite fish soup, timbuche – just fish this time as we had a couple of shellfish allergy folk coming. I've spiked it up a bit by adding garlic and chili to the initial saute with the onions.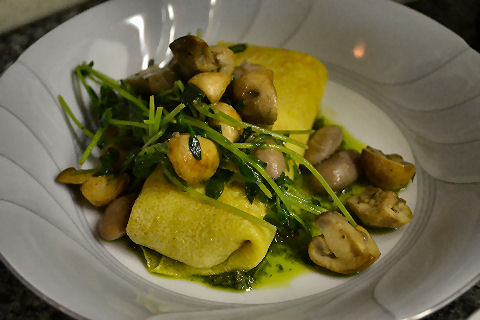 Okay, no Peruvian in this one – turmeric crepe filled with charred eggplant puree flavored with garlic, ginger, green bell pepper, onion, tomato and a mix of spices. A saute of cranberry bean, mushrooms and pea shoots on top and a parsley salsa verde underneath.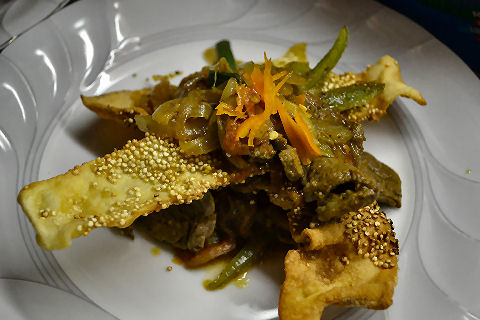 After presenting you with our step-by-step lomo saltado a week or two ago I wanted to work it in before we headed out. For presentation I was thinking of a little fusion and using some sort of pasta rather than rice or potato. Initially I was going to make spaetzle, which I think would work really well with the dish. I was just perusing the internet for some other ideas of how chefs out there have presented lomo saltado with pasta in particular and came across this "Quinua Pop Lasagna Con Lomo Saltado" from noted chef Javier Flores, which sounded like a lot of fun – basically rectangles of a basic pasta dough dipped in beaten egg and then into quinua, and fried up. I used our version of the lomo, but his idea for the pasta, and I think it worked out really well – I like the textural crunch that came with the pasta versus something soft like rice, potato or boiled pasta, especially since everything about lomo saltado is pretty soft. Next time, I'll play with it a bit and come up with my own version on the pasta as well.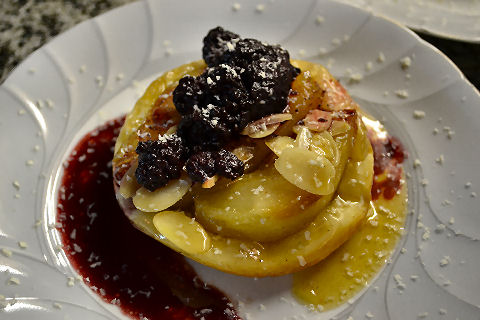 And, no Peruvian here either, a pear tarte tatin with blackberries cooked in port and five-spice, toasted almonds, and grated white chocolate.
That finishes off July's Casa S dinners, back to them in early August. In the meantime, stay tuned for travel and food posts from Peru and Bolivia. They may be a bit sporadic, at least half of the upcoming month I expect we'll be in spots without a lot of internet access, but I'll squeak in things when I can.