I need a couple of folk who feel like going out one evening and hammering our way through the "dinner only" pizzerias along the now famed (infamed?) 92 bus pizza trek (yes, I've created a page just to track it). Picking up where I left off in Caballito at one of the more unpalatable entries, I've continued trekking, sometimes solo and sometimes accompanied, through the wilds of that barrio. But along the way, I've been keeping tabs – there are four spots that require visits in the evening, and unfortunately they're pretty spread out. Of course, we could just take the 92 bus from one to the next, or, perhaps I have a friend out there with a vehicle…. Then there's the numbering issue – should those spots be numbered along the way in sequence where they are located, or do I just give them the next four numbers when we do get to them? I'm leaning towards the latter just for blogging logistics. I'm also looking ahead along the route and realizing I may have to give some concern to safety, the last section of the route before leaving the city limits (which I'm not going to do) pass through an area that I'm not too sure about – I may at some point opt for a "this line and no further" approach – a little research is in order. Local bus expert Daniel, of Colectivaizeishon assures me it's a safe 'hood and has offered to accompany along that portion of the route.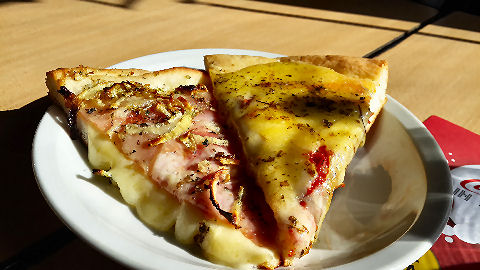 (24) There's actually a bit of a stretch after the corner of Gallardo and Pueyrredón with only one pizzeria. Actually, there are more along the latter, but on the other side of the boulevard, which I'll pick up on the return route, nothing along the west side except the tiny
Cutter's Caffe
at the corner of Honorio Pueyrredón and Felipe Vallese. I've so far been skipping over cafes that happen to offer pizza, but this one makes a point in its windows and on its delivery bikes that it specializes in pizza and empanadas, and, the menu offers up about eight different pizzas. Expensive looking ones too, running around 75-80 pesos for a pie that's smaller than most of the large sizes I've seen along this path. And, at the counter you can get by the slice of either plain mozzarella (10 pesos) or fugazzeta rellena (12 pesos), both pricier than elsewhere I've been where the cost has been running about 7-8 per slice, and, these are pretty skimpy pieces – that's not a dinner plate they're on, it's a side dish or sandwich plate. On the plain slice, the dough is a bit thick, the cheese is a couple of melted sandwich singles, and the sauce is near non-existent, as is the flavor. The fugazzeta rellena fared slightly better, with a scooped out crust filled with more melted slices, a single slice of ham, and a few wispy, crispy onions (fugazzeta should be packed with caramelized onions). Still pretty tasteless. All around a fail, and two slices plus a small bottled water running 38 pesos is ridiculous (and means they're charging 16 pesos for a bottle of water that costs them about 30 centavos), even in today's economy.
At this point two of the dinner only places I mentioned fit in, and will have to wait until an evening trek. (Rolia Pizzeria at General M. Gaínza 522 and Figlio's at J.F. Aranguren 1621) The rest of the stretch from Gallardo doesn't have a single pizzeria along this walk, and the part along Aranguren is quite a hike of around 20 blocks. Now, things go a little wonky here. The official route of the 92 continues to Fray Cayetano Rodriguez and then turns left and heads up to Rivadavia… but, FCR is closed for an indefinite period of time (the city's roadwork announcement had it closed as of early March for 40 days – it's near end of June and it's still closed and doesn't look like it's opening anytime soon) – so the bus currently turns on Av. Boyacá, then right on Yerbal, and then left on FCR past the blockage and continues from there – and according to the bus driver I asked, may continue to follow that route in the future. So, at least for the moment, I'm counting the alternate route (besides, it has more pizza on it – FCR only has 1 pizzeria and it's another dinner only spot).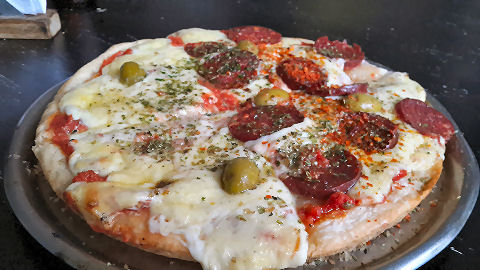 (25) Following the changed route, I found myself at Telmita along Boyacá at #301 around 12:20. Posted hours, open at 12:00. At that moment a woman was leaving and locking the place up. I asked if they were open, she said yes, she just needed to run down the block to talk to a friend and would be right back. I wandered a bit on the street, looking to see if there were other spots to try first, and came back about 15 minutes later, she still wasn't back. I waited a few minutes and a young man on a motorcycle arrived, unlocked the door and started setting the place up. I asked again – he said, sure, come on in, I'd just have to wait for the pizza oven to heat up and the cook to arrive – so I spent the time reading and admiring all the Key West memorabilia on the walls – an interesting choice for decor. Another young man arrived around 12:55 and set to work in the kitchen – the first guy turned out to be just the delivery person. I got my pizza around 1:35. Was it worth the wait? Maybe not quite, but if I hadn't have had to wait, I'd have been completely stoked. Nicely seasoned crust that could have used another couple of minutes in the oven to get that nice charring we like, but a great tomato sauce that was packed with garlic and herbs, good quality cheese and not too much of it (they offer a double cheese option too), and decided to leave the other half in his hands, he went with the Calabresa, thick, spicy slices of longaniza sausage. Delicious!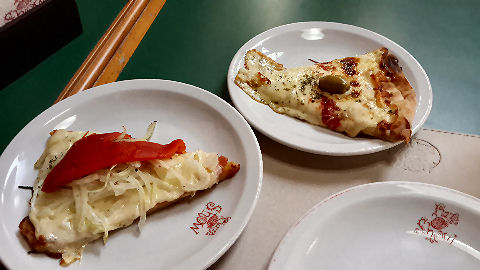 (26) How can you pass up a place called
Pizza Show
? At Granaderos 99, corner of Yerbal, at first it looked like it was a big pastry shop, with a display case and all that, but, turns out that although they sell pastries, their primary forte is pizza and pasta. And, they offer a good number of options by the slice. Since I was solo on this venture, I was going to just have a slice of the mozzarella, but then spotted a
fainazetta
– now, all of us down here know and love
fugazzeta
, which is basically foccacia, or a pizza bianca, topped with cheese and caramelized onions – mentioned above. And we all know
faina
, the flat chickpea bread that most pizzerias offer up as a side bite. So a faina topped with cheese and caramelized onions was intriguing. Unfortunately it was pretty mediocre faina, near raw onions – just heated in the oven atop, oily cheese, a slice of ham and some barely roasted red bell pepper. Yawn. And, the plain slice fared no better – undercooked bland dough, more oily cheese, virtually no sauce. It's not that any of it was bad, it just wasn't worth the time spent.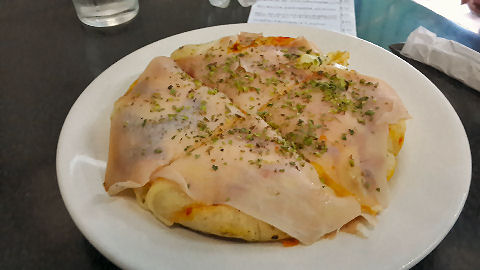 (27) At least from the outside
El Pino
at Yerbal 2296 appears to be a no-name hole in the wall. It took a bit of work to find out the name – asking didn't help since the guy behind the counter seemed convinced that I was lost and wanted to know the name of the barrio, and kept repeating that we were in Flores and wanting to know if he could help me get to wherever I was going. Really, my Spanish isn't that bad, though admittedly, his was near unintelligible, sounding pretty much like he had a mouthful of rocks, so I don't think it was me. I finally found the name on a takeout menu. No pizza by the slice, but they do have an individual sized, which was about the size of two standard slices. Vegetarians be warned, the plain mozzarella comes topped with a near see through film of cooked ham, to which I think the explanation was, "it's just a little bit, it's there for flavor" – which, one hopes is why any ingredient is there, but I don't think that was his point. Given all that, surprisingly good pizza – a bit thick on the dough for my tastes, but it was good dough, and nicely browned on both sides and bottom, the sauce had some zip to it, and the cheese, while it could have used a little browning as it was just barely melted, was pretty decent quality – I think, based on the flavor, that it was actually a mix of mozzarella and provelone. And the ham and herbs on top did add some flavor, I must admit. So, unexpectedly, kinda sorta recommended.
And, just a by the way – we're about to head out on our annual extended vacation, so this project will be on hold until early August. Besides, I could use a pizza break.