For months when I first came to South America I kept thinking that the menus in Peruvian restaurants had a misspelling. Not in their English translations, which, let's face it, are ubiquitous, but in the Spanish. Everyone was offering up lomo saltado, "leapt (or leaped) beef". I was sure they were using the wrong verb for this stir-fried meat dish, saltar versus the cooking term saltear, or saute – lomo salteado, "sauteed beef". Why I continued to believe this for so long when restaurant after restaurant spelled it the same way is just testament to my lack of Spanish knowledge at the time, and a bit of pigheadedness. It is indeed "leapt" and not "sauteed", and I suppose sort of fits that whole tossing and jumbling motion used when stir-frying. Over time I've played with different versions of the dish and thought it was time to offer up a step by step for you. It's actually a quite simple dish….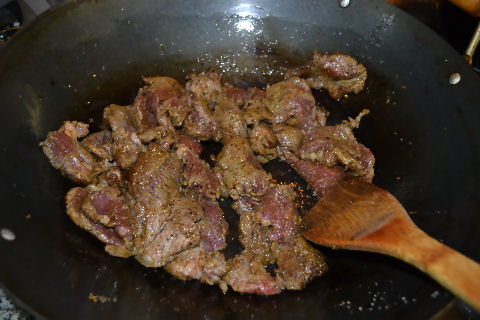 600 grams (about 22 ounces) of high quality beef tenderloin, sliced into pieces less than 1/2 cm thick. I make a spice mixture of 1 teaspoon each of salt, black pepper, cumin, coriander, Peruvian yellow chili powder, and rocoto chili powder; and coat the beef well in this mix. If you can't find the two chili powders, fresh chilies are fine of the two types, use about a tablespoon of each finely chopped or pureed – but hold those aside until a later step to add. I prefer the dish using the powders as it creates a really nicely flavored crust on the beef. In a wok or large frying pan heat 60 ml (1/4 cup) olive oil over high heat and quickly brown the meat. Remove the meat and set aside.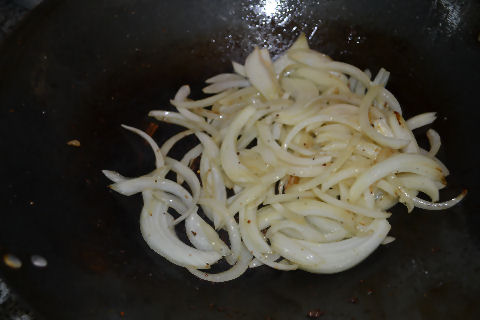 In the same oil saute a large onion that's been cut into thin plumes (cut vertically rather than horizontally). It's just the traditional presentation style of Peruvian onion cutting. Cook for 3-4 minutes until softened and starting to become translucent.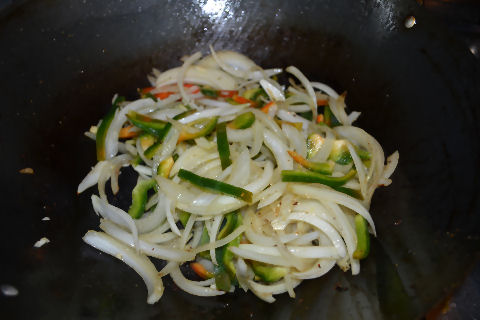 Add a green pepper cut in short strips and 2-3 chopped garlic cloves, and continue cooking for about 2 minutes to soften the peppers. If you're using fresh chilies rather than the powder, add the puree or fine dice now.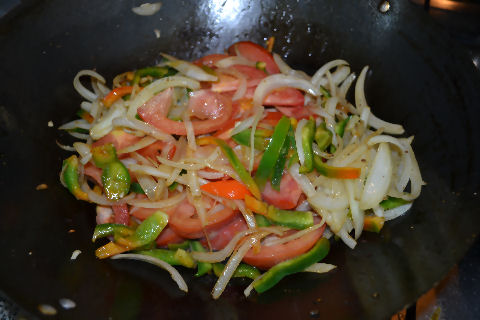 Add two tomatoes cut in wedges and cook for 2 more minutes to start softening them.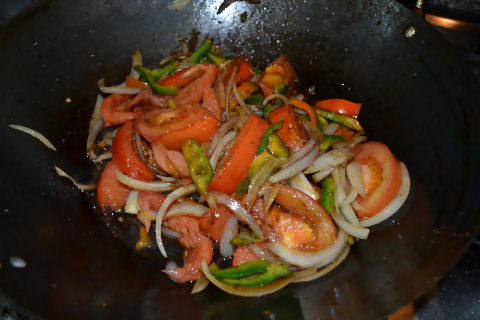 Add about 60 ml (1/4 cup) of soy sauce and toss to coat.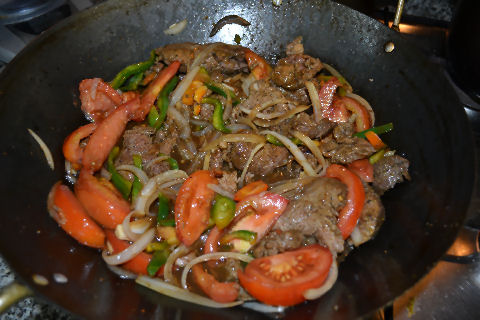 Return the beef to the mix and toss together.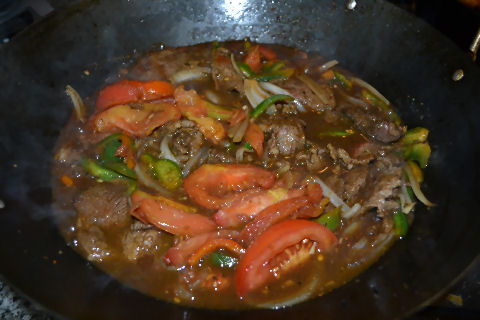 Add about 240 ml (1 cup) of stock to the pot, bring to a boil, reduce the heat to medium and cook for about 5 minutes to meld the flavors. Now, my preference if I've got it around is to use a bacon and onion stock, one of my favorites, though traditionally a beef stock would be used.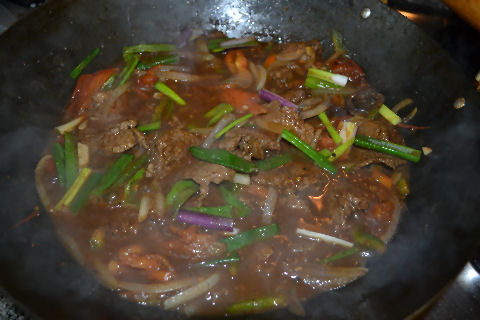 Add a couple of green onions cut into 2 cm (just under 1″) sections to the mix, toss together and remove from heat.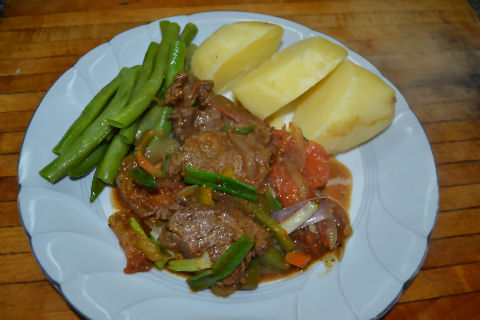 Lomo saltado is generally served with either rice or potatoes – we like simple boiled potatoes on the side, along with, perhaps, a little green vegetable. This quantity makes enough for four portions.