"Give us this day our daily taste. Restore to us soups that spoons will not sink in and sauces which are never the same twice. Raise up among us stews with more gravy than we have bread to blot it with. Give us pasta with a hundred fillings."

– Robert Farrar Capon, Episcopal Priest and author
Hmmm, the question is, does it make sense to post about a week's dinners where there's nothing really new? Those of you who've been hanging around here have seen all these dishes, in one form or another. And that's the catch, each of them has a slightly different form than in the past, or, rather, some sort of tweak to the recipe that I think makes it better. Incremental evolution and all that. Why? It's not that I'm not feeling creative, but, I'm in the midst of work on the (hopefully soon) to be finished cookbook that has been in the works for several years now and I'm at the point of deciding whether to remove certain recipes, add others in, or, and to the point, tweak them so that they're more what I envision. And, of course, some of it comes down to new discoveries, new ideas, new influences that offer up a minor twist that I think will make them even better. So posts like this will, perhaps, be more of in insight into the writing and creative process than into new dishes. It won't happen every week, and it wasn't planned that all five dishes during one week would fall into that category, it just sort of worked out that way.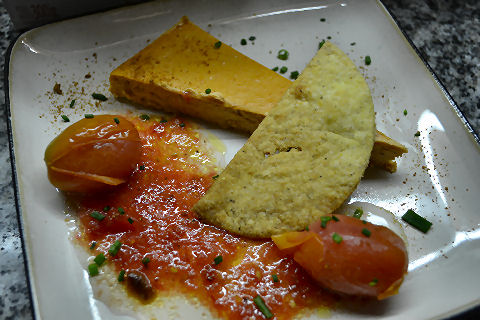 Textures of tomato – the tweak – I mentioned briefly a "tastes of tomato" dish at Melibea during my NYC sojourn. What stood out for me were the infused tomatoes on the plate, so I'd asked about how they were done. I didn't follow the recipe exactly as the chef there had infused them with dashi – a blend of bonito flakes and kombu – and I wanted to keep our dish vegetarian, so I made a pure kombu stock and infused my fried cherry tomatoes with that. A definite extra hit of umami flavor to the dish.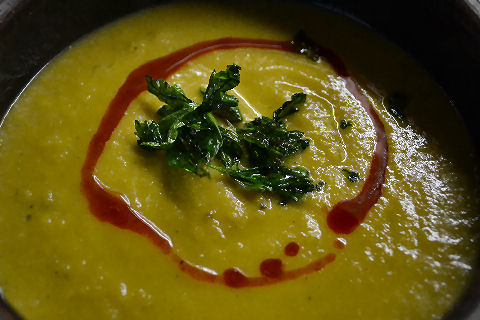 Brussels sprout bisque – this dish has gone through several versions, mostly to make it a richer, thicker soup, mostly just by reducing the amount of added vegetable stock, but also to really punch up the flavor, by trying it out with chicken stock in place of vegetable, which works really well when we don't have vegetarian folk joining us during the week. I decided to experiment with it and add in a little garlic and just a hint of chili, and it works even better. The book version will likely use those and chicken stock, with veg stock as an option.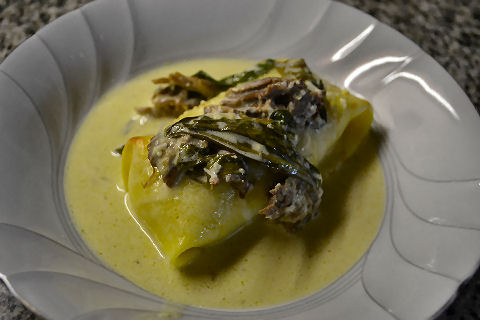 Roasted Garlic Blintz – blintz, manicotti, canneloni, it all sort of blurs, I should stick with my roots and call it a blintz, no? No oxtail available this week, which was a shame as the sauce is less unctuous, but the one thing I wanted was to add a little more bite to it along with the radichetta, I added in a good dollop of a hot mustard to it. Definite improvement and the final version will have that and the oxtail back in.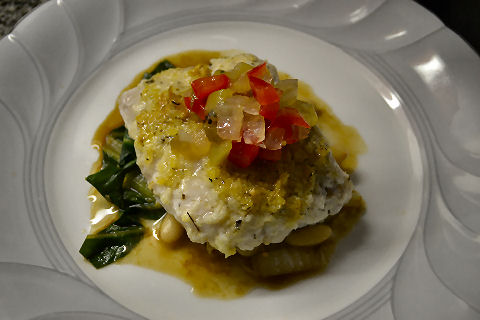 Panko & herb crusted fish – I've tried this dish out with a variety of fish, and different herbs in the crust, I think we're finally there – grouper or sea bass all around seems to come out best with these flavors, herbs de provence (my package says it contains rosemary, savory, oregano, marjoram, basil and thyme) in the crust gives it a nice complexity, and I've added in some chard to the white bean and chinese cabbage medley which gives added flavor and color. The kiwi relish remains unchanged – it really is delicious as is. There's a lot going on in the dish but it all seems to meld together really quite well.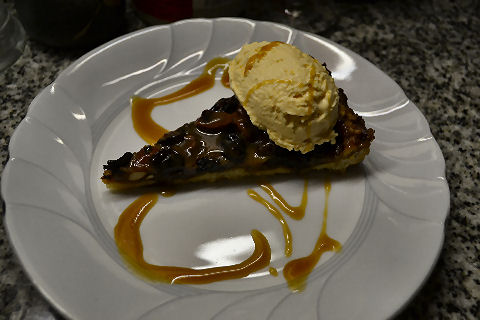 Nut Tart – Since the first time I tried making the traditional version of this nut tart five years ago, it's gone through more changes than I care to count – mostly I've been experimenting with different nuts and fruits. I thought that maybe the addition of a fruit ice cream (papaya and palm sugar) would be the way to go, but I'm not convinced – I also didn't think the papaya flavor came through as strongly as I'd have liked in the ice cream. So far, the best version has been the apple, pear, cashew and brazil nut version without a top crust, and simply accompanied by caramel sauce; although, the quince and almond version with kumquats cooked in spiced syrup was an awfully close second. I think I'll stick to those two versions rather than this one. Not all tweaks make something better.