Although I'm not leaving until later in the day, my plans are to take it easy on my last bit of time here in the city, so I don't expect anything to pop up that merits being a gem inclusion…. I'm going to wind up the last three days with just the more interesting dishes, since mostly it's been about hanging out with friends and just relaxing and not eating anything that requires me to think about it. Mostly.
Monday was the road trip back from DC. My aunt and uncle were headed home to Connecticut and offered a ride, along with their other son (who did his whole wedding thing years ago, this trip I got to meet his fabulous wife for the first time). By the time all were ready to go and fed (we returned to Sauceity, which apparently not only is one of only two places to get brunch in National Harbor, but the same holds true for breakfast – other than a little place that does "breakfast wraps" and a coffee shop or two). Totally different menu for the weekdays – I went with an egg, tomato and cheese breakfast sandwich with hash browns. Then it was trail mix and coconut water for the journey, followed by arrival at my hotel – a different one this time as Hotel 17 didn't have space when I'd tried for the second week. And I found myself at "The Jane" in the far west village/meatpacking district. And, within ten minutes found myself on the street because there was no way I was staying there – between the god awful smell, peeling paint, ratty carpet, and a room with what was essentially a raised camp cot so that you could stick your suitcase under it, as there wasn't actually enough room to stand in the room and have your suitcase next to the bed, not to mention the communal bathrooms and showers. A quick phone call revealed that something had opened up back at Hotel 17 for one night (that thankfully extended to two more), and the desk folk at The Jane were amenable to simply cancelling my stay without charge – apparently it happens often enough.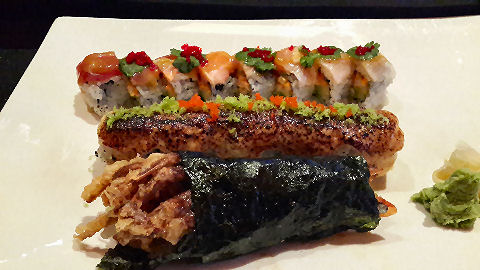 My cousin was staying uptown but decided to crash rather than going out, so I popped around the corner to just grab some sushi – amazingly enough I haven't really had any this trip – hmmm, last lunch today. The Loop, 173 3rd Avenue, popped up on a quick Foursquare search with good ratings for creative sushi, and even quite a few recommendations for what to order. Front to back, a soft shell crab handroll, the "killer scallop" roll, and the "3rd Avenue" roll – the first of the specials "spicy crunchy shrimp, topped with seared scallop, miso reduction and masago" and the second, "crunchy spicy white tuna, avocado and jalapeño, topped with tuna, salmon, yellowtail, lemon, cilantro and tobiko with yuzu miso". All fresh, and actually really good. Not for the sushi purist – though they offer basic traditional sashimi, sushi and rolls, I just didn't try any – but I was impressed.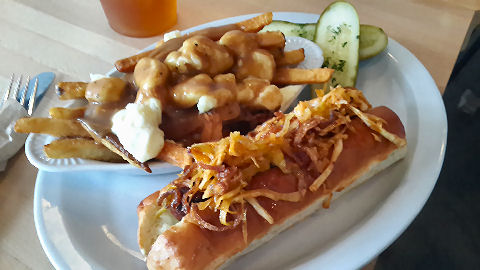 Next day my cousin back on his feed so to speak and we met up at Mile End, 53 Bond Street, for deli sandwiches. This time around I thought I'd try something different – I'd planned on their tongue sandwich, but they no longer have it, so I went for the spicy harissa lamb sausage. Good, nice and spicy, but spicy enough that it masked any flavor of the meat – it was hard to say that it was a lamb sausage versus something else. A nice little dish of poutine on the side. Then we wandered, and even grabbed a slice of pizza later in the afternoon, and then off to do our own things.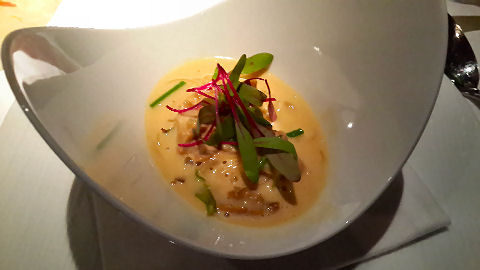 Met up with a friend in the wine business back at the tapas bar I'd tried the previous week, Melibea, just had to re-try that salmon carpaccio dish. Interestingly, it was different – not much, but the ripe cherry tomatoes were replaced with little, slightly hard green tomatoes that were tarter. I liked it better the first way. And we tried a few other dishes including a signature tastes of tomato sort of dish that had some interesting components I may steal. The other things, a duck salad and a braised duck dish (my friend likes duck) were good but not the same level of creativity or flavor. And then we wandered over to Toqueville, 1 E. 15th St, where my original wine mentor Roger Dagorn is now working and had a couple of glasses of wine and split an angel hair pasta with uni carbonara sauce. Lots of butter and cream, touch of soy and lime. Killer rich. I'm not sure I'd be able to eat a whole portion. Delicious.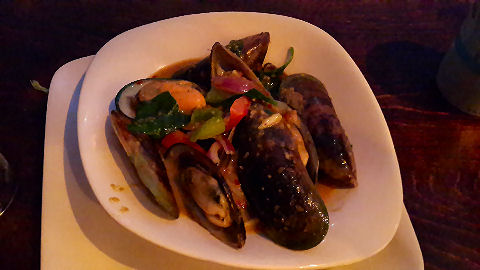 Yesterday I grabbed an early lunch at Sao Mai, 203 1st Avenue – I was in the mood for some good Vietnamese food and this place regularly is getting touted as one of the best. Fantastic banh cuon, rice pancakes wrapped around mushrooms and pork and served with a peanut dipping sauce, average goi cuon, shrimp summer rolls, and an amazing so lua curry – coconut mussel curry – probably the best I've ever had.
Later in the day tried a sort of forgettable "modern filipino" dish that was a play on chicken and purple yam waffles at Maharlika, further down in the East Village along 1st Ave. Interesting, but I didn't really get the filipino element of it other than in theory. And late, late evening, a last dinner our with my friend John where we grabbed a chilled seafood platter and some wine at Blue Ribbon. And that, my friends, other than grabbing myself some sushi now for lunch, wraps up the trip. Coming to you next from back in BA.