Okay, this is the day some of you have been waiting for. My friend David came down from Boston to spend the afternoon and evening – those of you who've been with me awhile may remember our jaunts in his town last year. We decided on a food and wine grazing day, and I decided to foursquare check-in all the spots, just to blow a few minds…. He arrived early afternoon and we met in the lobby of his hotel and immediately hit the streets.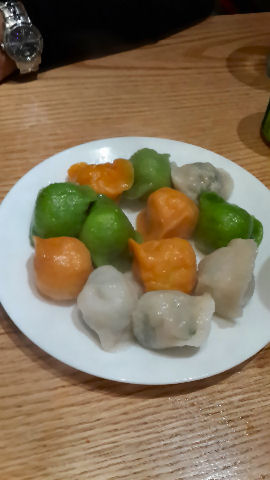 We'd decided that since we were close and both like Korean food, we'd start in Koreatown and just kind of pick a couple of spots. When we saw the team at
Mandoo Bar
, 2 West 32nd, busily making dumplings faster than we could blink, we popped in and had a mixed plate of three different kinds – pork, shrimp and vegetable. We also nibbled on some edamame and gave a shot at a scallion pancake. The dumplings – tasty but a little thick and doughy we thought. The scallion pancake, really, really greasy and we ended up not eating half of it.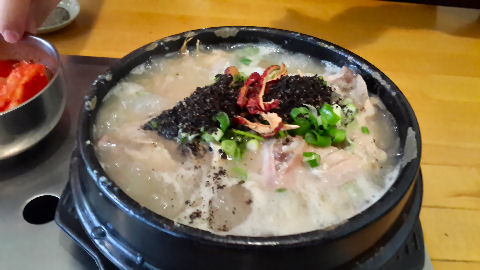 A few years ago I had a great Korean meal with some friends who know their stuff at
Arirang
, 32 West 32nd, and remembered it fondly. David and I didn't go all out with multiple plates as our intent was to visit a whole lot of places for the day. I looked at my blog post from back then and we ordered the same chicken porridge (which I have the name wrong in the linked post, but the waiter corrected me with a name I've now forgotten) with the jujubes, black sesame, ginseng and ginger. It wasn't as good as I remember it, but, my friends had also doctored it up with a bunch of added condiments – as you can see in the difference in the two photos from this and the previous post. We ate most of the bowlful anyway, it was still quite tasty. 
[Closed]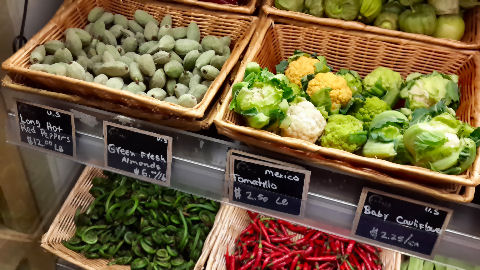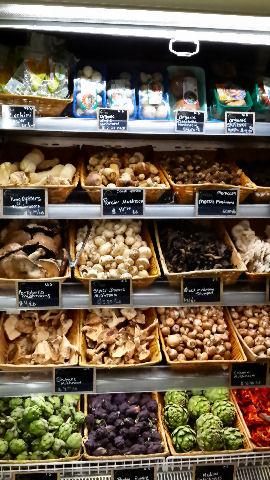 From there we wandered into SD26 and shared a glass of sparkling Franciacorta with friend and former co-worker John. And from there, we walked down the street to Eataly, which David hadn't been to, and just wandered around inside for a short while.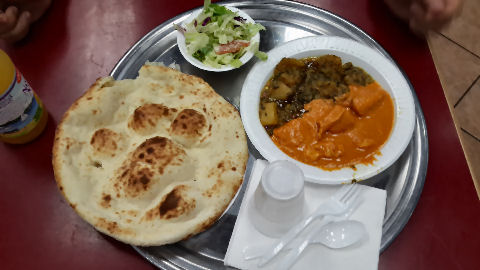 It was time for a quick coffee, so we walked a few blocks up to
Stumptown
, which both of us had wanted to try, and while we were there our eyes lit upon two Indian-Pakistani restaurants across the street, Lasani and
Chandni
, 11 West 29th St. With the power of foursquare in hand we quickly learned that the former was basically denigrated as a sort of Indian greasy spoon, while the latter has rave reviews, particularly for its chicken masala. So we split a plate, along with a side of
tamatar
– stewed potatoes and spinach in a really tasty sauce, and naan bread that came right off the griddle while we watched and waited. Verdict? Despite being a steam line casual cafeteria style joint, one of the best chicken masalas I think I've ever had, as were the other two components. Wow, what a find – I'd be heading there for my Indian food fix if I still lived in town.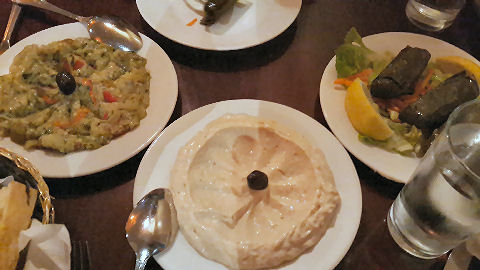 Heading uptown a little bit we spent a little time in Times Square – wow, there's more and more lights there than ever before – technology and all that. We headed into Little Brazil but didn't see anything interesting and ended up settling in at
Akdeniz
, 19 West 46th Street for a mini-array of nibbles – vegetable and rice stuffed grape leaves, babaganoush, and easily the best
tarama
I've ever had – a complete wow and I want to know how they make it, because it wasn't at all like the versions I've had before which are usually thickened with bread or potato – this was ethereally light, and the menu said it was just fish roe whipped with olive oil and lemon. Yum! The babaganoush was fresh and zesty but lacking any smokiness and we didn't finish it off, the vine leaves were heavy and not very interesting. I'd go back for a platter of the
tarama
and some fresh pita bread….
Oh, and we were seated at a table right across from Jackie Mason and two of his companions. A slice of New York.
At this point we'd reached a bit after 5 pm (and if you look at it, we'd really only shared a few small plates of food), and it was time for a brief separation. David had family to visit for a steak dinner, and I had Japanese food plans with Michael, a sake importer and friend. David had been invited to join us but family obligations prevailed. Michael and I met up at Tsukushi, 300 East 41st. Now, if you like Japanese food and you're in NYC and you haven't ever been, you should. It's not a sushi bar. It's not a sake bar. It's not a fancy restaurant. It's a little hole in the wall that feels like you've just stepped into someone's home and they've set up a counter in front of their kitchen to cook food and feed it to you. You get no say in what you eat, they just put dish after dish in front of you. If you do want more after eating "the set meal", they have a short menu of noodle and rice dishes you can tack on. [Closed]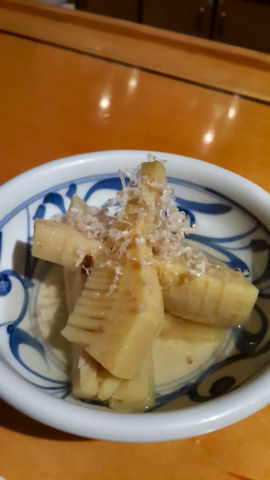 Fresh bamboo salad with ginger and shaved bonito flakes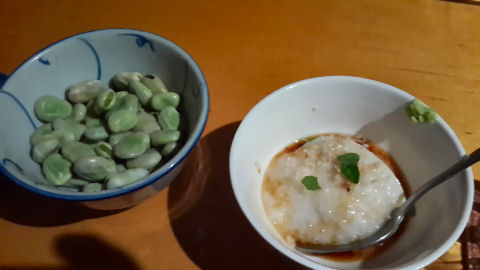 Instead of edamame, fresh fava beans, and a bowl of just made soft tofu in a soy and mountain yam broth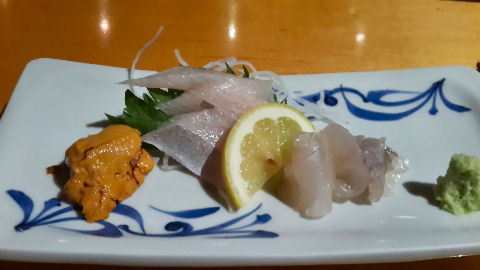 No sushi at Tsukushi, just sashimi – fluke, mackerel and sea urchin here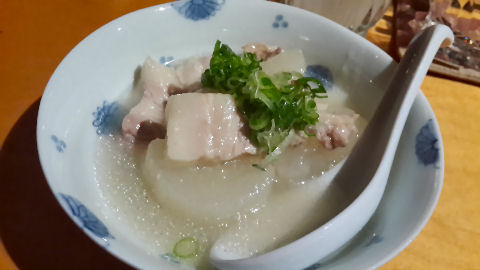 Pork belly and daikon stew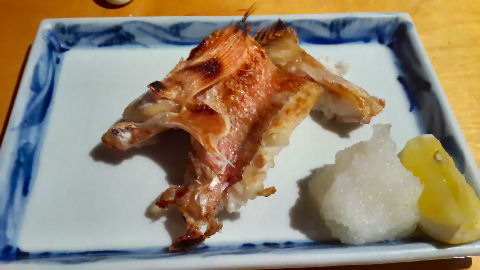 Collar of ocean perch grilled on a little hibachi right in front of us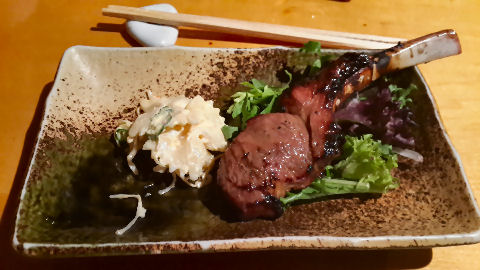 Meltingly tender lamb chop
All absolutely delicious, as always. Though, I definitely was not up for ordering any of the additional dishes. Oh, and for the food portion, a mere $55 apiece. We did go through a bottle of sake, plus taste another one.
And then, still early eve, Michael dropped me back at the hotel where I relaxed for an hour and then headed back out to meet up again with David and another friend for a round of wine at the rooftop bar at Ed's Chowder House in the Hotel Empire – unfortunately the rooftop bar was booked for a private party so we had to settle for the mezzanine bar and a strange Russian bartender who clearly thought he was funny. He wasn't. And, we called it a night. While we hit a lot of places for the day, the truth is, it wasn't a huge amount of food, but it was great fun!