I did say that I was only going to post the standouts, right? Okay, maybe I have to at least mention a few things here and there – not all gemstones are pretty…. As I said, I'm grazing, and on one eve so far I met up with two friends with plans to simply try the food at one spot, early, and call it a night (at least for them, I planned on more). They decided they wanted to make it an evening of restaurant hopping as well, and so, we hit, in order, Mission Chinese, Cata, and Calliope.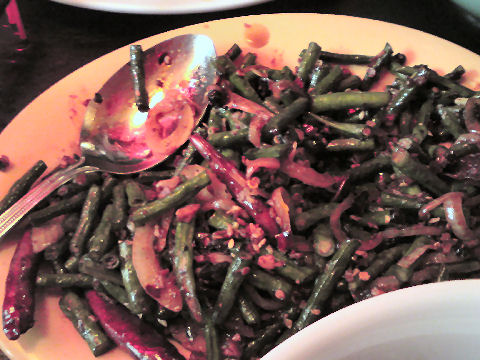 So let's start at the beginning.
Mission Chinese
,
154 Orchard St
171 E. Broadway, might be the most talked about new Asian hotspot in NYC right now. At least in some circles. I mean, my friends eat out at Asian restaurants a lot and one of them is in the business. And they'd only really heard about it because the chef, Danny Bowen, just won a James Beard award for "Rising Star Chef". I'd read about it, and someone from BA who'd been to NYC recently had said they'd really liked it. Supposed to be very creative Asian street food done up restaurant style. I have to admit, I wasn't prepared for a little dive of a basement that was dingy and reminiscent of some sort of 70s cafe where no one cared about the food, just about the attitude. And Attitude, with a capital A, they have. Okay, he did just win an award. He wasn't there that I saw. I did, while I waited, witness two of the cooks arguing about one spice mixture and what went into it, both had completely different ideas and had been making it their ways "for weeks", and then they were joined by a third who said, "why don't you read the f*cking recipe, you're both wrong." That didn't bode well for food consistency.
The attitude upfront continues in back, after passing down a long hallway and emerging in what passes for a dining room. It's communal table style seating with tables and chairs jammed in like a tetris puzzle and pounding noise from both guests and an overblown sound system. After being informed that the beers on tap weren't working and there was no other option for beer, we settled for a round of gin and tonics and ordered a half dozen small plates of food to share. Now, with one exception, none of the food was bad, it was all edible and even reasonably nicely presented. But there was simply nothing creative and unusual about any of it, other than that dishes that crossed into different Asian cultures were being served out of one kitchen. But any of the dishes were ones that we've seen before and could find down in Chinatown at a lower price or more abundant portion. The seasonings tended to be out of balance – not horribly so, but just off, not surprising given the exchange I witnessed up by the kitchen – leaving us wondering if anyone had actually tasted them before sending them out, not to mention the chef's quality control on what's coming out of his kitchen, whether he's present or not. The plate pictured above, Mongolian long beans, was so laced with cumin and coriander and salty soy that it hurt to eat it, and we pretty much left what you see in the photo. We couldn't get the check fast enough to get out of there into the relatively blessed silence of Orchard Street…. And it was clear on our leaving that they couldn't wait to jam in some new arrivals to the seats we'd just vacated. Sometimes, hype really is just hype.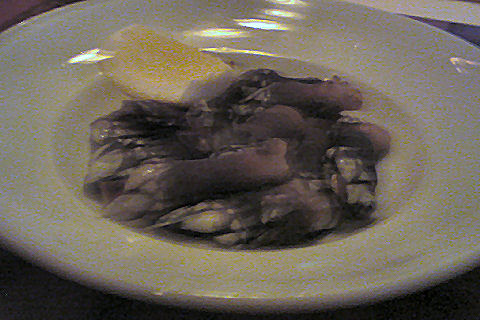 At the serene other end of the spectrum, the newly opened
Cata
, 254 Bowery St, is a cavernous space with high ceilings, an air of calm, and friendly, solicitous staff. A mix of bar seating and high, communal tables with stools, it's a tapas bar with no pretensions to anything fancier. No fancy fusion, just a modicum of creativity, it's solidly cooked and presented small plate food designed to be nibbled on while imbibing cocktails. And, the specialty here is gin and tonics, with various gins and various tonics and various infusions gracing a list of a couple of dozen offerings. Apparently the gin and tonic is the cocktail of the moment in Barcelona and they're following the trend here too. We had simple plates of grilled padron peppers, oysters on the half shell with bone marrow crust, cured anchovies with lemon and radish, and even a bowl of fresh
percebes
, a type of barnacle rarely seen here. Sorry about the photo…. We nibbled away happily for about an hour, thanked the staff and host, and wandered out into the night air far more fortified.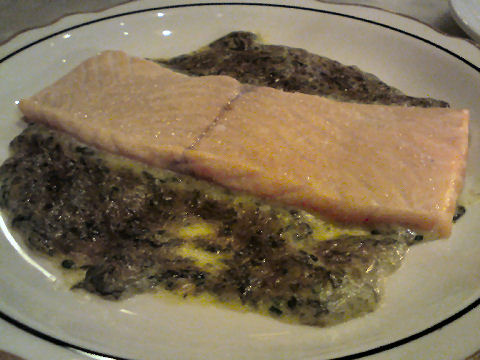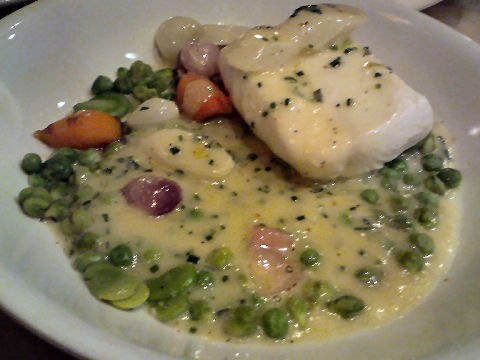 And, decided to head to Calliope, 84 East 4th St at the corner of 2nd Ave, where my friends had heard that some decent French food was to be found. The place was hopping, even more so than Mission Chinese had been, and we just barely garnered the last available table. And throughout the evening as fast as a party would leave the table would be re-sat with someone who was waiting. The space used to be a burger and drinks joint called Belcourt, I remember it from when I lived in the 'hood as, pretty much, a sort of frat boy dive that was always annoyingly loud and rowdy. It's still loud as there's not a soft surface in the place, though it's less rowdy, as the folk dining there are all from well north of East 60th street residents, well north of 60 years of age, and well north of the Mason-Dixon line – it had to be the whitest, waspiest, most upscale crowd I've ever seen in the East Village. And what they're coming there for turns out to be what I'd say is the best French brasserie food I've had in more than a decade. One dish after another was perfectly cooked, perfectly seasoned, and beautifully presented. We couldn't stop ordering or eating. From the opening salvo of anchovy toast, followed by a dish of fresh Maine sea urchins, then the just barely broiled slice of king salmon pictured above with a vibrant sorrel hollandaise sauce, a spring onion, leek and goat cheese tart, and then the halibut with fresh peas and fava beans and white asparagus all poached in milk, then a perfectly roasted quarter chicken with skin so crispy it cracked when you cut into it, a casserole side dish of chard and sorrel gratin, and finally a tangy rhubarb and strawberry pastry for dessert. The menu is paired up with a brilliantly selected list of mostly French "country wines", all offered at really reasonable prices. We were so stuffed, and so happy – a complete wow. [Update: Well, there goes this place.]