I'm grazing. Around everything else I'm doing, I'm just grabbing nibbles here and there, some on my own, some with friends, and much of it is small, shared plate kind of stuff. I'm not taking photos of everything (some stuff yes, mostly just with the phone), I'm just having a good time. And, I'm not going to post a round up of everything I'm doing and eating, just the standouts, and it may also be in somewhat random order… that's life. Time is fungible and all that.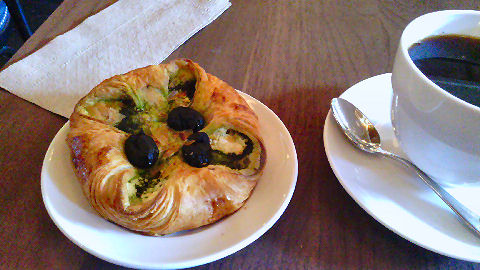 Grabbed coffee and this amazingly buttery and rich
croissant au pistou
for breakfast at
Lafayette Bakery
, 380 Lafayette St. What's not to like? Fresh basil, a hint of garlic, black olives and a bit of goat cheese.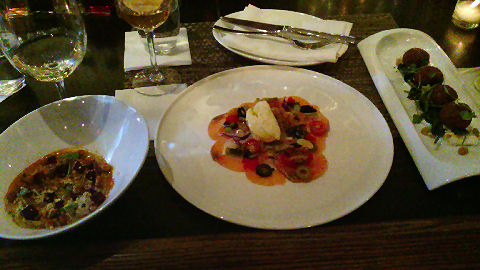 An early eve meet-up with some wine importer friends at the new
Melibea
, 2 Bank Street, corner of Greenwich Ave, the conjoined twin of the open slightly longer Barraca. We left a selection of a trio of tapas in the hands of chef Jesús Nuñez, who a few years ago arrived on the NYC restaurant scene from a background as a local chef
enfant terrible
in Madrid at restaurants Polenta and Flou. On the left, some really good hummus studded with fresh chickpeas, beans, toasted seeds, and packing a punch, with a side of too small but really delicious rosemary pita bread hot out of the oven. On the right, excellent falafel. But the true star was the center plate, a concoction that took a moment to grasp, not only in concept but in flavor – carpaccios of salmon and scallops topped with: red and black lumpfish caviar, slivered toasted almonds, tapenade, what I think were baby edamame, green and black olives, cherry tomatoes, finely diced salmon gravlax, and a just barely sweet toasted almond ice cream. I am, of course, stealing the idea for some inspiration down the line. I don't generally use words like this, but f*king brilliant! 
[Note: I did come up with a dish inspired by the gravlax one, here.] 

[Closed]