Continuing on our 92 pizza trek, we continued along Angel Gallardo from where we last left off. A couple of blocks go quickly without a pizza in sight.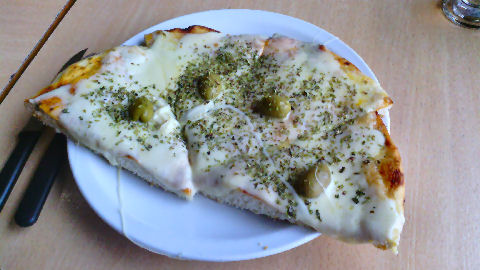 (17) And we find ourselves at the corner of Vera standing in front of Bar La Morena II at Angel Gallardo 197, debating whether to enter. It's not really a pizzeria, it's a cafe/casual restaurant. But, they made a point of having pizzas listed on a blackboard out front, and the list wasn't limited to just a simple mozzarella version, so we decided to give it a try. Better we'd not. Places that don't specialize in pizza just so rarely do it well, not that all of them that do specialize do, but the chances are, perhaps, higher. Though nicely browned and crisp on the bottom, the dough here was tasteless, the sauce was, we think, tasteless as well, but with so little of it we simply couldn't tell. The cheese, gleaming white, fatty, gloppy, and lacking in any mozzarella flavor. Oh, and the place only offers "large pizzas" though it turns out they'll serve a half pizza as long as it's plain mozzarella. We didn't bother finishing this before deciding to move on.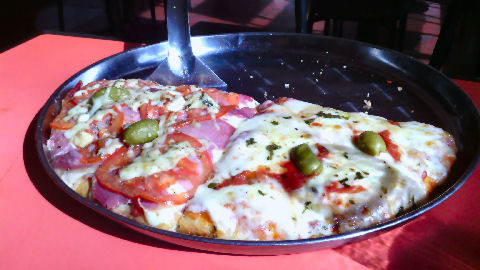 (18) A place of confused identity came onto our radar a few blocks further on at the corner of Marechal. Various signs on the building name it as Parrilla San Jorge, Cafe San Jorge, and San Jorge Pizzeria, addressed at Gallardo 602. Based on the menu the latter seems the most likely – I didn't see anything on it that was parrilla. But then it gets further confused as their wi-fi connection is Cafe San Jose. Make up your minds already…. Thankfully the pizza was far less confused. Decent crust though it could have used more flavor. The tomato sauce on the other hand was generously applied and flavorful. The cheese was good quality, if a bit more of it than I tend to prefer, at least on the mozzarella slices. Here, too, the only options are a large pizza or a half a large pizza. Interestingly, as if they were making an individual smaller pizza, they'll make the half a large pizza half and half, so we tried the plain mozzarella and the most interesting combo on the menu, called La Australiana – fresh tomato slices, provolone and mozzarella cheeses, a ton of really good prosciutto, and olives – nothing Australian about it, but we'd eat it again. This might be the first place I've seen where the olives were baked into the pie rather than added afterwards – good quality ones and they get a nice caramelized quality from the cooking.
(19) At the next corner we faced a new dilemma, one I hadn't considered to this point. What to do when faced with another branch of a chain pizzeria that I've already covered at an earlier branch. At Gallardo 702, corner of Acoyte, we confronted a Zapi Pizza spot, another of which I'd encountered as #10 in this series. A short debate ensued, the three tines considered: a) just treat is as another stop on the trail, individually; b) try something different at it, since the plain mozzarella had already been covered, just to see what they do with something a bit fancier; or c) just mention it, give it a number, and move on – after all, there are a whole lot of pizzas to eat down the line. Although my first impulse was for b), I decided on c) – the truth is, these reviews are for the basic pizza as comparisons, and the differences between one or another branch of a standardized chain are going to be minimal and can probably be as much chalked up to minor factors that vary with who happens to be cooking on any given day, our mood, or anything else. We also noted that the return trip on the 92 will hit the same branch while going along Acoyte, the cross street – no, it will not get counted again, merely noted. Plus, we weren't really hungry anymore. Moving on. Well, on hiatus until I return from vacation and get back in the swing of it all.