Just some lunches out and about with an eye to the possibility of future full on reviews. First off, a trip to San Telmo for a good-bye lunch with friend Ronica of Indian cooking fame as she heads back for nicer weather in Toronto and a rekindling of her divans up there. Lucky Toronto folk! She suggested we meet up at a new spot, Mundo Bolivar at Bolivar 1701 that had caught her eye. The place is an apart-hotel that had been abandoned for several years and was recently snapped up, renovated and reopened by a couple of Danish expats. And even more recently, they opened up a small cafe for lunch only. I don't have pictures. I don't know where they are. I took them, I remember that distinctly – photos of the place, photos of the food – but I don't have them and have no idea why. And, damnit, I emptied my recycle bin yesterday, so if they were there, they're now gone.
It's a cute place with lots of pretty tile work, clean lines, well put together, and laid out alongside a beautiful courtyard and garden. I gather the rooms are pretty nicely done as well – might be an option for someone looking to stay in the S.T. area to consider, prices seem quite reasonable. They also have tango classes and shows, it's sort of an all encompassing package.
The cafe menu is limited – a trio of salads that are all virtually identical – the same mix of lettuces, some tomato, hard-boiled egg, olives, carrots and endive, and then they just put a different protein atop each version – one with jamón crudo, one with chicken breast, one with canned tuna, and all at 52 pesos including bottled water and coffee. And, there are two daily specials for hot dishes, on the day we were there the choices were a pair of empanadas with salad or a bowl of locro, each at 54 pesos. I went for the "nicoise" salad, Roni had the locro – a staple of Argentine cuisine which amazingly enough to me, in all her visits here she'd never tried. Both were good, neither were what they promised to be.
A nicoise salad is a composed salad of tomatoes and green beans with accompanying tuna and anchovies, dressed in, usually, a slightly garlicky vinaigrette. Common additions are new potatoes, olives and hard-boiled eggs, but those aren't the core of the salad. Since this was simply a large plate of lettuce with a few additions as noted above, the only thing nicoise about it was an upended can of tuna fish on top with some oil and vinegar served on the side. That said, it was a fresh green salad that I happily ate every bit of – though perhaps a bit pricey at that 52 pesos for, well, lettuce and little kitchen work. The locro was likewise a reinterpretation – it had the requisite bits and pieces of different cuts of meat and some sausage, but the broth was basically tomatoes, mote (boiled large kernels of corn) and some fresh sweetcorn – it actually was a bit closer to something like cassoulet than to locro (whose base is cracked white corn and squash). The chef is French I think, so maybe that fits. It, too, was tasty, if not what I would have expected.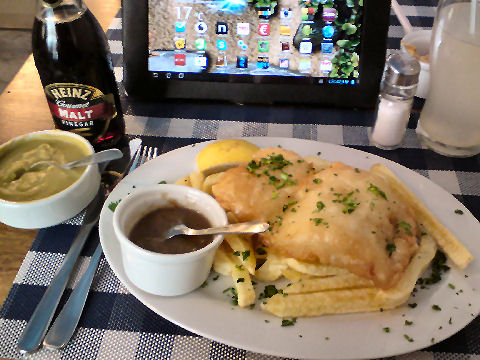 As norteamericanos wax poetic about burger places and hot wings and such when they're in the mood for "comfort food", so too my British friends can carry on at length about fish and chips. Until recently the only spot in town that I know of that offered up this classic was Gibraltar. But of late several folk have been fussing about the recent opening of Chipper, Humboldt 1893 at Costa Rica, in Palermo. Though f&c is not one of my fave dishes, I figured I'd check it out. It's also a place on my list for seafood parriladas because they've got one – it's not on the menu that I could see, but at least one table had ordered it while I was there and a regular reader had recommended it a few days ago. But I was there for the mainstay of the menu. And it's not bad, though it's still too much fried stuff in one spot for me.
The abadejo, or pollack, was nice and fresh, and maybe coming in at about a four ounce portion (120 grams or so), which puts it at about half the size of the portion at Gibraltar. The batter itself is light and crunchy, though completely unseasoned and shimmering with oil – that's more a matter of draining it better than anything, though a little salt and pepper in it or on the fish would be a nice thing. The handful of chips are much thinner, more "American" style, but were again soft rather than crispy. Is that a British preference? For 72 pesos you get that plate, a soda or lemonade (they were out of the iced tea that I wanted), and a choice of accompanying sauce – there was tartare, garlic mayo, something with cheese, something else, and, gravy – being a good Midwestern US boy gravy had to be the way to go for the fries. That was the only thing I wasn't particularly happy with – it basically tasted like they'd taken a beef stock cube, dissolved it in some water and thickened it with raw flour. But, lemon and malt vinegar were available, as well as tabasco, so all quite workable. I felt that I needed a bowl of mushy peas as well – I always thought of those as sort of overcooked and mashed – these were pureed, strained, and served up in a bowl that had sort of gelled, making it more of a spread than anything else – tasty, but a little disappointing at about half a cup for 16 pesos. Still, overall, decent "comfort food" for those for whom fish and chips falls into that category – though at the same time, kind of pricey for comfort food and quantity – I left still hungry. If I were going for this dish I'd go to Gibraltar – less expensive, overall better, and a full bar with beer and cider on tap… just sayin'.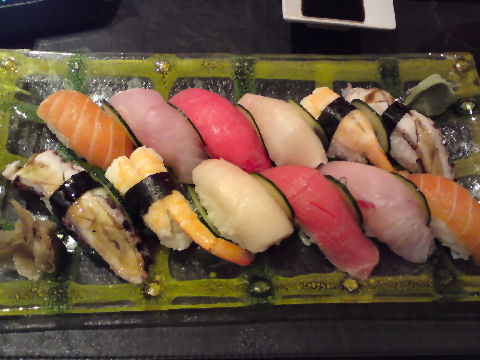 Although I've reviewed Dashi three different times at one or another of its locations, I've never specifically reviewed the one at Montevideo 1059 here in Recoleta, despite the fact that it's the one I go to most, that I get delivery from, and that the owner has come to Casa SaltShaker in turn (each spot apparently has a different managing partner/owner of some sort, so I guess they're setup more like a franchise than a chain). When I go I usually sit at the sushi bar, something few other sushi bars here in town tend to offer. For a quick bite I basically told the sushiman to just give me a two piece nigiri of each of the fish on display. And yes, unlike the usual five or six or ten piece nigiri of one type that most places here seem to require, Dashi offers them up in twos (I still don't get why, for nigiri or sashimi, one can't order them just piece by piece, it's not like a roll, what's the big deal?)
He told me that he had four different white fish, so I told him just to pick one and then make the plate – and ended up with a twelve piece plate of salmon, red tuna, white tuna (which I've only seen here once before at a fish market, and offered once at a sushi bar but they didn't actually have it), sea bass, prawn and octopus. I demurred on the "crab stick". All pristine and fresh, all delicious. All a little pricey, as sushi tends to be here, ranging from 27 to 40 pesos per pair of nigiri (though, by NYC standards I suppose that's still pretty cheap, either at official or blue market exchange rates). It's an occasional splurge.