As I said in yesterday's post, there's just so much pizza one can eat, and I've got to mix it up a bit. I'd decided to also get back to searching out those lovely little parrilladas de pescados y mariscos, seafood mixed grills. I'd originally not thought it to be a particularly large category of offerings and had only found one more spot, purely by happenstance. But then, someone recommended another place, and I thought, there must be more, so I began the search and came up with a reasonably impressive list. I've started working my way through them, and I'm guessing they'll end up spread over two or three posts, but that may depend on certain factors, such as…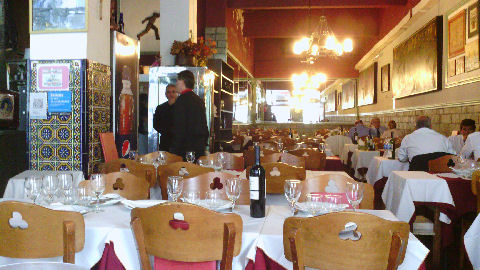 Arriving for lunch one day at Taberna Baska, Chile 980 in Monserrat we found ourselves in a fairly cavernous space with virtually no one dining. Several minutes of futile searching in the menu yielded no entry for a parrillada, one that was touted highly on local rating site GuiaOleo. We called the waiter over and asked. He informed us that it's been years since they offered one on the menu and it was a massive platter for 4-6 people to share. A shame, cross that one off the list, but we're already seated and have never been to this spot, so why not have a nice seafood lunch? Pricing looked a bit steep, but he immediately let us know that the portions are huge and that two people could easily share a half portion of both an appetizer and a main course and be perfectly sated – almost everything on the menu is available in half portion, a nice touch if sizes are intended for mass sharing. He also asked if we wanted our dishes prepared traditionally Basque picante or Argentine style – I like that.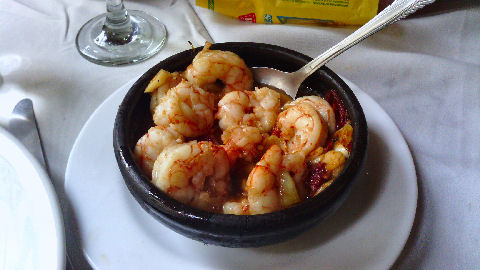 Our appetizer, gambas al ajillo, prawns in a garlic and chili oil, while I wouldn't call it huge, it's generous, and certainly a bigger portion than, say, the half portion at El Burladero here in our 'hood, in fact, roughly equal to their full portion (120 pesos), and less expensive (85 pesos). It's also better – simply because of the chili, which actually was in the oil – enough that you could not only taste, but break a sweat…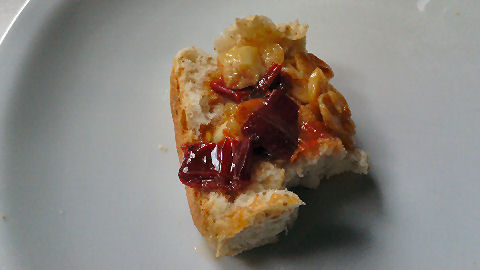 In fact it was an ajillo worthy of mopping up – and we did, using the unfortunately mediocre bread as a canvas on which to deposit all the garlic and chili slices and drizzle with oil. All of it. I think we shocked our waiter who came over to find the still piping hot bowl devoid of any content. Next time I'd get the full sized order to split – more shrimp, more garlic and chili – probably not a good dish for a first date. Or maybe so, get the true measure of your companion.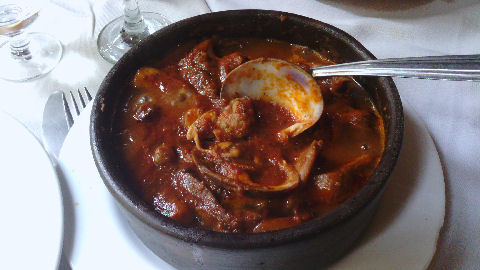 On the waiter's recommendation we went with the half portion of the cazuela de mariscos which turned out to be huge – no question he made the right call on this dish. A cauldron of bubbling seafood and sauce was placed on the table, chockful of calamari, calamarette, octopus, shrimp, prawns, scallops, clams, cockles and mussels all in what vaguely reminded us of a spicy bolognese sauce – very similar flavors. And again, nicely picante. We did manage to spoon our way to the bottom of this but I'd certainly not want to be attempting it on my own unless I skipped the appetizer. The one thing, it really is all "stew", and could have used some sort of starch – I don't know if they offer portions of rice or potatoes or something of that sort, but I'd probably want something to accompany it on another visit – hmmm… papas bravas maybe. I know, I know, it's a stew, but it needed something in it other than seafood – unless of course you're on a low carb diet in which case this dish is brilliant.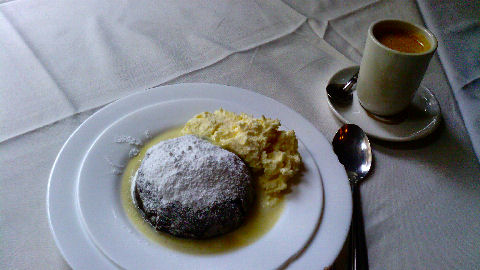 We couldn't decide between one of the natillas, or custards, and the house special Pastel Baska so we left the choice in the waiter's hands – he returned with the latter. It's "da bomb" – kind of literally, a bomba – a thin crusted cake filled with a gooey spiced apple cake filling – almost like one of those molten chocolate cakes but done with apples and spice. Served over a reduced cider sauce and accompanied by a cider infused whipped cream (maybe just slightly over-whipped, it was just edging on to turning into butter). Great finish to lunch.
Overall – the space is fine, nothing special, it's just an old style tavern sort of setup with white tablecloths added. It must be a cacophony when it's full though, there are no soft surfaces. Waiters are professional, efficient and friendly and have clearly been there since the dawn of time, and at least ours, based on accent, was likely from Basque country, though we didn't ask. The food, at least based on three dishes, is classic and delicious, and really does come in more than generous portions, which easily offsets what appears to be high pricing – it's all family style plating (and watching the few other folk in the room, all of whom seemed to be regulars, they knew that as well – each table got only one or two dishes to share). The cost for the three dishes, mineral water, a half bottle of wine (it was lunch after all and we had things to do later on), and coffee came in at just over 400 pesos, call it 460 with cubierto and tip. And we waddled out. Recommended.