It's always nice to know that people are hanging on your every word. Really, it is, right? Perhaps not every word, but it's going on a month since I last posted in this series, and some of you are just not standing for it. I've gotten half a dozen e-mails asking when I was going to post the next installment, a couple of facebook messages, and a couple of tweets, and, twice, at Casa S dinners, local guests who were following the posts told me they wanted more. There's only so much pizza I want to eat folks, and with 92 spots (perhaps) looming in the future, it's going to take some time. Still…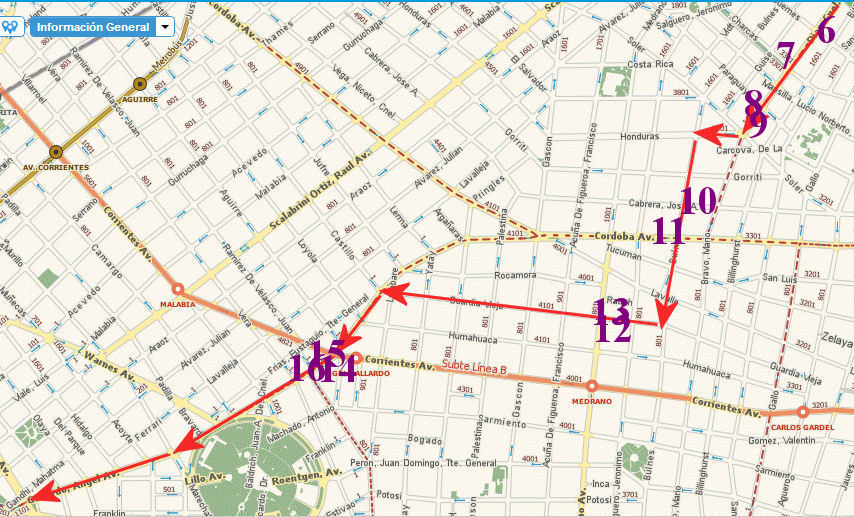 Let's catch up to where this post takes us, following on the map. Graphically it makes a point that I noted in the text of the various posts – there are gaps where I go for blocks at a time without finding any pizzerias, and then suddenly, a couple of them together. Location, location, location as the real estate mantra goes – it might be interesting (or not) to figure out why they show up in pairs or trios in the same locale – what is it about those particular corners or blocks that seemed more conducive to having pizzerias located there. You can, by the way, right click on the map and see the full size version if it's hard to see exactly where we're looking in the small one. On to the most recent trio of pizzas…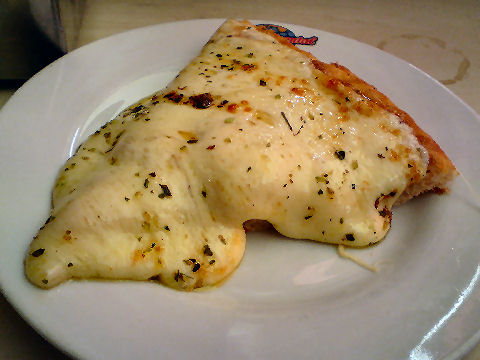 I was solo for this most recent jaunt, and figuring I'd only be able to hit one or two spots, and then head back out another day for some more, but, with happy happenstance, all three pizzerias offered up pizza by the slice. I'd continued from where I left off at the end of Guarda Vieja, where it meets up with Estado de Israel, and headed on up the latter. Right off the bat I found a place called La Cabaña that was closed up and looking long ago abandoned. Two blocks on without a pizzeria in sight and then I crossed Av. Corrientes, where I immediately found a trio of places all together. It was, perhaps, inevitable that I'd find a
La Continental
along this journey, sort of the Domino's pizza of Buenos Aires – about as basic and uninteresting as you can get. It's kind of the style of pizza that Tom Gates wrote about in
his infamous Matador Nights column
that in some ways had a hand in my fascination with
finding decent pizza in BA
. Tom has become an online friend since that time and we even met when he came back to BA at one point (we didn't go out for pizza, we went to
Urondo Bar
), he's also written a
charming book
about his travels that I recommend. Back to the pizza, this branch of La Continental is located at Av. Angel Gallardo 12, and serves ups the Argentine style pizza he was talking about – doughy crust, virtually no sauce, and a ton of gloppy, oozing cheese, all of it pretty tasteless. About the only thing I want to give LC credit for is that they're one of the few places that puts out what I think of as classic norteamericano pizza condiments – shakers of oregano, parmesan, red pepper flakes, salt and pepper – the red pepper flakes, unfortunately, are so long dried out and stale that they added nothing but a sort of sawdust character to the pie. I understand the stylistic preference in Argentine pizza for lots of cheese and dough and little else, but LC doesn't do it well, it just does it fast and cheap.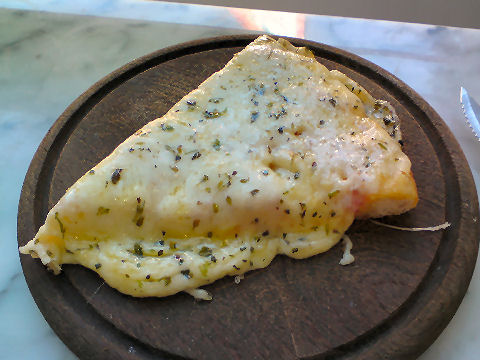 The sit-down part of
El Trebol
is addressed at Av. Corrientes 4701, but there's a small counter where you can get take-out or stand and eat at a counter, located along Angel Gallardo at #3. Pluses – wood fired oven seen in the background. The pies looked good, they have pizza by the slice. It's still a pretty classic Argy style pizza – but the quality is better – the dough has some flavor to it and isn't quite as thick and spongy, there's still a lot of cheese, but it isn't insipid – it's not great, but it's not bad, the sauce is still pretty lacking, but has some flavor to it, and, they sprinkle a bit of parmesan on the pizza which adds flavor, plus, the herbs aren't all dried out, they're finely chopped fresh herbs, or at least vibrantly green. Not a bad slice of pizza at all.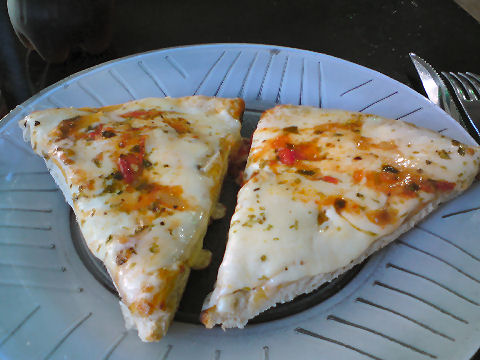 Wait, two slices? Yes indeed, though not my doing. Just up the block from El Trebol, at #15, is
El Dany
, how could I not be predisposed to like a namesake? And, it turned out, that Dany himself was attending the tables. It's a sit down and eat pizzeria and parrilla. I was figuring on having to order a whole pie and just eating a slice and then packing the rest to bring home, but Dany asked if I wanted either a small pie or a slice. I opted for the latter, he brought two, along with the offer, "I brought you two because you're going to love it and want a second one, if you don't like it or don't eat the second one, they're both free." I love a man with confidence in his own product, and, it was really quite good pizza. The best part, the sauce – a sweet and tangy combination of caramelized onions and tomatoes with herbs and garlic – very different from the usual pizza sauce. And good quality cheese, albeit a strange white color for pizza cheese, and just the right amount. And great crust, with a buttery, yeasty flavor, and not too thick, and nicely charred. I ate both slices and started to think that I should have ordered a whole pie, full or not. Happily paid for both and left a generous tip. 
[Has since closed]
Not a single olive on any of these three. Hmmm.
17% of the way through this venture… and counting.