I haven't forgotten my promise to keep providing fish recipes for the locally available fish. They're coming, here and there. This week I tackled the Boga, a fish that I've used only a few times, and had not many more than that. It's a pretty strongly flavored fish and needs other elements in the dish that are fairly assertive to complement it. I do find, as I've mentioned before, that something about just grilling it, which seems to be the most common way it's served here in Argentina, brings out a strange, ammonia-like smell. When not grilled I don't get that at all, so it must be some sort of reaction of the fish to the wood smoke or something of that sort. The other ways I've seen it prepared tend to be with some form of white sauce, bechamel, usually either with a mix of mushrooms or with locally made roquefort. But those seem a bit pedestrian, I don't think I need to demostrate how to stick a fillet in a pan, cook it and top it with bechamel sauce – though, do let me know if you'd like a walk through on making bechamel, it's not something that everyone makes every day.
I found one, count it, one, really interesting sounding recipe, from chef Luciano Nanni, the academic director of a gastronomy school up in Rosario as well as proprietor of a restaurant there, Pobla del Mercat, which, given how well this recipe turned out, I'm going to have to try next time I'm up there. The dish was entitled "Boga en pieles de panceta, risotto de papa y vegetales" – roughly translated as Boga in bacon skin, potato risotto and vegetables. And away we go….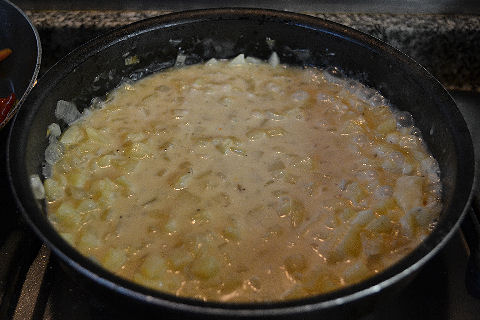 First, the potato risotto. I mentioned in the last post that I've started playing around with vegetable risottos, i.e., not really risottos as there's no rice involved, but using finely chopped vegetables and cooking them as you would a risotto – and this recipe was actually the inspiration for doing so. I finely diced a couple of peeled potatoes, and chopped up a small onion and a clove of garlic. Sauteed the onion and garlic in a little butter until they were soft and starting to color. Added a good splash of white wine and let it reduce by about half. Added the diced potato and then started ladling in, one ladleful at a time, some already hot vegetable stock. And, simply, keep doing that until the potato is soft but not falling apart and the liquid is mostly absorbed. Add some softened cream cheese, a knob of butter, mix well, season with salt and white pepper, and let sit until you're ready to plate the dish.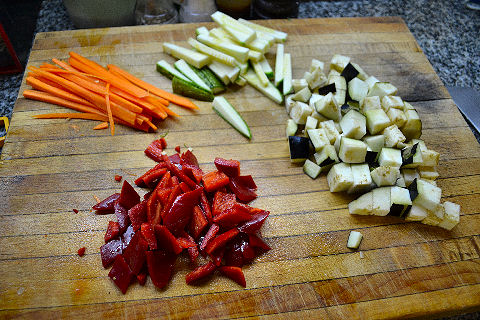 On to the vegetables – interestingly he specifies different cuts for each of the vegetables, I almost think he was doing it for his cooking school students to make sure that they understand the different cuts – typically one would go with similar shapes for all the vegetables in a single saute. But, it does provide some visual interest as well. Here, diced eggplant, batons of zucchini, julienne of carrot, and diamonds of red bell pepper. I almost feel like I'm making healthy Lucky Charms. I actually missed in the writeup of the recipe that he also had a small onion, quartered, which would have added a little more to the dish. Ah well. The vegetables are simply sauteed in olive oil and butter with a little salt and pepper to finish.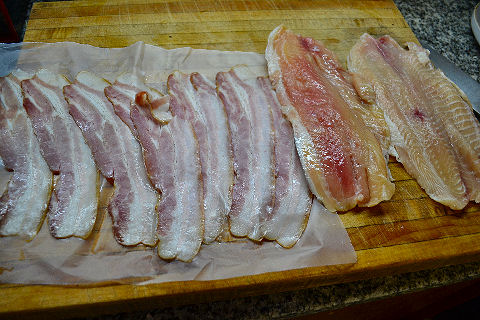 And, the fish, the main component. First, boga, as I've mentioned in the past, is a bit of a bony fish. You've got to really search for those bones to remove them, and it's fairly important in this plate as you're going to be wrapping the fillets up in bacon, which means everything's inside, much less visible. Layout strips of thin cut salted and smoked bacon, line up just touching or barely overlapping.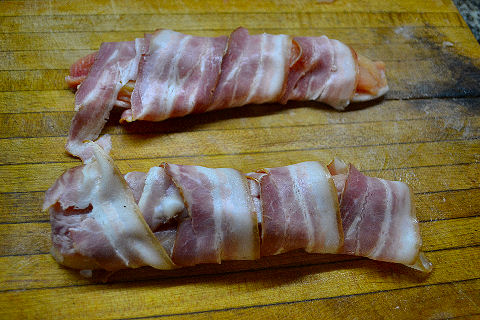 Salt and pepper the fillets and then lay them on the strips of bacon and simply roll them up, pressing it all together so that the bacon sticks to itself.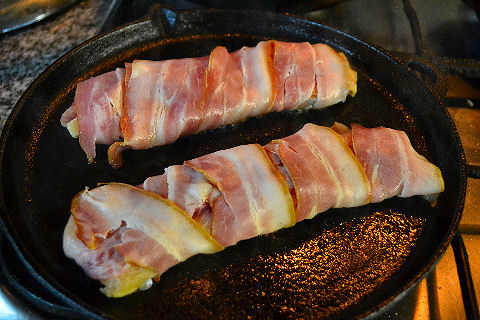 In a hot skillet, brown the bacon wrapped fish on both sides and then just let it sit in the hot pan with the heat off – the residual heat from the pan will finish cooking the fish through without drying it out.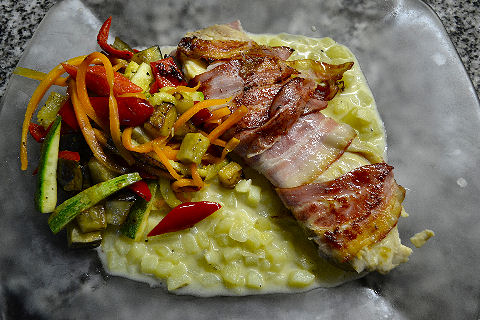 On a plate, put a nice ladleful of the potato risotto, set a fillet of fish on it, and garnish with a nice tangle of the vegetables. And, voila! Even Henry liked it. Actually, he loved the vegetables and potato risotto, but thought that the bacon made the fish a little too fatty. Notes taken, and some other thoughts, and you'll see a slightly different version of this dish for this week's dinner menu with some changes that I made to it that fit more my style of cooking. But for the moment, enjoy this version!