Picking up the pace a little, at least in terms of posting, I'm covering six spots this time around. It also helps when several someones join me as we can hit a few places in a row. The invite stands for anyone who wants to come along – I'm happy to have the company on this wander and pizza tasting extravaganza. Last time we left off with a true winner and a true loser along Av. Coronel Díaz, and me standing at the corner of Charcas looking wistfully back in the direction of the former wishing I could get the taste of the latter out of my mouth.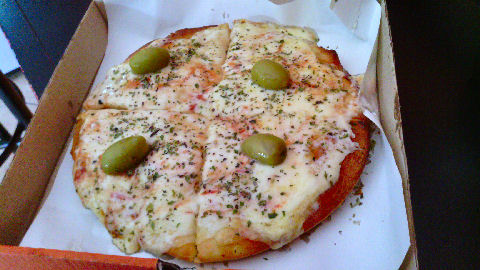 (8) Just a short distance, and a week or so and two short blocks on I was joined by a couple local friends for a rampage through the next section. Starting at Paraguay 3404, on the corner, we came across a branch of
Todo Relleno
. One of the things I hadn't really thought about was what to do if a pizzeria along this trek is take-out only. Thankfully the manager at the place was amenable to us using the little side counter where he has magazines piled up for folk awaiting their orders. He even provided napkins and offered glasses and silverware, so I'm guessing we're not the first. Still, it really is a takeout place. And, the pizza is well worth taking out. It's not a great one, but it's got a flavorful, bread-y style crust, a fresh if not particularly seasoned tomato sauce, and decent cheese. Olives with pits, though quite good olives. Maybe a bit too much dried oregano sprinkled over the top, but that's about the only criticism. It's not a place I'd go out of my way to grab a pie from, but perfectly acceptable. 
[Closed]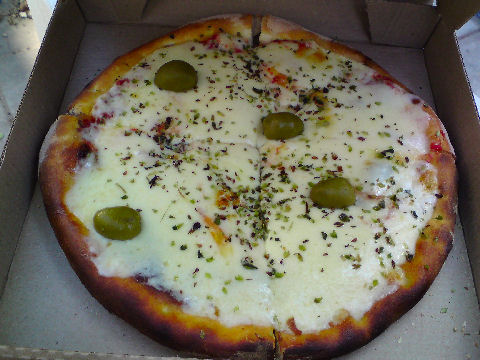 (9) Across the street is a branch of
Pizza Yerman
. Well, branch is probably too strong of a word, they have two outlets, one near me here in Recoleta, and one at Coronel Díaz 1491, just off the corner of Paraguay. It's a take-out only place, with barely enough space to even wait for your pizza after ordering it. And, I can't tell you if the pizza is any good, because there's a story here – a rather disgusting one. So we order a small mozzarella and figure we'll either snap a photo and then each grab a slice and eat while we walk, or go sit in the plaza a couple of blocks away. But that was not to happen. You see, there's the
pizzero
, a big, hulking guy with a long braided pony tail. And he's walking around in the kitchen, in full view of customers, and there are these roasting pans on the floor, and he trips over them once or twice, steps in them, basically kicks them around. And then he gets this big carton of raw chickens out of the refrigerator (the place offers some things besides pizza), and proceeds to start cutting them up into sections on a big cutting board, on the same counter where he just made our pizza, so we're a little nervous right from the start. And then he picks up the roasting pans off the floor and tosses the chickens in them and then sticks them in one of the ovens. And he has this grimy grey rag on the side of the counter which he uses to, in order, wipe off the counter, wipe off the cutting board where our pizza and the raw chickens were, wipe off his knife, and then wipe off his hands, and then toss it back on the countertop. And then retrieves our pizza from the oven, sticks it back on the cutting board where he cuts it into sections, slides it into the box using his unwashed hands, grabs some oregano from an open container that's sitting there, tosses it on, closes up the box and sticks it on the counter. We objected, he shrugged and walked away, we asked for our money back, they refused, we grabbed the box only long enough to snap the photo and then tossed it all in the trash without trying it. 23 pesos wasted, and not a chance in hell I'd go back and try them again. I recommend you don't either.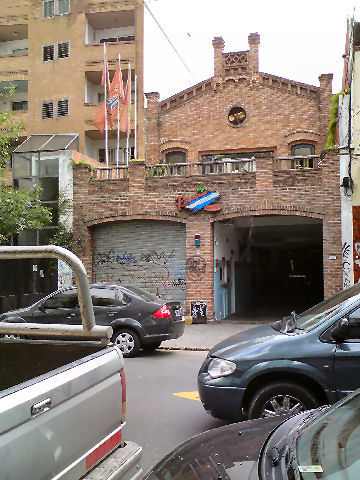 Just another block or so along at Coronel Díaz ends, or turns into Mario Bravo, at a juncture of several streets – following the route for a residential block along Honduras leads us to Bulnes. Right around the corner we stumbled on Bahia Pizza, but it's closed for renovation, not clear if it will re-open as Bahia, or something else entirely – to be checked at some point. Nearly across the street at 1422 we thought we'd stumbled on a branch of
Romario
pizzerias, but it turned out to be their "Logistics" center. I'm not sure why a pizzeria chain needs a logistics center, but there it is. It did lead me to their website where they claim to only have 12 locations – it sure seems like they're more ubiquitous than that as I wander the city.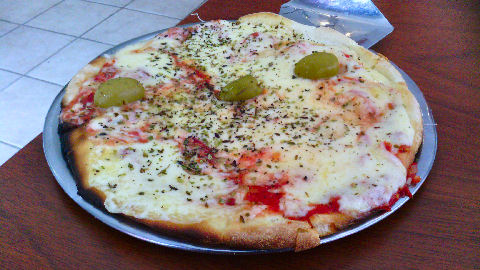 (10) At the corner of Cabrera we found a branch of
Zapi
, Bulnes 1307. This is a city-wide chain that also has branches in Neuquen (Patagonia) and Jujuy (the far northwest) – quite a strange spread. Very thin crust which I like a lot, nicely charred – okay this one got a little burnt along one edge – really good, slightly spicy tomato sauce and a decent amount of it, and just the right amount of cheese, and decent quality too. I think they violated some national law by not putting an olive on each of the four slices, but I won't tell… oops. Definitely a recommended stop along this tour and now I'm wishing someone would open one in my 'hood – actually, looking at their website, there's one about 10 blocks away, I'll have to find out if they deliver over here.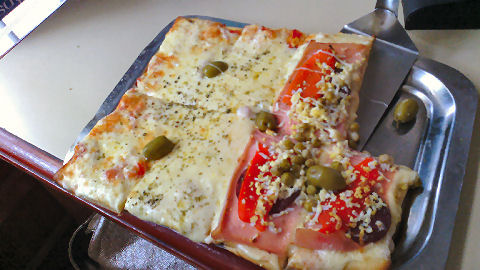 (11) One block further along and we're at the corner of Av. Córdoba, and really feeling the burn. Can we handle one last pie? Of course we can. We pop into
Morillo
, Córdoba 3601 and grab a table. I suddenly have a thought as we're gamely looking at the pizza menu, loaded with various options. Most pizzerias will make a pie half and half. We need that plain mozzarella half for the taste test comparison, but who's to say we can't order the other half something interesting – maybe a comparison of "house specials". It may cost a few pesos more, but it will certainly make pizza munching more interesting, no? And so we order a small pizza. It arrives shortly and is the largest small pizza I think I've ever encountered, coming in at a whopping eight large rectangular pieces. It's also one of the few places I've encountered a rectangular pizza here in BA. And, it's really quite good. The crust is maybe a little doughy, but it's got flavor. There's enough sauce on the pizza to make an impact and it tastes fresh, loaded with tomato and a decent amount of garlic. The cheese, classic Argentine, more of it that I want, but my friends are delighted. Another place to violate the one olive per slice rule, but we'll live. We're happy we made this last stop. The other half of the pie, the "Morillo" (let's face it, if they're going to put their name on it, we might just try it), is loaded with ham, cantimpalo sausage, bell pepper, peas, and hard-boiled egg. I have to admit I don't get the last item when it shows up on pizzas, but it's common here and my friends are quite happy.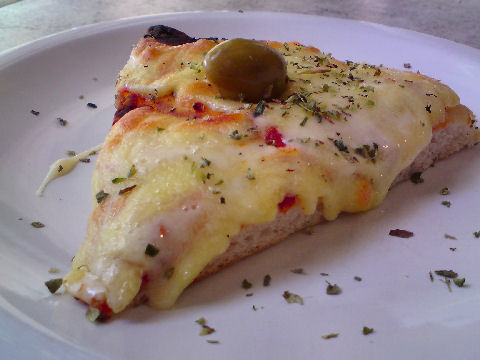 (12) Separate day, on my own and I pick up where we left off at Bülnes and Córdoba. Nothing further along the former and a couple blocks on the route takes a right turn onto Guarda Vieja (The Old Guard), a reference to the earliest generation of tango players, from 1895 to 1925. It's a short two block walk to Medrano where I find two spots opposite each other. Luckily, the first one is a "by the slice" place that's primarily takeout, but has a couple of small tables. Procacchia pizza & cie. at Guarda Vieja 3996 is a charming little place, a bunch of old guys hanging out watching t.v. while they chat with the owners, a big wood fired oven dominating the back wall with a young guy cooking away. And, pretty good pizza. Thick style – more crust than the rest of it, but a flavorful sauce and okay quality cheese (interestingly, the first place I've seen that uses sliced mozzarella rather than bags of "crumbled" mozzarella chunks. It's not a wow, but it's good.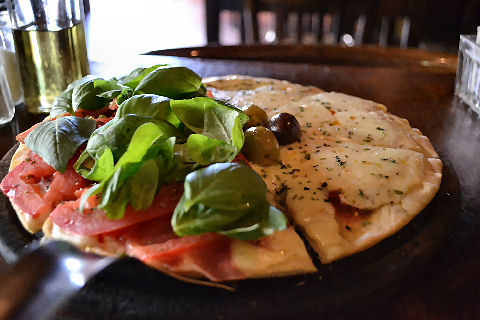 (13) On the opposite corner, at Medrano 801, is a cute little restaurant called Pachi ("Thank you" in Quechua). It looks kind of like some southwestern US style spot that likely would be serving up Tex Mex or Cal Mex cooking, all the desert colors and adobe walls and, well, you know the drill. But their focus is pizza, and, pretty much the best pizza I've found along this route (I'd have to go back and try it against Accademia that I liked so much, in the last post). Cracker thin crust, smoky and lightly charred, really zesty, garlicky tomato sauce, high quality cheese. A complete winner. And the namesake, "Pachi" which I had them load half the pie with, was a nice mix of thin sliced ham, rounds of fresh tomato, garlic, and lots of fresh basil strewn over the top. Points, too, for bringing pepper and olive oil to the table to sprinkle/drizzle over it all. I think I finished the whole thing off in under ten minutes, and left happy. Although no plans for another pie, I decide to walk ahead and scope out where the next trek will start from, and through the several blocks down the road to the end of Guarda Vieja there isn't another pizzeria, I'll pick up from where the bus turns next time.
Another to be tried along this stretch in the future, Pizza al Metro at Guarda Vieja 4105 is only open in the evenings and is takeout only – to be added in down the line.
13 down. 79 to go. We're moving along the route pretty swiftly here, I'm starting to wonder if the dream is going to turn out to be even remotely accurate in terms of number of pizzerias… we shall see.