I didn't plan on a week of deconstruction, but somehow there seemed to be a bit of it going on by the time I was done putting all the courses for last week's dinners together. I didn't even realize it until I was looking at the plates going out from the kitchen. So, call it a theme….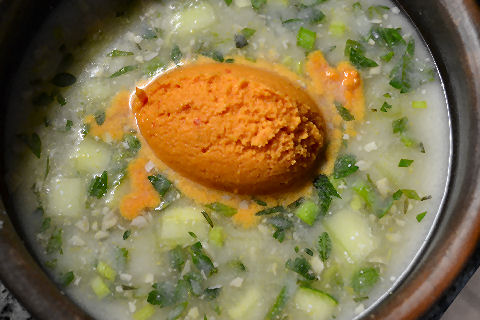 Started off with a yogurt, cucumber and walnut soup that we've made before, though with some changes. First, there were several vegetarian and pescetarian diners this last week so I used a roasted vegetable stock as the base rather than chicken. Second, in keeping with our trend of using ices and ice creams and such in our chilled soups, I added a frozen yogurt – a blend of yogurt, honey, olive oil, the red bell peppers from making the stock plus some piquillo and serrano peppers, salt and pepper. Once again, pretty much the hit of the week.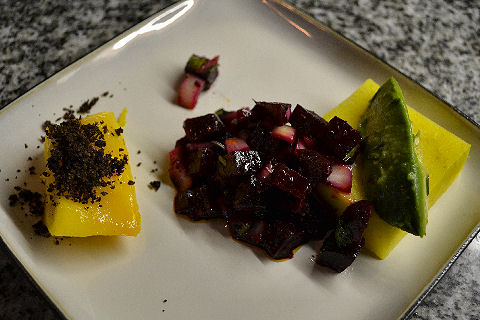 A quite different version of a causa, bringing in a bit of Middle Eastern fusion. The potato base the same – pureed with lemon juice, olive oil, salt and ají amarillo. Wedge of avocado tossed with lime juice and cilantro. Our version of a Syrian roasted beet salad with finely diced white onion, toasted cumin, ufer biber, parsley, lemon juice and rind, olive oil, ou (tamarind syrup), salt and pepper. And on the side, a little refreshing twist and an odd sounding combo that strangely works, fresh mango (just slightly under-ripe) with dehydrated black olive crumble (new ingredient to play with – and easy to make) – as someone pointed out, it's not all that different from putting salt on melon, something many folk do, including me – but the olive flavor adds a really interesting dimension to it.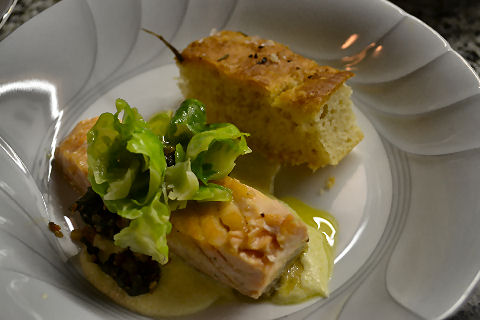 Consider this a sort of deconstructed salmon sandwich. Seared salmon just seasoned with salt and white pepper. Homemade focaccia with rosemary and sea salt. Homemade smoked mascarpone blended with a beurre noisette (something I rarely make, but I do like a good brown butter sauce when made right). shiso leaf "kimchi" in julienne (another new ingredient for the week) and some sauteed brussels sprout leaves. My favorite dish of the week. For the vegetarians amongst us, the same with a squared-off rectangle of eggplant and minus the kimchi (fish sauce).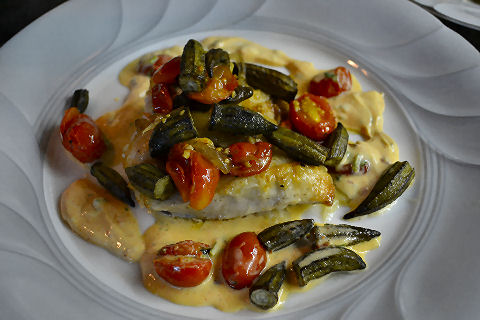 Looks like your classic fried chicken with okra, no? No? Okay – the chicken, a recipe I got back when I was in college from a friend who I was in ROTC with (yes, I was in ROTC, get over it). He was from, if I recall, Jacksonville, FL, and the family recipe for fried chicken was to marinate the chicken pieces (here, boneless breasts) in lime juice, black pepper and salt for several hours, then dredge in flour and pan fry. Still one of my favorite ways to make fried chicken when I don't want a thick, batter type crust. Roasted okra, cherry tomatoes, red onion and garlic with some olive oil, salt and pepper. Homemade sour cream flavored with smoked paprika, red chili flakes and chopped whole cilantro (leaves, stems, roots). The pesectarian folk got sandperch treated the same way and the vegetarians got fennel bulbs that I first simmered in vegetable stock for a little while to soften them through, then cooled them, marinated them them for an hour or so and then continued the same way.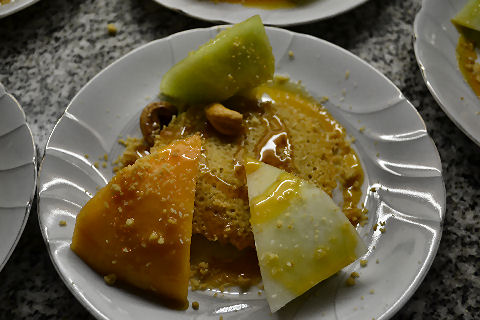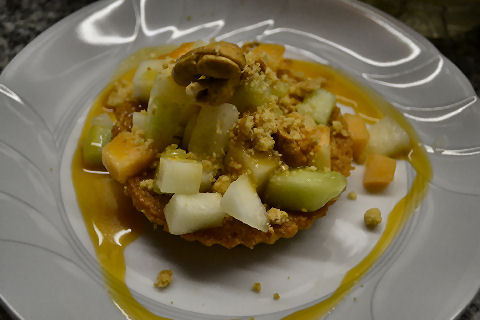 A bit clunky looking in the first photo… at least that's what we thought. It just didn't come out the way I envisioned it, perhaps just needing a larger plate to spread it out a bit on. But I reformatted the dish – actually a couple of times, but here, mostly just for plating, by dicing up the fruit. The base, originally, was a lemon and ginger shortbread, but it was too crumbly for what I wanted, so I finished that process by crumbling it up and using it as a topping. For the base I switched to a lemon and ginger flavored almond financier – a slightly gooey, spongy cake made from almond flour, brown butter, sugar and egg whites – topped with rum and coconut milk caramel, the shortbread crumbs, some toasted cashews, and a trio of melons – cantaloupe, honeydew, and canary – they were just beautifully fresh in the market and I couldn't resist their siren call.