"I think it is a sad reflection on our society that while we can and do measure the temperature in the atmosphere of Venus, we do not know what goes on inside our soufflés." – Nicholas Kurti, professor of physics, 1969
Just how much are you willing to risk on a bet? Especially if the bet is on food quality in a local hotel. Oh yes, it's a hotel with a reputation, one of the top in the city, no question, and part of an international chain. But it is a hotel. On the other hand, the hotel's owners have made their own bet, investing some us$6 million into a complete overhaul of their kitchen and two dining rooms and creating new menus ("Urban with Roots") for both – semi-formal in the main dining room and casual in the lounge. Of course, that means they have one big bet to repay, so you just know it's going to show up in the prices.
I should add a category of posts to this blog and call it something like "Liza Says", because once again this venture was on the recommendation of local friend and NOLAchef, who lists the newly decked out Pony Line at the Four Seasons Hotel, Posadas 1086, as one of her faves in town. But, that's not fair to my other food blogger and chef friends who also make recommendations that I end up trying out. I'll just keep acknowledging them for their tips.
So, first off, love the room. It is a bit conservative feeling as one might expect in such a place, but still quite comfortable. I realized somewhere in the mix that I'd been recognized – probably not on the spot but my name in making the reservation (I'm guessing most people don't reserve for the lounge and those might get closer scrutiny), because not only did the hostess insist that I had to sit at the bar because it would be better for me, with more light to show off the food and if I needed to make any notes… umm yeah, that's not the way to be discrete when you know someone might be reviewing you… but every single staff member in the bar, and a few from outside the bar, made sure to stop by at some point to "just say hello" and see how my dinner was.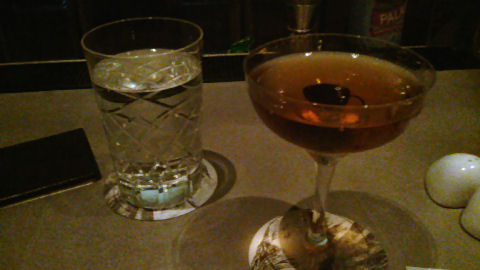 The lounge menu looks like a paint sample book – long thin strips of paper bound together with a ring at one end, each page a different category. It's printed in really, really, small print and I'm glad for that reason I was at the bar with the extra light, I have no idea how someone at one of the dimly lit lounge tables could read it – oh, and offered in both Spanish and English versions. The barman was chatty and friendly, maybe a touch more gregarious than needed, but once some other folk were seated at the bar that got diffused, as he spread the love amongst the patrons. And, as Liza noted, I too was definitely the youngest in the room, though not by the same 30 years as she experienced… not that the age of the patrons changed, there's just not as big of a gap for me. I was planning on ordering the same smoky-dirty Martini that she recommended, a favorite, but even more favorite is a good Manhattan, and I let the barman talk me into that one, especially after he let me taste the fantastic boozy infused cherries and told me that he makes his own orange bitters. Excellent, though for 65 pesos a bit on the skimpy side. Thank goodness for that 22 peso bottle of water…. Okay, no snark, not really, I knew it was going to be pricey, it's The Four Seasons Hotel.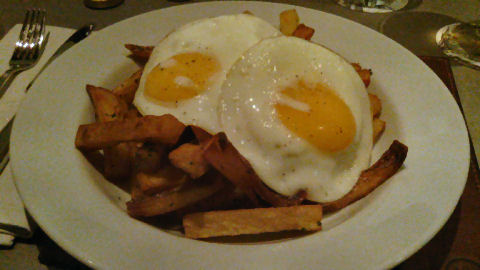 I wanted to try a bunch of things and asked him to recommend his two favorite dishes and then I'd pick one myself. I figured that it would be too much food, but at least I could try a few different things (Henry was off to La Plata with friends for the eve, so I was soloing). He nearly demanded that I try the house fries, which he asserted would be the best fries I'd ever had in my life. That's a lot to live up to, and they didn't, but then, I didn't actually expect them to meet his hyperbole. They are, however, damned good fries, and probably the best fries I've had in BA, cooked perfectly and dusted in truffle salt and herbs and topped with two perfectly cooked fried eggs (50 pesos). A thought though, that has nothing to do specifically with the Pony Line's version, but I've had egg topped fries in many places and the truth is, the only thing you want to mix into those fries is the runny, warm yolk. The whites are superfluous, I await someone coming up with an interesting version with yolks only….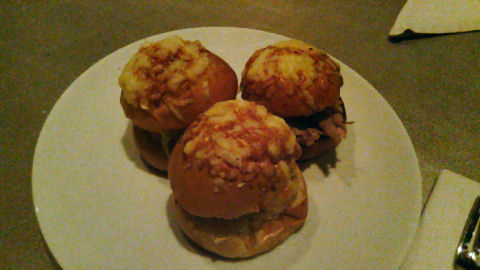 His other don't miss selection was the mini-burger trio (60 pesos) – shrimp, pork and chipotle, duck confit. They were good, but I have to say, not my favorite. The buns are too sweet, I think they were like a cheese-topped brioche, and the fillings, while tasty, were pretty sparse in relation to the size of the buns. Plus, they're not really burgers – the shrimp were, more or less, a fried patty; the duck confit was packed together loosely, kind of like a pulled meat sandwich, and the pork was just simply a couple of slices and no chipotle in evidence. The "burgers" come un-dressed, the barman asked if I'd like condiments, and brought those little mini half-ounce jars. Cute, and fine, but I think I'd have liked the burgers more if a) they'd been a little more packed with filling and b) had come dressed, each differently, with some sort of house condiment that the chef thinks goes with each.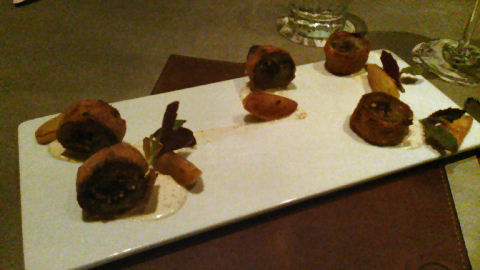 The one dish that caught my eye was the "crispy pork trotters, whole grain mustard, apple" (55 pesos). The barman's response was "Really? You want that? You're sure? Okay." I love dishes like that, and this one was no exception. Thankfully, I'm a morcilla (blood sausage) lover too, because they're stuffed with basically a whole morcilla sausage – not mentioned on the menu. The meat is falling apart tender, the morcilla is cooked to an oozy perfection, the outer surface crispy. As to the accompaniments, they were aptly described, as each slice of the trotter was sitting atop a small spoonful of whole grain mustard and had a sauteed slice of apple sitting next to it. My favorite dish of the eve out. I'd also, by this point, long run out of my Manhattan and instead of another cocktail decided to try a wine by the glass. One of my favorite Malbecs is from Ricardo Santos in Mendoza, and I didn't even know he produced a Cabernet Sauvignon (43 pesos/glass, and again, a pretty light pour) – I'm going to have to look for that, it was one of the better Cabs I've had here in Argentina, and perfect with my crispy foot.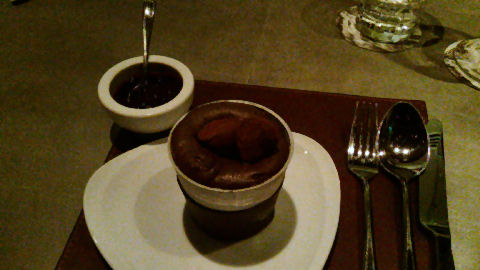 I wasn't going to order a dessert, though after the barman, two waitresses, and the manager came by and told me I simply had to try one (wish they'd have just sent one if they were that committed, but okay), I left it in the hands of one of the waitresses, who the barman said had tried every one of the desserts, many times over. She picked the chocolate espresso souffle (70 pesos… really? More than any of the savory courses?). For me, a bit over the top, and less like a souffle than a chocolate fondant – the inside was basically just warm chocolate batter and some berry compote in the little dish on the side, it wasn't cooked through – it should be soft and sort of oozy, but not completely liquid, though I gathered that's what they were going for. The two lumps atop were espresso truffles, which were the best part of the dish. If you're a die-hard chocolate fiend you'd probably love it. I ate a few spoonfuls and let the rest sit.
So, having placed my wager of 365 pesos all told, did I win or lose? I'd say a little of each. Service was efficient and friendly, if perhaps a little over-done, but that seemed specific to me, I didn't notice anyone else getting the same level of attention, then again, I was also the only person eating, everyone else was just drinking. Love the ambiance, the food was a mix of loved and liked. It's pricey, and the portions are a bit skimpy, across the board, but then, as already noted, it is The Four Seasons – still, let's face it, I ate my way through three plates of food and part of a dessert without feeling stuffed, and the cocktails and wine pours are definitely too light, even at a lower price (just look at the cocktail in the first pic – a martini or manhattan should basically fill the glass, maybe not to the rim, but more than that). But, it's good food, wine and drink and it's a splurge and yes, overall, I recommend it for a bit of an elegant night out at a bar.