Sometimes a week comes up that a whole lotta stuff seems to pile on and make things just a touch more interesting. Yes, that's the right word. It's my own fault, as I've pointed out before I don't really screen who's coming to dinner. I mean, I do, but I don't. Yes, if someone comes across as a complete jerk or has too many demands, I say no, often just telling them that we don't have space while they're here. And people do actually e-mail in ways that communicate these things – it was a major topic of conversation at dinner two nights this week. Consider, for example, these e-mails – real ones – really:
"I'm a Wall Street lawyer and quite important in that world. You'd be lucky to have me at your table. I just hope the other guests you accept that night are the sort of people I'd want to eat with. Make sure there aren't any people that would be boring, I'm sure you're capable of screening for that."

or

"My name is Charles and I'm white and from Boston. I see from your bio that you're JEWISH. I've never eaten JEW food and don't think I'd like it. Don't serve any." [emphasis was in the original]

or (translated from Spanish)

"We do not eat fish or shellfish except cooked shrimp and don't like the smell of it so it can't be on the menu. I notice you serve a lot of chicken and pork, you should understand that Argentina is a beef country and that's what we eat. We would like steak grilled the way it is done here, not the way you Americans do, with a mixed salad and french fries. None of these modern chemical things, no sauces, no weird spices like you usually use. And we're not really interested in a whole tasting menu and wines or sharing a table with foreigners. Just the steak, a bottle of good Argentine Malbec and our own table. We're interested in coming to see what it is that you offer." (Really?)
I could actually go on and on with these – I get at least one a week, often several, and hell, we've been open for seven years. I think it's the same factor that has people say stupid things when they post on the internet on various forums, or on their Facebook or Twitter feeds – there's a certain lack of censoring, or just thought, that happens when communicating online. But it communicates volumes. But back to my point for this week, although the first one above was someone who got told no last week, mostly I just let it all happen on a more or less first come, first taken basis – as long as people communicate something personal about themselves beyond a demand for a reservation. I had some gut feelings about a couple of folk I said yes to that turned out to be correct, but luckily didn't create any major hiccups, just a little added pressure to making the evenings go smoothly.
We also booked out one night for a Swedish television travel/food show hosted by Kjell Bergqvist: "During his 42 years as an actor he has stared in over 150 movies besides several plays in the biggest theaters in Sweden. He is "Tjena Kjelle" (Hi Kjelle!) with the whole swedish nation and he has never, during his career, applied for a job. He is one the top three list over Swedens most known and most well payed actors. He has won many awards, amongst them for best actor in 2002 for the movie Den bästa sommaren. He has 2 daughters with former Miss Universe Yvonne Ryding. In 2012 he stared in Aviciis music video for the song Silhouettes. (Avicii is one of Swedens and the worlds most famous DJs right now). His show is called "Kjell´s Taste Journey."
I expect I'll be needing the assistance of one or another Swedish speaking friends to understand the show when it comes out and we get a copy, and find out if they enjoyed themselves. Through the production company they said so, but one never knows until seeing the final edit! Thankfully, other than the physical setup of who was there (they'd told me originally that he would be having dinner with friends, which swiftly morphed into the local production company inviting local foodies to join the table, so we had a table of pretty much all people who I know, several of them for their first time here).
[Edit: Here's a link to the show, which came out in June – our part is roughly minute 16 to minute 24. A friend who speaks Swedish tells me that the host wasn't fond of the "fishballs" (actually, he says at one point in English that the dish reminded him of a childhood dish that every kid in Sweden hates), and also made some negative comments about one of the guests who he found annoying because she had an opinion about everything. Apparently the bit of musing on the couch at the beginning was him wondering what the evening was all about, were there going to be other guests, etc. I guess that makes for good TV, though it's amusing from the other side of things since all the guests were ones that were invited by his local team as he wanted to have a table full of both locals and expats who spoke English to discuss food and wine with, and he purposely arrived an hour early for filming setup shots.]
Enough rambling. On to the food for the week, which for the most part consisted of tweaks to past dishes: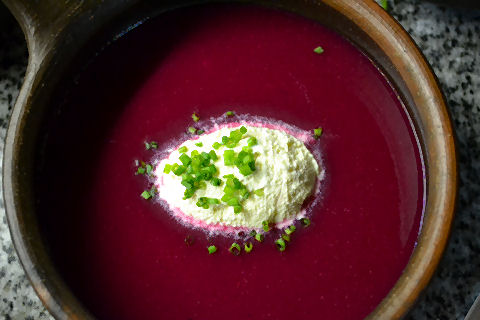 Chilled beet soup – beets and onions cooked in vegetable stock with fresh thyme and oregano, then pureed with red wine vinegar, salt and pepper, chilled and served up with a chili ice cream: 3/4 cup heavy cream, 1-1/2 cups milk, 4 egg yolks, 3 Tb honey, 1/4 tsp white pepper, 1 tsp salt, 3 pickled serrano chilies (pureed into the milk before heating).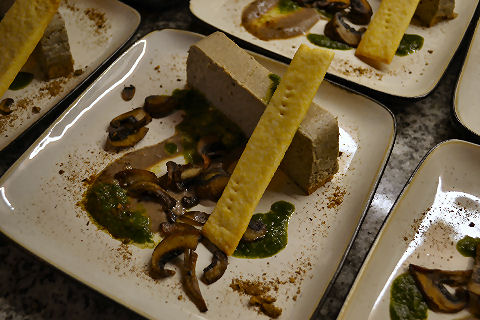 Textures of mushrooms returns from our 70th anniversary hobbit celebration – some minor modifications – mushroom cheesecake (morels, chilean black, button) with our own cream cheese, crustless, polenta and romano cheese crisp, raw mushroom puree with bergamot oil, chive and arugula puree, fried baby portobellos, shiitake powder.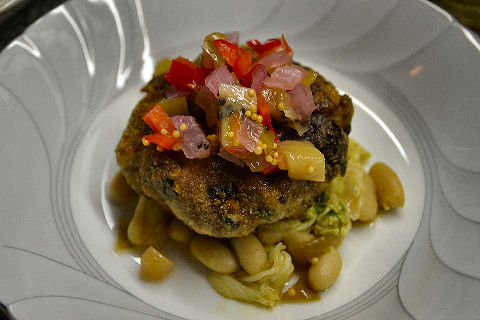 Combining components from various dinners into a dish that I think I like better than any of the originals. The base, my favorite medley of Chinese cabbage and white beans cooking in browned butter, miso and shichimi. The topping, our kiwi relish. In between, rather than a panko crusted fillet of fish, a fish cake, made, more or less, the way I learned to make crabcakes oh so long ago when I was sous chef at The Sazerac House, just in place of the crabmeat (several shellfish allergies), a mix of chopped salmon, sandperch, and angel shark (here, respectively, salmó rosado, salmón blanco, y pez gallo) – mixed with mayo, green onions, mustard, Old Bay (homemade version), ají amarillo (in place of tabasco sauce), worcestershire, all rolled in breadcrumbs and cooked up golden brown.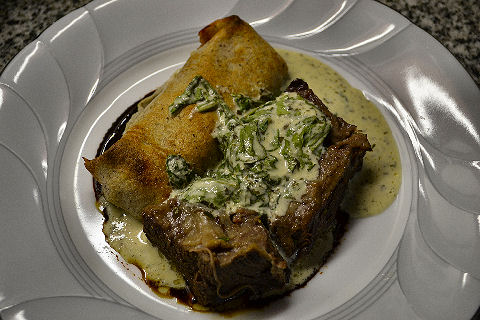 Recently, we had such a hit with our roasted garlic canneloni and a shortrib and oxtail sauce that I wanted to play around turning it into a main course. No oxtails in the market so went with all shortribs – braised in stout, brown sugar, mustard, chilies, pepper and salt for about 7 hours, then slipped the bone out and kept them hot in the braising liquid. Served with the same "canneloni", really they're more of a blintz, this time made with a mix of buckwheat and semolina flours to give it more texture and flavor, the filling still roasted garlic and potato. The sauce, Morbier cheese sauce with radichetta (a chicory), and the drizzle around the outer edge of the dish, a mix of molasses and habanero chili. Pretty much the hit of the week.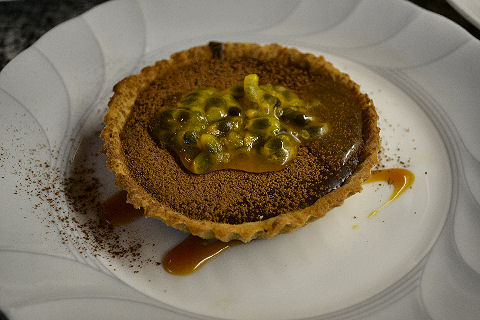 Espresso crust. Chocolate lemon ganache filling. Passionfruit and bay leaf syrup atop. Rum caramel underneath. Dusting of bitter cocoa and mace. Do I need to say anything else?