"Imperfection is beauty, madness is genius and it's better to be absolutely ridiculous than absolutely boring." – Marilyn Monroe
I first met Mike Stone when he came to dinner at Casa S a few months ago. We didn't have a huge amount of time to talk, I was, as usual, busy in the kitchen, but I gleaned bits and pieces of his story. Since then we've become friends on Facebook with relatively regular interchange – mostly restaurant related. He, at the time, was in the midst of getting a new restaurant open. We've had similar career paths in many ways, and divergent in others. We both started out in pizzerias as teens and worked our way up from dishwasher to cook. We both later attended the same culinary school in NYC, though at different times. We've both traveled and worked stints in various parts of the world and have a keen interest in a wide variety of cuisines, not content to focus on just one. We both dabbled in performing arts – he as an actor, me as a comedian. And, we both ended up in Argentina for love.
So a couple of weeks after he finally got New York New York Resto Bar Gourmet, Fitz Roy 2192, Palermo, 4776-6118, open, Henry and I had a night free and headed over to check the place out… [Although the neon is still on outside, apparently it's closed and Mike's moved to Mendoza – I haven't heard from him.]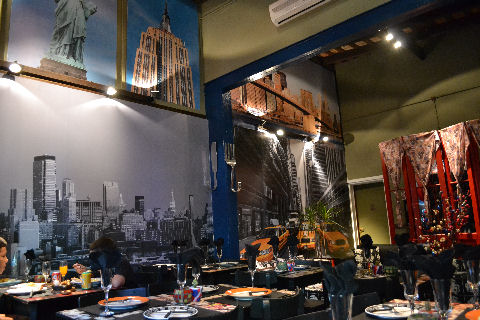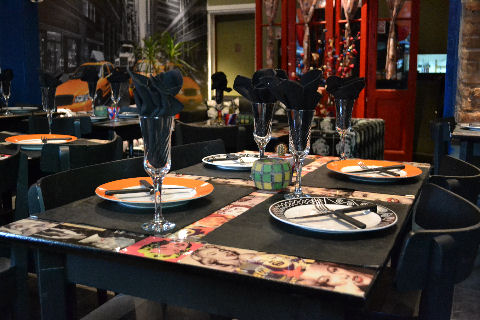 I will say that the decor is not to my personal tastes. It's too jumbled, has too much going on, too many colors, too many different things coming at you from different angles. Kind of like New York City. There are a ton of images of Marilyn Monroe covering way too many surfaces, like the furniture upholstery and the tabletops (it turns out not to be a personal obsession of his, but a whimsical idea that came on after he found some fabric with the image). It's overwhelming and takes some getting used to. The question to be faced was, was it worth steeling ourselves for what we'd find? As you might guess from the fact that I'm writing a review of a restaurant owned by someone I know and am friends with, the answer is going to be yes.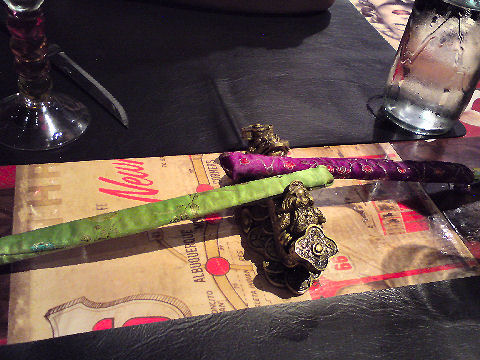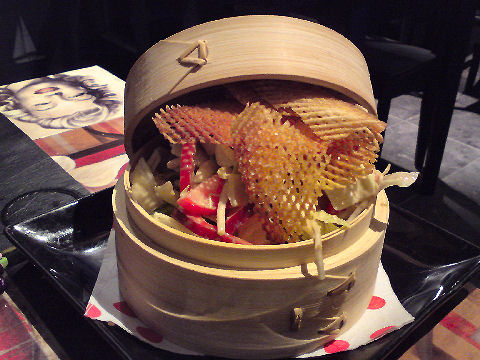 Another chef friend and I were talking the day I was headed to NY NY and her response to the place was, 'I've passed by it numerous times since it opened and I look at the menu and get a laugh, because I think, "pick a f*ckin' cuisine!'" I don't have the same reaction, how could I given the multicultural lengths that I zigzag around in my own cooking? As a guest said to me the other night, "Who says you can't be a jack of all trades and master them all? That's what being a renaissance person is all about."
At the same time, we found ourselves looking at a menu that spanned the globe, and both of us asking ourselves how to pick out what we wanted to eat. Thankfully, perhaps, Mike stepped in and offered to send us a sampling of some of his favorites. A piece of map-printed butcher paper was swiftly placed on the table, and then elegant chopsticks in velvet wrap were placed on an intricately molded rest. Shortly, a steamer basket arrived filled with a "thai salad" and waffle chips. Crisp, fresh cabbage and other vegetables in a tangy and sweet vinegar dressing was a nice way to start the meal – we both might have liked it well-laced with some fresh chilies, a more traditional take, but this is Buenos Aires, and that likely wouldn't fly.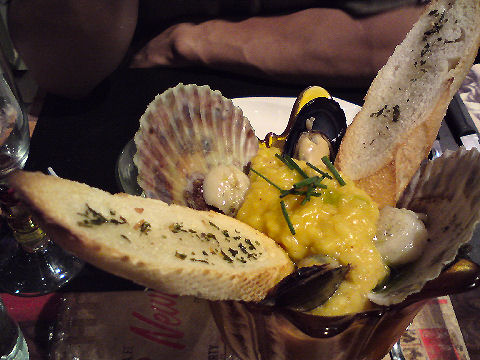 From Thailand we jetted around the world to Italy and a salmon and shellfish risotto, laden with saffron, all presented in a sundae dish (Mike's presentations are among the most fascinating things about this place, and definitely reflect his personality). Perfectly cooked, just al dente rice, loaded with seafood, properly seasoned, delicious, in fact, our favorite dish of the evening.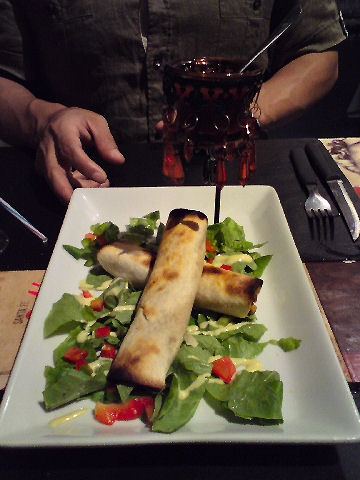 Okay, I'm sorry, but being one, I'm allowed to say it, this has got to be the gayest presentation for tacos that's ever been done. We've zoomed down to Mexico and some tasty meat filled tacos. A slight disappointment that there was no hot sauce available, the sauce in the cut crystal goblet with all the little dangly bits is a mixed pico de gallo and barbecue sauce, but the former missing much in the way of chili heat, mostly just tomato, onion and herbs, and the combination of the two sauces not quite pulling it off. If you're going to serve tacos, you gotta have a real hot sauce available for those who ask. Just sayin'.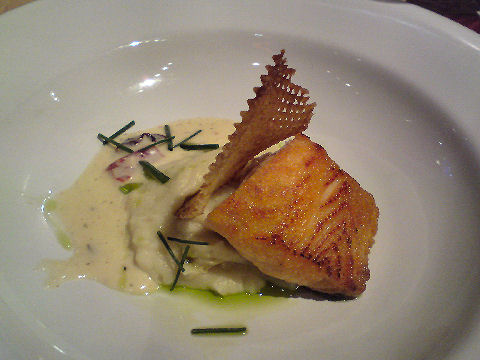 We headed back across the Atlantic to France and a perfectly cooked piece of salmon with a beurre blanc and herb oil. My recollection is that the puree was cauliflower but I could be mis-remembering. I do remember it being one of those classic French style purees that's as much butter as it is vegetable – velvety smooth, delicious, and oh so bad for you.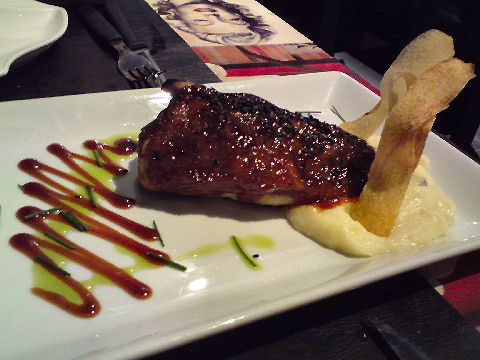 Henry gave up at that point, but I acquiesced to one more plate, though was not able to handle more than just a couple of bites. Slow roasted pork with a barbecue glaze took us somewhere to the southern US. My tastes in bbq lean more towards the southwest with slow smoked style, and I was missing that smoke, but couldn't deny that this was one tasty piece of pork, and an excellent sweet and sticky glaze on it. I believe the puree was taro root, but again, memory may be failing me.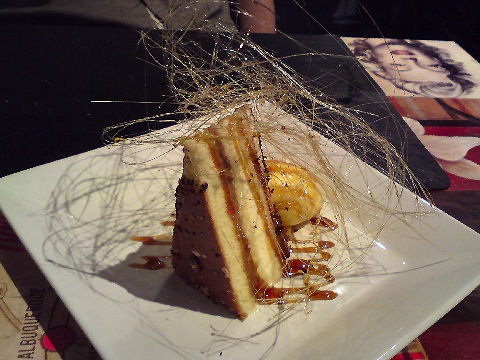 Having gone to the same cooking school and trained under the same head pastry instructor, Nick Malgieri, there's one thing I know we both know how to make – a genoise cake. I don't know why in particular that one, but it was a cake that was drilled into us in pastry class. And Mike doesn't disappoint with an Argentine twist – a dulce de leche genoise layer cake showed up (we begged him not to send dessert, but it fell on deaf ears). Properly made and we both wished we had enough room to handle eating it rather than just tasting it. But so be it.
My initial reaction after the meal was, in some ways, similar to my chef friend's above – the breadth of different cuisines was just a bit overwhelming. But, this wasn't a planned out tasting menu, it was Mike sending out some of his favorite dishes. And when considered individually, each dish was beautifully executed, savory, and on its own, one that either of us would be happy to eat again. As a menu it didn't flow, but in retrospect that's fine – I wouldn't go in and do that sort of progression again, I'd go in and sort of choose a direction and go that way, with an appetizer and main course that fit whatever I was in the mood for that evening. And that's one of the beauties of New York New York, you can go out with friends, sit at the same table, and each eat a completely different cuisine, all equally good.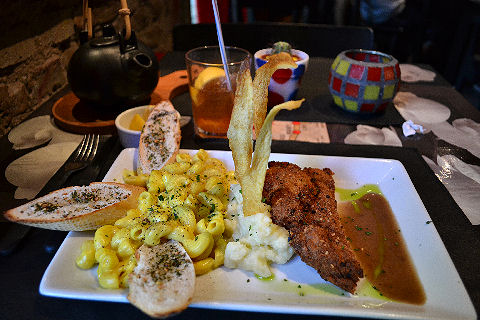 And, I've returned once since that evening out, dropping in for a bite for lunch, where I found myself thinking along the lines of American comfort food. Unable to decide between the boneless fried chicken and the mac and cheese, I left it in his hands and he sent me out a half portion of each. Great mac and cheese (though again, I wanted my hot sauce, it's the way I eat it), and really good fried chicken – though with fried chicken I have to admit I want to pick it up by the bone and eat it with my hands, a boneless thigh, tasty as it was, was missing that interactive element. I'd still eat it again.
Service, friendly and efficient. Prices reasonable for Palermo Soho. My only quibble, the lack of a good hot sauce, and hopefully Mike will grab some chilies and whip up one equal to his cuisine.
If you can make it there… Mike's food comes through. New York New York Resto Bar Gourmet. Recommended.