The sandwiches, they go on and on and on and on. Picking up from our last round of five contenders, the pickings are getting slimmer. I think. Maybe. We'll see.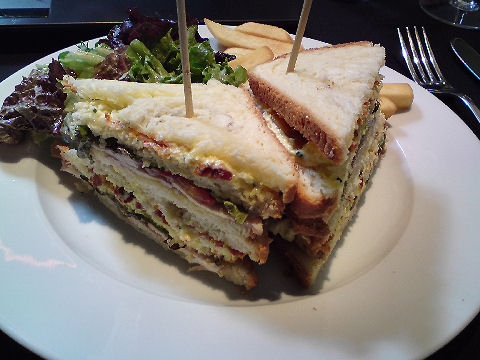 Now that's a lovely thing, isn't it? Even if it is on white bread and too much of it and it should have been toasted. But, it's a lovely thing anyway this club sandwich from
Chez Nous
in the Algodon Mansion hotel. Tender, moist chicken breast shredded almost like pulled pork, egg salad, lettuce, tomato, semi-crispy bacon (could have gone crispier), really nicely seasoned. Nice side salad, same problem with the fries that I noted in my brunch review of the place – I don't know if they've chosen to use a different sort of potato than the norm here or are doing something strange to it, but oddly dry and crumbly inside. The sandwich, a delight, I'd get it again anytime, though it doesn't knock any of the
current chicken winners
out of their slots. A little pricey at 50 some pesos, but it is the Algodon Mansion. 
[Closed, replaced by Algodon Wine Bar]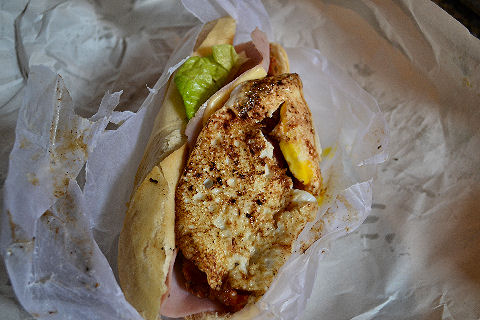 Just a quick bite one day from a new spot here in the 'hood – a branch of
Sr. Choripan
that just opened up along French near to Pueyrredón. They offer the usual array of simple sandwiches from here – choripan, milanesa, suprema – in plain, with lettuce and tomato, or "infernal". I ordered a
suprema infernal
in hope that it might be something on the spicy side, but, it's less "infernal" than it is "diabolical" – a wimpy strip or two of breaded chicken that was way overcooked, topped with a combo of lettuce, tomato, fried egg, bacon and ham. Nothing else on the insipid white roll, no mayo, no nothing. I added hot sauce and made it reasonably infernal. At 23 pesos it's vaguely acceptable, but just not of a high enough quality to warrant grabbing one again. 
[Closed]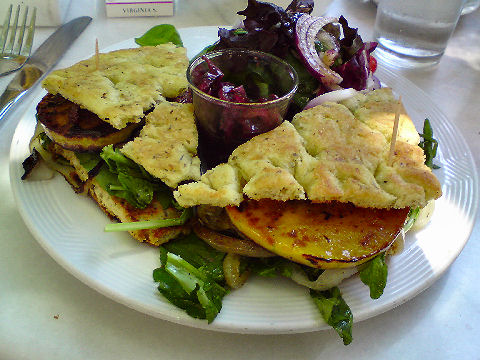 One of my favorite lunch spots is the garden at the
Museo Evita Restaurant & Bar
. Usually I get a pasta or risotto, sometimes one of their fantastic salads, and I've tried a crepe or two from their crepe bar. But, I hadn't tried one of their focaccia borne sandwiches before, and I'm sorry now that I hadn't. A trio are on offer on the current menu – one smoked salmon, one chicken, and one grilled vegetable. The last of these was my option during my latest visit and it's hands-down
the best vegetarian sandwich
I've tried in BA. Packed with well seasoned, properly grilled vegetables and accompanied by a tasty little red cabbage coleslaw (oh, just put it on the sandwich already, we're all going to do that), it's simply delicious. Their focaccia is great as well, if, and my only complaint, sliced a trifle thin for holding a sandwich together, though I managed, if a bit sloppily. The side salad is ample and nicely dressed. Well worth the 40 and a bit pesos shelled out.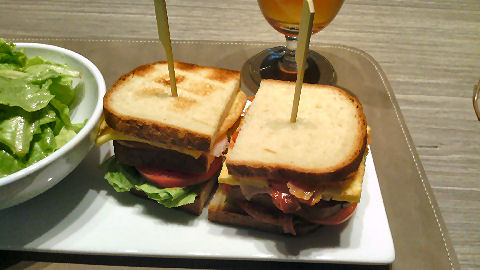 Located behind the lobby of the relatively new Grand Hotel, Las Heras 1745 in Recoleta,
Club 31
is becoming known as a spot to stop in at for a decent cocktail and a casual bite to eat. The bar menu includes a range of sandwiches including a somewhat touted turkey club sandwich, a nice change-up from the usual chicken clubs that most places around here serve. I love the setting. I'm not, however, going to tout the sandwich all that highly, especially given the particularly good club at nearby Chez Nous, above. This version has a light, toasted white bread base, and the fact that it was toasted was about the only thing that made it a nice sandwich. A bit of lettuce and tomato, a single slice of turkey breast lunchmeat, the "fried egg" turned out to be a rectangular piece of scrambled egg, and the two lonely half slices of (at least crispy) bacon just didn't quite warrant anything. No condiments on the sandwich, though mustard and mayo are offered on the side. An option for either fries or "greens", the latter of which turned out to be a couple of torn lettuce leaves doused in vinegar and salt, is offered. None of it warranted a 51 peso price.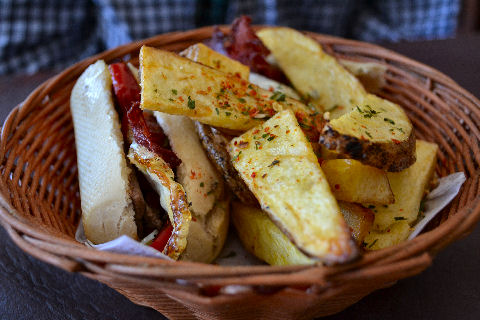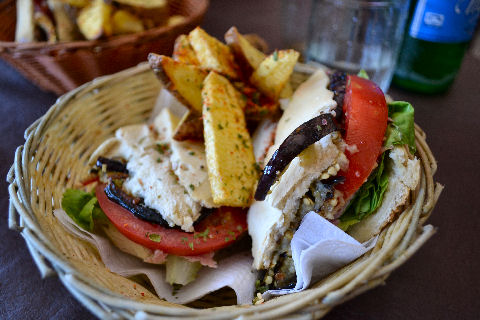 I'd heard some rumors of a fun little Brazilian spot on the south side of Palermo supposedly serving up pretty decent traditional fare, plus some interesting sandwiches. Headed off to
Boteco do Brasil
,
Bonpland 1367
 Honduras 5774 wondering what sort of sandwiches would show up on the menu with a Brazilian flair. On the negative side, the answer is, really nothing. Or at least nothing out of the ordinary for BA – there are five sandwiches on offer, and while four of them are named for something cultural or geographical in Brazil, they're pretty much the same sorts of sandwiches we can get at most good sandwich shops here. Also on the negative, we were the only two people in the restaurant and it still took the cook nearly 30 minutes to put together two sandwiches. The two wait-folk weren't much help, spending most of their time making out hot and heavy behind the bar – really, who knew that the place put on an erotic show? On the positive side, pretty decent sandwiches when they finally showed up. Good bread, good quality ingredients, the meats in the sandwiches hot, as well as some of the other components, right off the grill. Pictured above, the
nordestino
with a sandwich steak, onions, peppers, fried egg and bacon; and the
paulista
with cooked ham, grilled eggplant, arugula and tomato. Actually seasoned – not with a lot, but at least something, and bottles of hot sauce and garlic vinegar on the table, both of which ended up right on the sandwiches. The fries – hot, crispy on the outside, soft on the inside, coated with herbs and spices, but no salt, which was definitely a missing. So, were they great sandwiches? No. Would I go back for one? No. But, perhaps well made enough to get me interested in popping back to try some of the appetizer and main course dishes on the Brazilian classics menu. We shall see.