Although it wasn't intentional, looking at the photos from last week's dinners it seems I was on a yellow kick. Maybe I was low on Vitamin A or something and my subconscious was crying out for attention.
Now, last week I mentioned that I was going to try a new technique or ingredient each week, and I did, though in the end, it didn't get put on the plate. I got interested in some various blog posts about "mustard caviar" which sounded like it would go really well with my planned rabbit dish for the main course. Problem is, it didn't work. The mustard seeds were supposed to plump up and get a little gelatinous and retain a bit of pop to them and have all that mustard tanginess with a touch of sweetness. Instead, they barely swelled, stayed fairly hard and crunchy, and got really bitter. Not knowing the chemistry or physics behind it, I don't know if it's the type of seed or perhaps they were old or something else entirely, and I will give the process another try, I just wasn't going to spend more time on it last week. I had used a recipe posted on Bon Appetit's website, though I just found a far different version that makes more sense intuitively on the Cooking Issues site. To be revisited.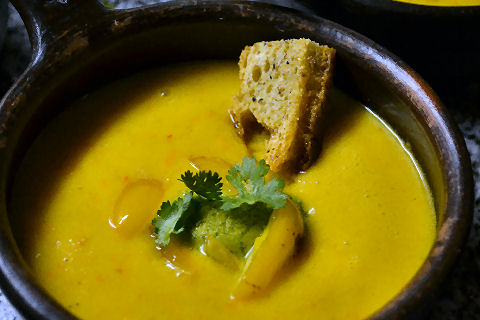 The yellow began with the chilled soup of the week when I got a supply of 4 kilos of yellow cherry tomatoes. The base a blend of a kilo of those, two yellow bell peppers, two ají amarillos for some heat, a peeled cucumber, a large white onion, two cloves of garlic, some rice vinegar, olive oil, salt and white pepper all to taste. I was perusing online for some ideas to serve with it and came across Millennium restaurant's version with a cilantro and avocado sorbet, which sounded great (who knew someone else out there was sticking sorbets in their chilled soups? okay, okay, it's not an original idea). Our version – a couple of ripe avocados blended with a large bunch of cilantro, stems and all, juice of three limes, a green chili, a splash of honey to keep it from crystallizing, salt, white pepper and just enough water to blend it smooth. Garnished with a few reserved cherry tomatoes, cilantro leaves, and a whole wheat crouton. Healthy and delicious, go figure!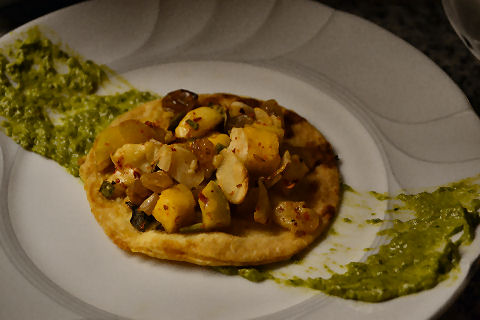 I was thinking about grilled watermelon, which led to some interesting salads and appetizers that involved it, most often with some sort of goat's milk cheese and/or feta. I ended up far down the road on a little open tartlet of cantaloupe, feta, smoked chilies, green onions, almonds, yellow raisins, oregano leaves, all tossed together with some olive oil and salt and topping a polenta and romano cheese round, broiled and served with a parsley salsa verde (parsley, capers, green olives, anchovy, salt, pepper, peperoncino, olive oil, blended together with a little xantham gum to keep it from separating).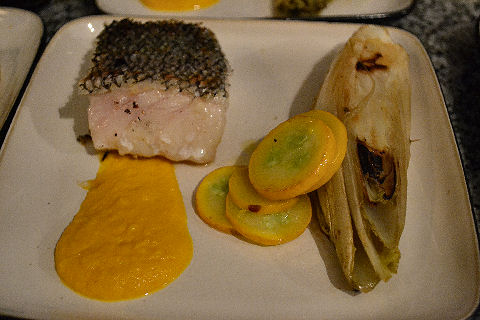 This one comes almost fully formed from my recent read through of one of the Arzak book series. In that book, a presentation of crispy skin grouper served with a grilled endive and a carrot and coconut broth caught my eye – I tried it and liked it quite a bit, but wanted it to have a little more punch to it. First off, no grouper in the fish markets, so I used salmon blanco, our old friend the Brazilian sandperch, which is also a meaty white fish. Second, I thought the vinaigrette marinade on the endive was too subtle so instead of a plain cider vinegar I used a late harvest Torrontés vinegar which gave it a touch of sweetness and more flavor, and finally, I thought that delicious as the carrot and coconut broth was that was on their plate, it also got a bit lost, so I left it more as a carrot and coconut puree, basically just not straining it through a fine sieve and adding a little less fish broth to it. The yellow zucchini more or less fell into my lap along with the yellow cherry tomatoes, so I marinated them with the endives and grilled them too. In the followups to the first night I cut them lengthwise in spears rather than in rounds, which looked nicer laid next to the endive, but this photo is a better one overall.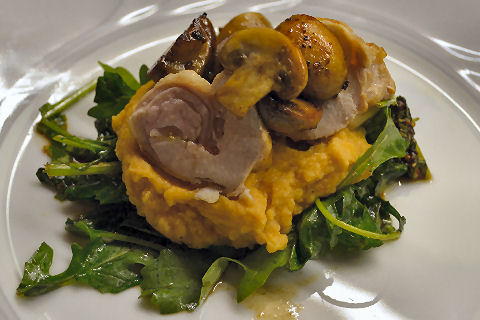 I also got a nice supply of fresh rabbit loins. Butterflied them and lightly coated the inside surface with salt, white pepper and dry mustard, rolled them up and tied them. Then browned them, into the oven and roasted them for 8 minutes, pulled them out, let them rest, and served them up medium in slices atop a puré rustico, slightly modified – here, a mix of pureed potato, chickpeas, bacon, tomato, shallots, garlic and olive oil. I also needed, two of the nights, to have a version without the bacon, but wanting that intense flavor I used a mix of miso and a dash of liquid smoke. Truthfully, works just as well and makes it a nice vegetarian, even vegan, version of the puree. Served over wild arugula that was wilted very quickly in a mustard vinaigrette – here's where originally I was just going to wilt them in olive oil and then use the mustard caviar atop the dish, had it worked out, instead I used whole seed dijon mustard in a vinaigrette and it worked out quite nicely. Some lightly caramelized button mushrooms on top finish the dish.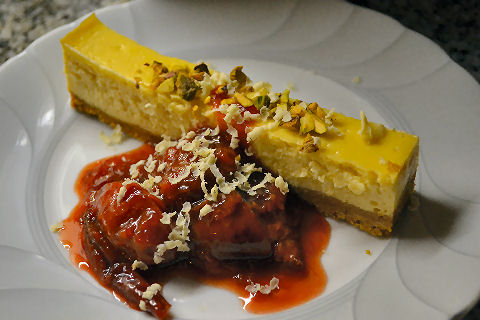 And, the evening finished off with a honey cheesecake accompanied by a three plum compote (red plums, yellow plums, "gotas de míel" – little honeydrop plums as they're called here cooked with brown sugar), some toasted pistachios and a grating of white chocolate.
It was all very yellow or yellow-orange, wasn't it? We could call it a theme and then it all looks intentional.