Wow, another week has passed and I've had zero time to spend writing. That's not true at all, actually, I finished off the final draft of one of two books in the works – this week I'm just doing a few minor edits that have already been suggested – and then, on to the second book. And that was on top of not only our usual series of dinners for last week but a private party as well. We even managed to get out and try a newly opened restaurant and have lunch with a friend at an old favorite. Still, I can't neglect you all completely, right?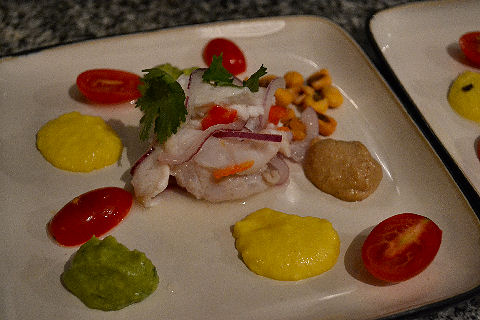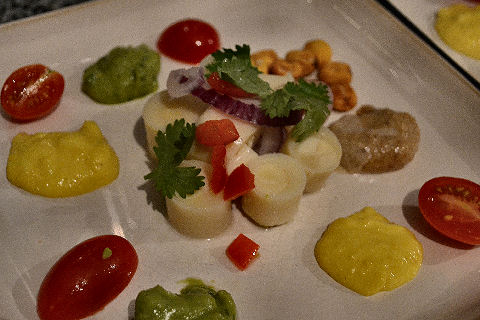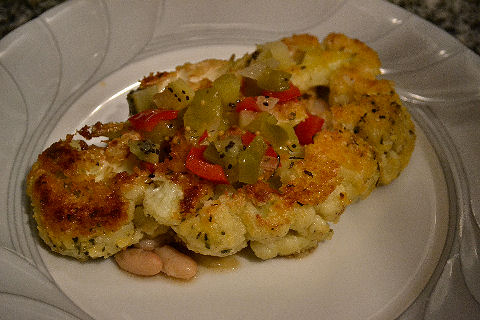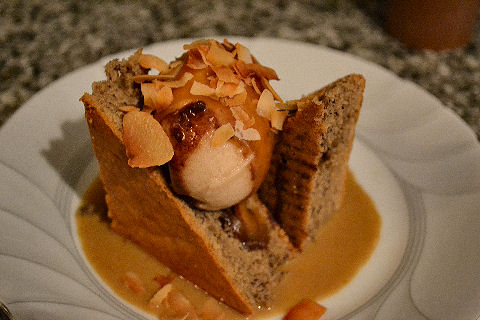 The private party literally came up at last minute – although the host contacted me a few days prior, he wasn't able to get agreement on his group for a night that worked for all of them until late Monday – and asked if we could handle the dinner on Tuesday. The only thing it meant was not going for anything new that had to be played around with, so I picked a quintet of dishes that have been particularly successful recently – we started with a lenguado (sole) ceviche, done up the same way we recently did a shellfish version, then a chilled green bean soup, semolina umbricelli with a mushroom and green olive cream sauce (see below for the week's regular dinners – oh, wait, we did do something new – or at least a refined version of a past dish), then gatuzo with kiwi relish, and finally a banana cake with banana sorbet and a trio of sauces (coconut-turmeric, chocolate-habanero, caramel), though plated a little nicer. One of the guests was vegetarian, so we offered her up a palm heart ceviche for the first course and a cauliflower steak prepared the same way as the fish for her main course.
In keeping with my commitment to play around with new ingredients each week I used, for the first time, bee pollen. I didn't do anything fancy with it, in the end just using it as a garnish on the dessert, but hey, I used it. A remarkably light on allergy/dietary restrictions week, other than, at the first dinner, a woman from NYC called me over to inform me that she couldn't eat dairy – I still don't get why this stuff doesn't occur to people to mention in advance, especially since we ask. When it came down to it, the first and last courses I didn't do anything for her, there just wasn't anything to be done, though since I had some extra mushrooms and olives, on the pasta course I just tossed her pasta with those and some olive oil.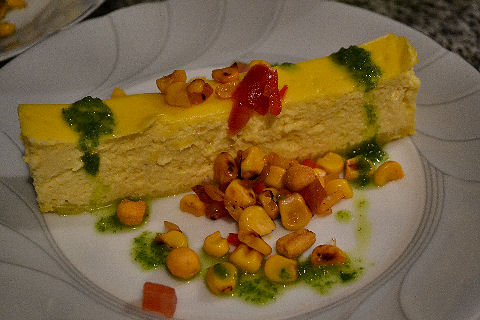 One of my favorite street foods is one that I used to encounter when heading to Mexico City, something that back in, hmmm, the early 80s I think it was, I used to do every year (and still, somehow, never managed to learn more than a few words of Spanish during that time) – grilled corn on the cob brushed with chili butter and served with wedges of lime and grilled green onions. Here, keeping those flavors, a new savory cheesecake to add to our repertoire – a corn puree and green onion cheesecake with polenta crust, roasted corn salad with mixed chilies (rocotos and limos), red onion and lime juice, a green onion oil, and some deep-fried salted corn kernels for crunch.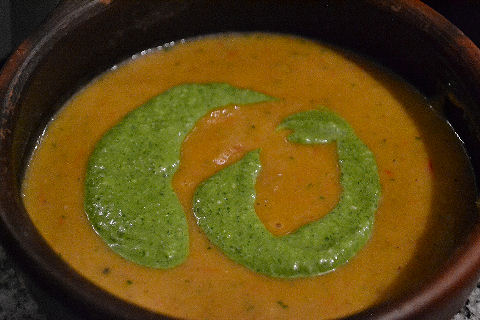 A not quite gazpacho, since, well, it doesn't have most of the vegetables that usually go into it, but a chilled, roasted cherry tomato soup – roasted off a kilo of cherry tomatoes, an ají amarillo, and a large white onion until lightly browned. Pureed with a handful of basil leaves, a splash of balsamic vinegar, a little olive oil, salt, pepper, and a smidgen of brown sugar – just enough water added to thin it out to a thick soup. Garnished with a simple arugula pesto – arugula, romano cheese, anchovy, garlic, olive oil, salt and pepper.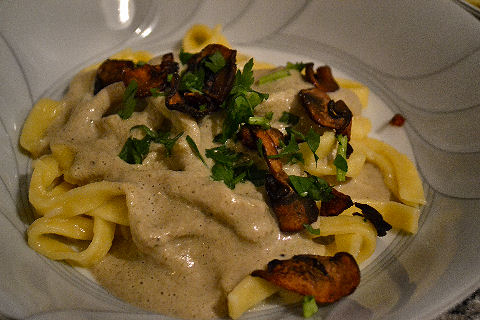 My version of a traditional Umbrian dish – these are not exactly umbricelli, which are basically a thick, square spaghetti that's then been twisted a bit to help it hold the sauce – these in cross-section are more rectangular than square, and not quite as thick as the tradition would dictate, and I didn't twist them up – so they're in some ways a bit like a very thick fettucine noodle (which I would, on my little hand-cranked machine, roll out to a "7" thickness, these are only down to a "4"). 100% semolina with a dash of bicarb to give them some snap. The sauce, olive oil sauteed button mushrooms, green olives and dried peperoncinos, pureed with cream, salt, pepper, anchovy and parsley. Garnished with deep-fried portobello mushroom slices and some parsley. My favorite dish of the evenings.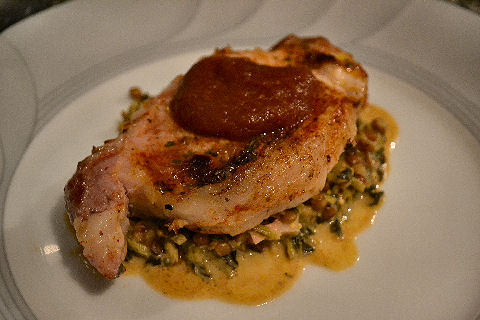 Spice rubbed pork loin, quickly pan seared in olive oil and butter. Served over lentils simply cooked with bacon, tomato puree, chard, seeded mustard, and cream. Topped with a savory version of our apple butter – used molasses in place of the honey/maple syrup, and added in several garlic cloves, an onion, and red wine vinegar.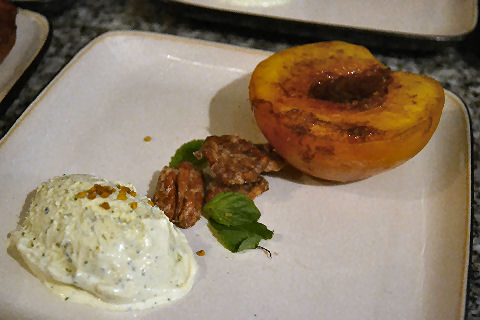 Despite the first three courses being mostly vegetarian (other than the little bit of anchovy in the pesto and pasta sauces) the meal as I imagined it seemed a trifle heavy for a hot summer's week, so I thought a little bit lighter dessert would be in order. That's just in contrast to some of our usual desserts. Here, roasted half peaches (a scoop of butter, brown sugar and grated ginger placed in each and then into the oven for about 45 minutes), served warm with candied pecans, mint leaves, and a mint and mascarpone gelato topped with a pinch of the aforementioned bee pollen. Hey, like I said, I used it.