"ALMA: I don't think I will be able to get through the summer.
JOHN: You'll get through it, Miss Alma.
ALMA: How?
JOHN: One day will come after another and one night will come after another till sooner or later the summer will be all through with, and then it will be fall, and you will be saying, I don't see how I'm going to get through the fall."

Summer and Smoke, by Tennessee Williams
One of the things I've set as a goal this year, sort of like an off-hand New Year's Resolution, is to regularly start using new techniques and ingredients – I may even try to force myself down the path of one new one for each week's menu. We shall see. About two years ago on one of my trips to New York I picked up a Smoking Gun. It's a small, hand-held smoker for doing light infusions of smoke flavor. And I put it on top of the refrigerator when I got back and there it has sat, for two long years. I had one ingredient in particular that I wanted to try out this last week that had some smoke flavor to it, something that went beyond what the gun could do, but starting from that ingredient I sort of built a menu around some smoky flavors – not in everything mind you, that might get a bit overwhelming, but enough to influence the overall tone of the evenings.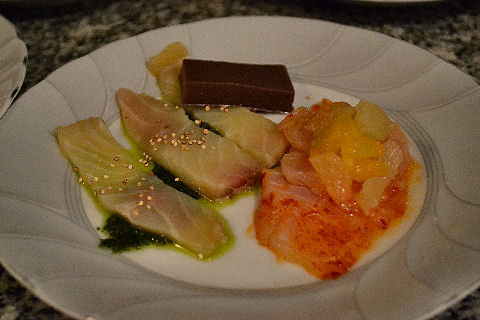 I really need some long narrow rectangular plates for dishes like this, but, so be it. On the left, gravlax style cured surubí, a freshwater Brazilian tigerfish, using cilantro as the herb and a mix of lemon, lime, grapefruit and orange peel for the citrus, and only cured for 2 days total. Served over a swath of radichetta oil, topped with toasted quinua and on the side, a black tapenade gel. On the right, salmón blanco, a sand perch, smoked with the smoking gun using cherry wood until it picked up a nice patina along the surface, then about 15 minutes before serving, sliced and brushed with a mix of late harvest orange vinegar, olive oil, salt and smoked paprika, and then served topped with a fine dice of the four citrus fruits mentioned above. Definitely the most controversial plate of the week, engendering lots of questions – and virtually everyone cleaned their plate down to the last nibble.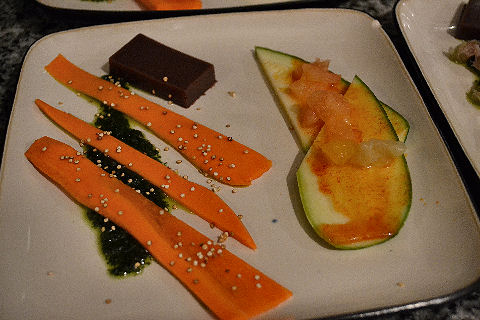 One night we had four vegetarian folk in a group coming so I used the same cure on some sliced carrots and just cured them overnight, and then the same treatment for slices of zucchini with the smoker and ceviche style cure.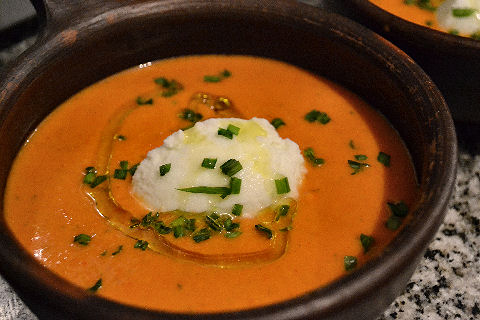 A return of our recent hit, a chilled gazpacho made with roasted tomatoes and bell peppers in the base, along with red onion, garlic, an ají amarillo, basil, red wine vinegar, olive oil, salt and pepper. The sorbet – coconut milk, cucumber, green chili, salt and honey.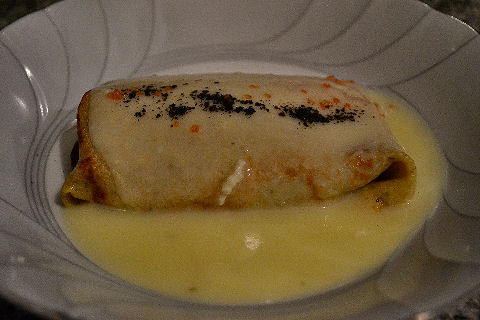 Given the responses we got at the dinners and a couple of followups, I'd have to say this might have been the most popular dish of the week. Surprisingly simple too. The crepe is a buckwheat crepe – though not 100% as I've found that those are often a little heavy – still, you could. Either way – 1/2 cup buckwheat flour, 1/2 cup pastry flour, 3 eggs, 1-1/4 cups milk – whisked together and made into crepes by the 1/4 cupful. The filling – charred several eggplants over and open flame until blackened on the outside and soft inside, then stuck them in a bag to steam and cool. Roasted an equal amount of cauliflower in the oven (wrapped in foil with some olive oil). Blended the insides of the eggplants with the cauliflower, a couple of garlic cloves, some sprigs of mint and thyme, tahini and sesame seeds, smoked pepper flakes (merkén from Chile), salt and a little olive oil – just enough to get it to puree smoothly. Rolled the crepes blintz style (I wonder if Psy could make a "Blintz Style" video…) and then heated them up in the oven. The sauce is a creamy textured lemon sauce from the Syrian (Aleppo Jewish community) repertoire that we've used before, just subbing in vegetable stock on the night of the vegetarian folk.
The little bit of powder on top was where this whole dinner idea started – catching up last week on recent episodes of the new season of Top Chef, the idea of "lemon ash" caught my eye and a bit of online research came up with a couple of simple methods to make it – so I carbonized a couple of lemons and then ground them into powder and wow, they really do have an amazing lemon perfume and smoke combo flavor. And two lemons makes a whole lot of powder. So a bit of that and some pink sea salt for color complete the dish.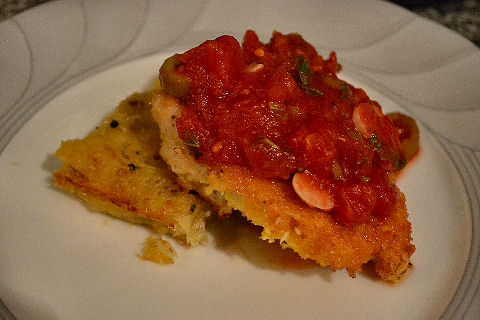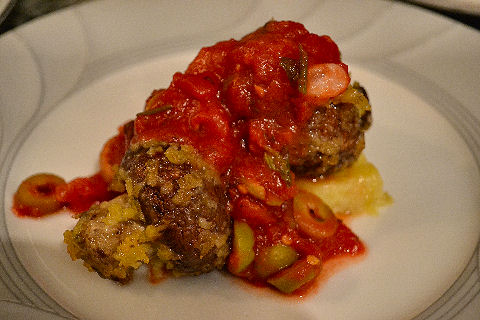 A perennial favorite, our spicy green olive chicken, coated in parmesan and then smothered in a tomato, garlic and chili sauce, this time served over what is, essentially, a baked latke square, and for our vegetarian friends, the same treatment with halved portobello mushrooms (which turned out great and will definitely get added to our vegetarian recipe selection).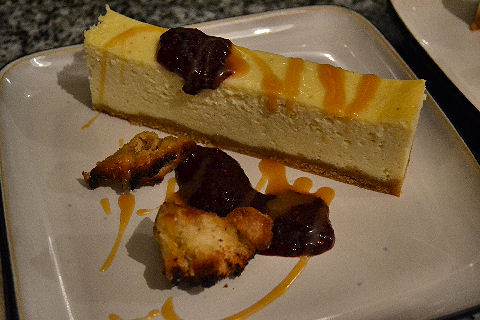 And, finished off the evening with a return of our white chocolate and pear cheesecake served with caramelized bread shards, a puree of mixed berries, and a caramel sauce flavored with late harvest Torrontés.
A bit of smokiness all around. Now, off to the market, we picked up a last minute private party for tonight and I'm still not sure what I'm making.