I could have used the rosa nautica from the last post finding my way. It was bound to happen. I just didn't think it would happen this early on, though in a way, it makes sense. After all, this part of following the #92 route passes through neighborhoods that I spend my days in all the time, so I got careless – when it ventures further afield, I'm more likely to be paying attention to the twists and turns. I know that the route runs up Av. Colonel Diaz, but as I walked along Av. Las Heras, I mentally was picturing going as far as Av. Scalabrini Ortiz, which is the next one along. So the last pizza in the last post in this series, and the two in this post, don't count towards the 92 pizzas. But, I ate them, I have pictures, so stops 3b and 3c, the tangents off the route, are in today's sights.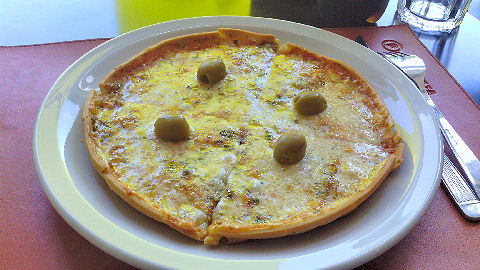 Just a half block past the last pizzeria I found a branch of Punto Pizza at Av. Las Heras 3333, a relatively new chain in town that proclaims itself "something different". And it is indeed, in this city where the usual pizza is piled atop a medium thick white doughy crust with little or no sauce and mounds of cheese, Punto offers up a cracker thin crust reminiscent of an empanada, with a savory layer of zesty tomato sauce and a judicious scattering of melted mozzarella and herbs. One of the better sauces I've had in town. The olives are pitted, praise the Flying Spaghetti Monster. I liked the crust, and particularly that after eating an individual pie I didn't feel weighted down with bread. Overall, I liked it quite a bit (and for those traditionalists out there, they do offer an option for a thicker, more classic local crust). I even kind of like the place – it's all very gleaming and shiny, if a bit too orange – the staff young, friendly, and helpful. Turns out they have a branch not far from home, so they may become (after this venture is over) a mainstay for pizza delivery here at home.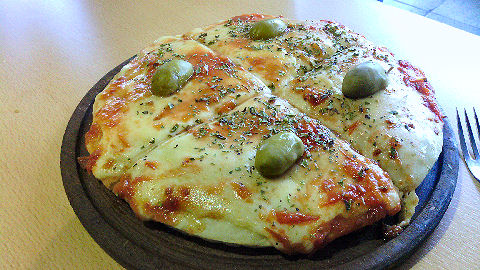 Just a few doors down it would be hard to find a pizzeria at a more opposite end of the spectrum. Morita, at Las Heras 3349 is a dingy, dirty, primarily takeout spot that is part of a fairly large chain here in town. There are a few stools at the counter, broken down equipment, a TV blaring at high volume, and a single, elderly man working there who, while not rude, was basically disinterested as he wandered about the place. It took him a solid 4-5 minutes to even pay attention to myself and another person waiting, because he was busy moving things around on a counter, and then he came back to me twice to check what I ordered. How difficult is it to remember "small, plain mozzarella"? And he doesn't even have a lot of work to do – the pie crusts are parbaked pillows of puffy dough that he was pulling out of refrigerated containers (I'm guessing that everything comes premade from some sort of central Morita fabrica). All he had to do was pull out a dough of the right size, place a pre-measured plastic wrapped block of cheese on it (sans the wrap) and stick it on a non-working conveyor belt to heat it up (which meant he had to poke at it to move it around rather than it passing under the flames. Once warmed, he used a palette knife to spread the cheese around, pulled a bucket of tomato sauce out of the refrigerator and ladled some on top and stuck it back on the conveyor belt again. The result, a barely warmed, tasteless mass of cottony dough, cheap, oily cheese, and cold, flavorless sauce. The olives had pits. This place is the pits.