All those pesky holidays out of the way it's time to launch into the new year with fork held aloft, and we may as well plunge right in with the first week of Casa S dinners. It's still high tourism season for those from North America, so the US and Canada folk predominated, but we still managed to squeak in a few from the UK, France and Australia, and of the US based folk, three were students from Singapore and Taiwan who are just in the States temporarily, and one of the Australia based folk currently lives and works in Papua New Guinea while the other was Venezuelan living down-under. And this coming week looks more multi-cultural as the whole holiday travel thing starts to fade away. So, what were we cooking up in the kitchen here?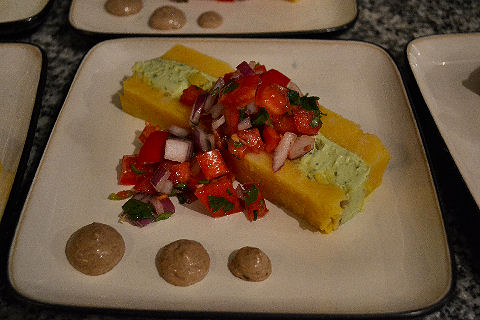 A new version of our ever popular causa, the base recipe here in one of my BA Herald columns. In this case, it was a vegetarian version, so leaving out the tuna, and obviously a new presentation from those we've done in the past. Layered the lemon and chili spiced potato base into a terrine mold, and to help it hold up, the avocado is pureed with our own cream cheese rather than mayonnaise – a bit richer and more stable. Tomato, chili, red onion and cilantro salad, and a puree of black olives and mayo on the side. Rather nice presentation if I do say so myself.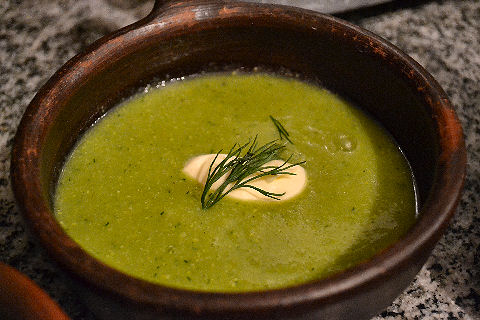 Brought back the chilled green bean soup that was a hit recently, with a couple of changes. First, there was fresh dill in the market and that goes even better with the green beans than the mint, so switched that out, and second, I wanted to both lighten it up a little and not use more potato after the causa first course, so instead of potato in the soup base, fresh corn, which also thickens things up when pureed, and, the flavor compliments the green beans.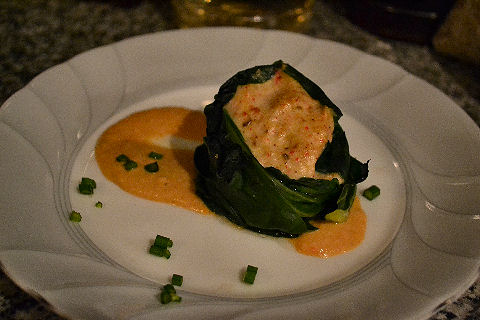 A dish that's still in the works but I was happy enough with to start presenting it at dinners. I wish I could say that I chose to make a mousselline in honor of the 50th anniversary of the first broadcast of Julia Child's The French Chef, but I'd not noticed that that was this week until after the menu was already planned, had I, we would have gone with a themed dinner which could have been a lot of fun as well. A seafood mousselline (which is a type of mousse that includes the addition of whipped cream) – a puree of crab, scallops, prawns and white fish and spices with egg white, folded together with the whipped cream, rolled up in blanched chard leaves, placed in ramekins and baked in a water bath until just set. Served over a pureed raita – yogurt, red onion, chili, sun-dried tomato, cucumber, coconut, mustard and cumin seeds, salt. I wasn't sure how this one would go over, but it turned out to be one of the favorites of the week. The flavors are all there. Now, to work on the presentation.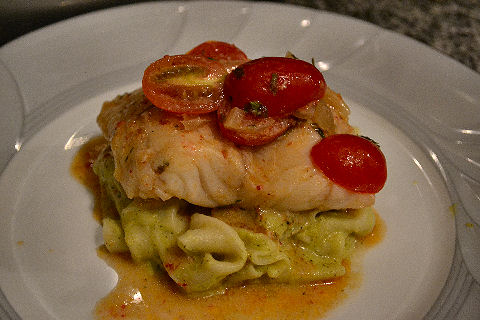 I started with the ocopa, one of my favorite Peruvian sauces. It's essentially an enhanced version of huancaina sauce which I've laid out the step-by-step for in the past. To the puree is added sauteed onions and garlic and a good handful of huacatay leaves. Also, often, in place of walnuts, toasted peanuts are used, which I did this time to give it a more intense flavor. Rather than serving it at room temp over potato slices I decided to serve it warm tossed with fresh semolina pappardelle. Atop, fillets of abadejo – the local species of pollack or haddock – poached in a liquid of onions, cherry tomatoes, merquén (mild smoked chili), thyme, parsley and white wine. Our favorite dish of the week – we know it's a good one if both Henry and I like the same one best.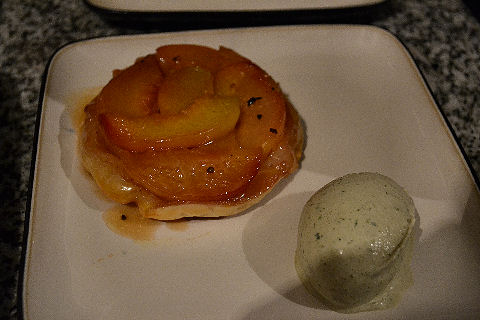 Peach tarte tatin with just a touch of black pepper in the mix. Tarragon gelato. Just yum. Yes, I'm starting the year off with a yum.