A very short post and then back into the kitchen for our New Year's Day dinner preparations. Last night's NYE dinner went spectacularly well, that'll all show up here later in the week, I think – we have private dinners pretty much the rest of the week, so we'll see how much time I have.
We carried over a couple of dishes from the Xmas Eve and Day dinners – with the ratatouille galette and finishing it with the apple cheesecake. Surrounding those…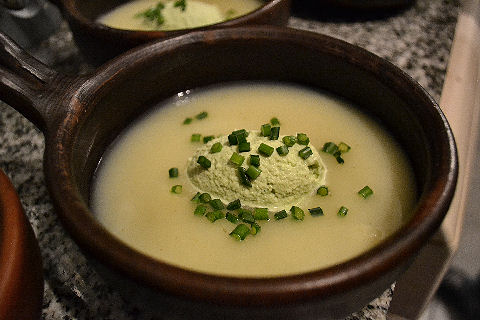 Brought back our chilled reinterpreted vichyssoise with its potato base and leek-watercress ice cream. That was followed by the galette, and then…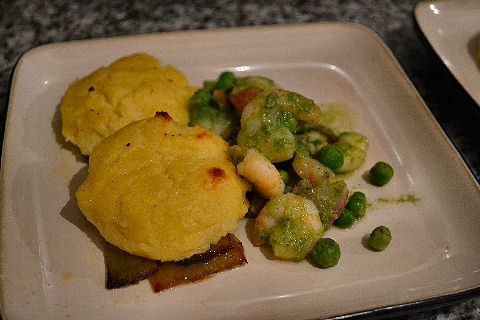 Plump semolina gnocchi, served over caramelized chard stems (remember all the creamed chard from the two previous nights? Hate to waste the stems, and they're so good caramelized). On the side, a saute of radishes, shrimp and peas all in a puree of the radish greens, lemon peel, chili, anchovy, grana padano and a little milk to smooth it all out.
Then, the main course of sauteed grouper with zucchini puree and stewed chickpeas, a dish we've done many times before. And then closed the evenings off with the apple cheesecake.
Several people asked me about the apple butter that accompanied it – as I mentioned in the last post, it really is easy – though does require a pressure cooker to make it the way I do.
Apple Butter
8 tart green apples, peeled, cored and sliced
1/3 cup (80ml) of maple syrup or honey
1 teaspoon five-spice powder
1 pinch salt
Put these ingredients into the pressure cooker, place it over very low heat and cook for 1½ hours from the time it starts to whistle. Release pressure, puree the apple mixture until very smooth – pass through a sieve to really get it smooth. Store in the refrigerator for up to about two weeks, if it lasts that long, which I sincerely doubt.