Still catching up, a brief post on the dinners for La Nochebuena and La Navidad… with one particularly fun new dish that I'll be bringing back in the near future.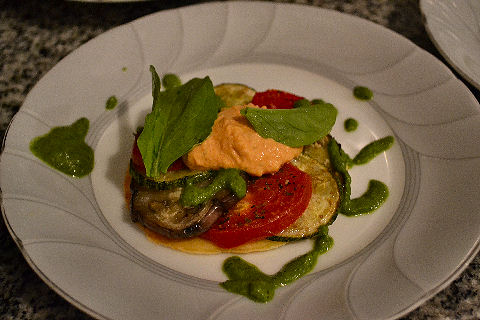 Started the evening off with our ever popular ratatouille gallette. Slices of roasted eggplant, zucchini and tomato, each differently spiced, atop a polenta and grana padano crisp, a dollop or goat cheese with roasted red pepper, arugula, and a parsley salsa verde.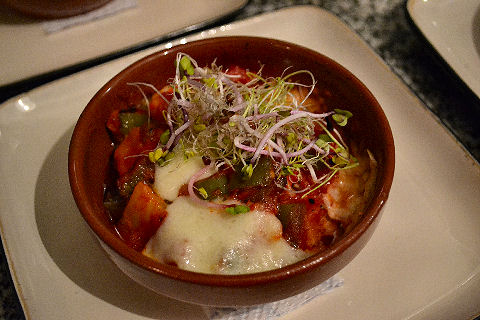 A repeat of our recent hit with a spicy tomato and seafood casserole topped with feta cheese.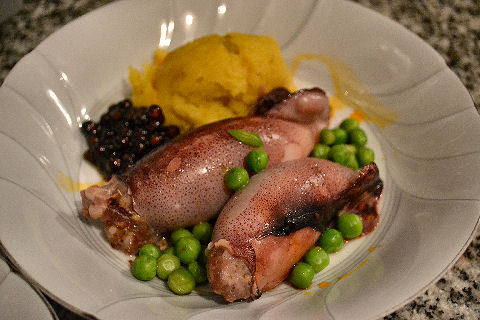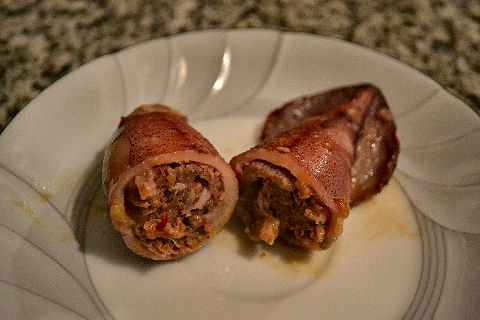 This was the dish that I was particularly happy with. Recently, perusing a new episode of Top Chef, someone made a dish of calamari stuffed with lamb and served over coconut milk and black rice. I got to thinking that the idea of lamb and calamari sounded interesting. And then I was thinking about making lamb merguez sausage and thought, why not use small calamarette as the casings rather than lamb intestines. So, freshly made lamb merguez sausage, stuffed into small squid. Served with a sweet potato puree, fresh peas and squid ink caviar, underneath a puree of black olives and olive oil, and around, a drizzle of smoked paprika oil.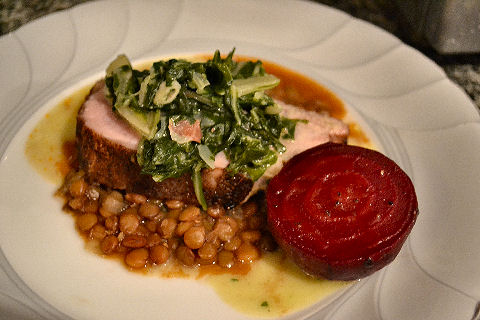 Spice rubbed pork loin, oven roasted, served over lentils and topped with creamed chard, accompanied by a roasted beet glazed with rosehip jam.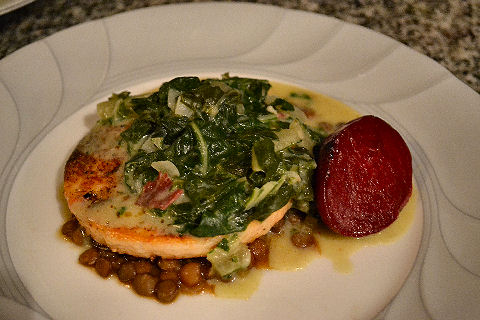 Not another course, but, one guest on Christmas Day waited until a few hours before dinner to let me know that she was a pescetarian and couldn't eat either the lamb or the pork. The calamarette were easy, I just left a few unstuffed and served her extra. The main course, a bit more difficult – Christmas Day here nothing's open and my first thought was there was really nothing in the house I could serve her – even the creamed chard had prosciutto and the lentils had bacon. A roasted beet was in the offing. But the freezer yielded up a package of a couple of salmon "patties" that I'd bought and stuck in there as a possible quick bite for one night when I didn't feel like getting fancy. I pan-fried one, and in the end she decided to go with the lentils and chard and just sort of pick around the bits of meat. I can't say that I'm particularly happy to have served a pre-formed frozen salmon patty, but, at least it was something. This is why we ask upfront (in this case, five weeks previously) about dietary restrictions.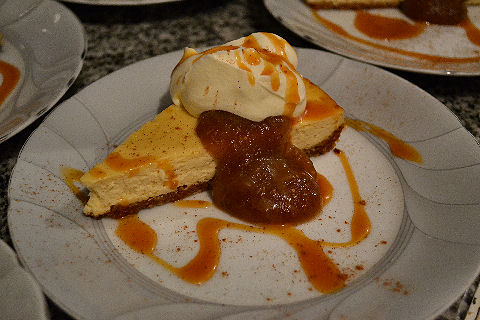 An apple and cheddar cheesecake (also cream cheese, but cheddar added for the flavor), apple butter, whipped cream, bourbon caramel sauce, dusting of cinnamon. I love apple butter. Something I grew up with and then sort of lost track of while living in NYC, I don't think I ever saw it there – back in Michigan it was something we always had around. And so easy to make.