We're going to use the wayback machine today, sending us hurtling through space and time to San Telmo, cerca March 2008. My one and only visit to the much touted Café San Juan, Av. San Juan 450, San Telmo, 4300-1112. At the time I really didn't like the place much. The food was okay, the service was stuck-up, and the owner, at the time, was, bluntly, a bitch. In fact, I'm trying to figure out why I gave it an "Okay" rating rather than "Not Recommended" at the time. The post engendered some discussion, and while I left open the possibility of returning to try it again because the place had so many supporters, I hadn't returned.
Now, I may have some of the facts wrong here, but my understanding from word in the food community here is that the chef, Leandro Cristóbal, was both a partner in the place and married to said tyrant, and that at some point the two of them parted ways, both professionally and personally. With backing from his family, he decided to revamp the place, dropping the overwrought, pretentious style of food, and returning to his love of hearty, rustic cooking. Doing so apparently had mixed reactions from the neighborhood foodie community, some of whom decried losing a place that was, at the time, one of the few doing "different" food, but in the long run won over both locals and folk from further afield. He even garnered a television show on the El Gourmet channel which I've seen a few times.
While I made no effort to rush back there, I did put it back on my list to check out at some point. Local friends gave mixed reviews, but all agreed it was improved over the original incarnation. So when a few of my companions from the pastry chef program that I went through a couple of years ago proposed a reunion there one evening this week, it seemed the perfect opportunity to give it another shot – plus with six of us, meant a whole lot of sampling goin' on.
First off, a real change to the look of the place – more rustic and homey. The bar that was off to the side is gone and replaced with an open kitchen line where the tattooed gang of cooks was earnestly at work on our arrival. The titaness of 'tude was not around, I still don't know if the rumors are true, but she certainly wasn't there on our night out. The waiters are still, unfortunately, obligated to deal with the two small blackboards brought to each table, though at least they're now completely relaxed about it and didn't seem to mind simply hanging out at the tables waiting and even making some recommendations – and there wasn't an eye roll to be seen. I still don't like that system, we all agreed that even with his relaxed demeanor there was a certain pressure felt to make a decision quickly. We also all noted that the chef's television fame has come with a price… a price increase that is, with appetizers running between 45 and 75 pesos and main courses running from 110 to 235 pesos.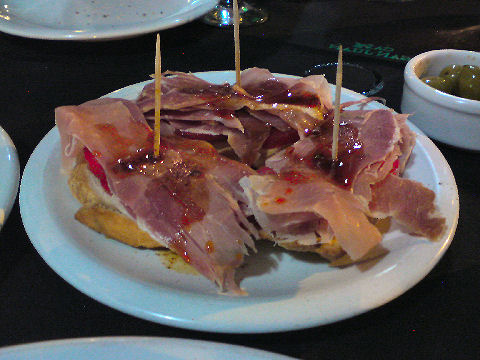 The appetizers now lean towards shareable tapas style dishes, and our waiter assured us that they were ample in size, so we ordered three for the table. While certainly ample for a single serving, I'm not sure that 50 pesos for three slices of bread with some jamón crudo, the local version of proscuitto, was worth it, especially as the meat was pretty average quality.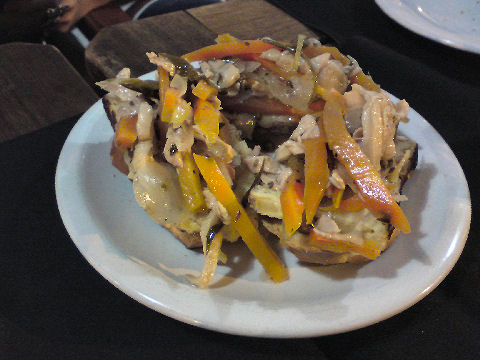 We also weren't overly impressed with the pickled oyster mushrooms served over more slices of the same bread, with the insertion in the middle of a little slice of tortilla, a sort of dense, faintly mushroom-y egg cake.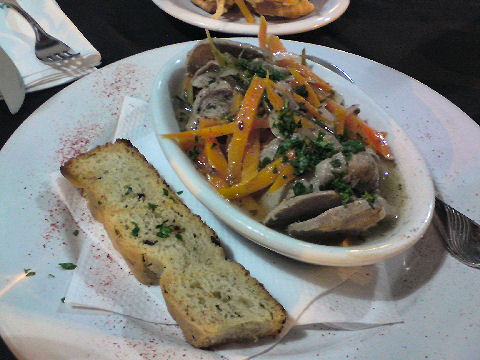 On the other hand, the perfectly cooked and tender lambs tongue en escabeche were brilliant. I'd go back for those anytime. Completely classic, nothing cutting edge, just executed the way the dish should be.
Only two of us were drinking, so we ordered a half-bottle, of which there's a small selection on the winelist – an Alamos Malbec Maceración Atenuado, a normally dark rosé. The bottle arrived and the color was pallid, and on examining, turned out to be a 2008 – a nearly five year old rosé. I considered sending it back unopened, but curiosity got the best of us and we went with it. Turned out not to be bad, though definitely faded from its usual rich intensity. Still, a cautionary note – I'm not fond of restaurants pawning off old stock past its prime on customers.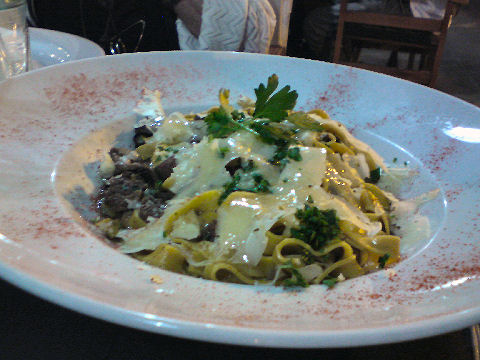 Main courses fared far better, in fact, not a miss among them. Al dente housemade fettucine tossed with a simple herb sauce and studded with bits of grilled meat and mushrooms and topped with melted cheese, was on the nose, if a bit pricey at the low end of the menu's pricing, 110 pesos. I mean, it's just a bowl of pasta, and not even that big of one.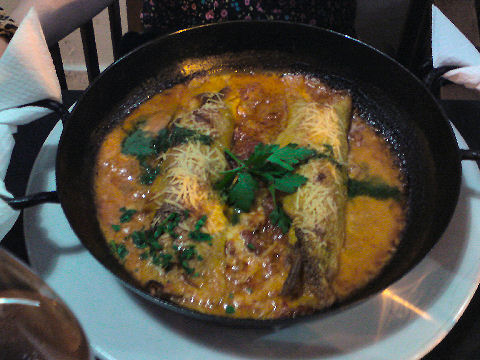 Fantastic canneloni stuffed with sweetbreads and ricotta and served up in a rustic tomato sauce were something I'd eat anytime, anywhere. And they were pretty generous in size – three of the folk at the table split two orders and were completely happy with the quantity and not outrageously priced at 120 pesos – sweetbreads aren't cheap.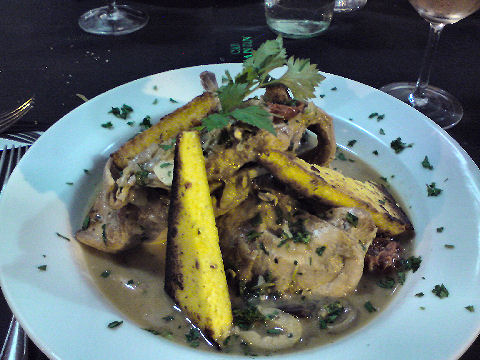 Wine-braised rabbit was so tender you could have scooped it up with a spoon, or just picked up the pieces with your fingers and dug in with gusto, as we did. The reduced wine sauce was filled with sun-dried tomatoes, green olives and herbs, plus wedges of delicious grilled polenta. Great dish, and at a portion size of half a rabbit, nothing to complain about with the 135 peso price.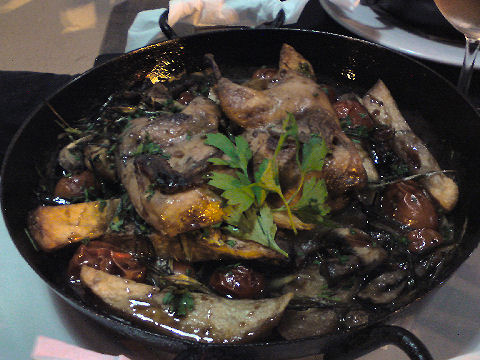 Same for the fork-tender whole partridge, roasted with a hazelnut stuffing and then split and finished under the broiler with potato wedges, mushrooms, and vegetables, all in a slightly fruity sauce, and coming in at, if I recall, 140 pesos.
Let's see, I like the space even more than I did 4½ years ago. I like the service, ambiance and attitude leaps and bounds more, other than the blackboard thing. The food is my style – rustic and hearty – the kind of food I both like to cook and to eat. I'd probably skip the bruschetta type appetizers as I think they're a bit skimpy for the price and for only a few pesos more the more substantial ones like the lamb's tongue, are not only a better value, but more interesting to me. And at least based on the four dishes we tried, I'd be happy to go back and eat any of the dishes. Only based on one wine order, I'd at least be careful and check out what's brought to the table. It's definitely gotten pricey – if you had a full three course meal, water, wine and coffee, you'd be looking at 250-300 pesos a person, but at least you'd be well fed and probably pretty darned happy. I'm going to raise the place's rating to Recommended.