I have to admit, with not doing themes anymore, I didn't even think about this last week being Chanukah when I was planning the menu. I could have brought back gefilte fish and latkes, or maybe the roast chicken with lemon sauce. But I didn't. I did light my candles each night – I wasn't going to not after having fought off a bevy of Hassidim in order to obtain them without having to put on tefillin right in the middle of the shopping mall. Just not in the menu planning. Ah well. I suppose that means I shouldn't put any emphasis on Christmas for that week's menus. We shall see.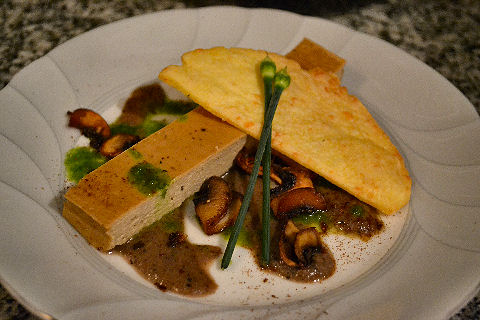 We launched with a replay of our textures of mushrooms dish from our Hobbit dinner (a momentary tangent into theme-dom). The only change, I used nira, or Japanese flowering chives in both puree and as decor.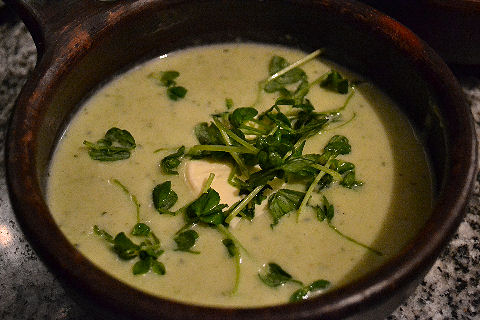 And another repeat dish, our chilled green bean soup with sour cream and pea sprouts – slightly lightened up – no cream in the soup itself, it really doesn't need it.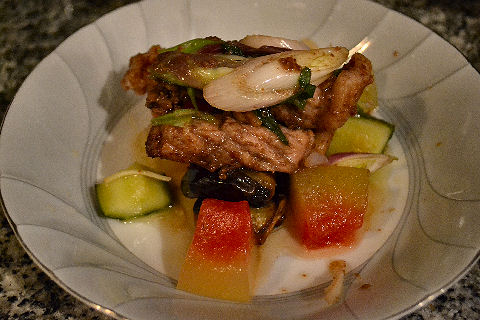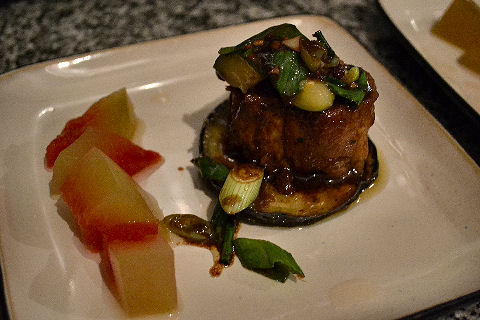 And, the Chanukah pork…. Inspired by a dish I had at The Fatty Crab in NYC awhile back. The first night I presented it as a sort of jumble of stir-fried pork loin and eggplant in a spicy glaze of chili, five-spice, soy, garlic, miso and sherry, served up with watermelon rind pickles and spicy szechuan pickles. But I wasn't happy with the presentation and then I thought I'd do it all laid out rather neatly – a line of the watermelon pickles, a slice of fried eggplant topped with a round of roasted and then glazed bondiola (pork shoulder), and topped with green onions and the spicy cucumbers. Much nicer!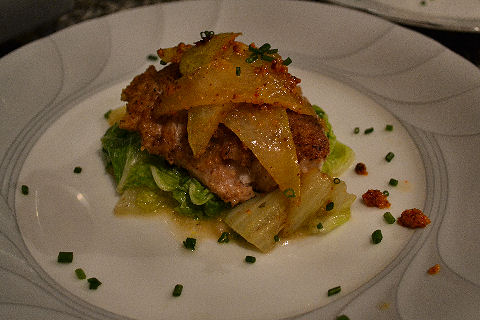 A modification of dishes past – at the base, my favorite saute of Chinese cabbage and white beans with brown butter, miso and shichimi; then a fillet of sandperch (salmó blanco here) that is marinated in rice wine, ginger, white pepper and msg, then dipped in flour, beaten egg, and finally walnut crumbs and sauteed, and topped with pears sauteed with hot smoked mustard. That worked.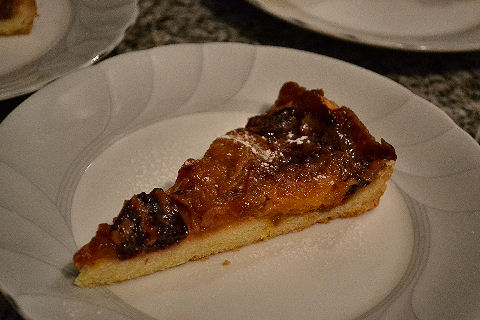 And, continuing with my little run of fresh fruits of the season tarts – apricots and cherries just came into the markets this week, and so they found themselves bubbling away in caramel flavored with cardamom, ginger and black pepper.
Chanukah. With pork. What can I say? Maybe I should go back and put on the tefillin with the boys….