Picking up after a particularly good club sandwich on our Great Sandwich Hunt, we'll start with a little delivery action.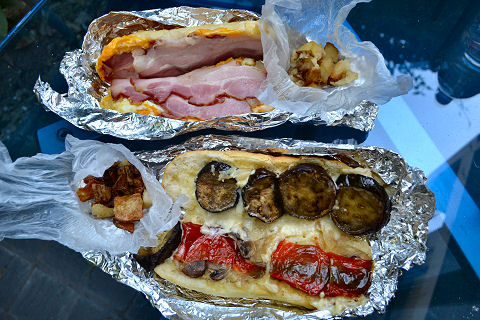 Everyone's favorite local online delivery service, BAD for short, came up with a listing of intriguing sounding sandwiches from Brie, Delicias al Paso, Arenales 2599, and we decided to give a shot at their two extremes – eggplant, and bacon. The first was listed as having eggplant, melted fontina cheese, roasted peppers, mushrooms and asparagus. It was tasty, but, a little lacking – as you can see in there being no asparagus to be found, and instead had some slightly sauteed onions. The eggplant itself was a trifle under-cooked, it could have used another 2-3 minutes in the oven, it just had that slight crunchy edge. But, overall good flavors and, no surprise here in BA, plenty of melted cheese. The bacon sandwich – well, it was a bacon sandwich – I mean, can you make a bad bacon sandwich? Especially if you put a fried egg or two underneath the bacon and then melt cheddar all over it and add caramelized onions? Though, again, the onions were just slightly sauteed, not really caramelized (maybe they just have a thing about under-cooking…). Personally I'd have gone crisper on the bacon, but that's more personal taste. Again, really tasty sandwich, good soft baguette type bread, and I'd happily order either again and am looking forward to stopping in at the place one day soon to check it out in person. Oh, and a great bargain at, respectively, 27 and 28 pesos. I debated a bit, but I think the bacon sandwich knocks the Croque-Madame from Blé off the pork leaders list.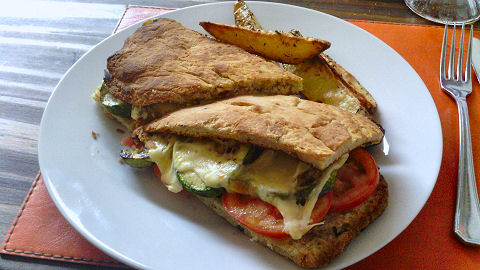 I'd heard about Baraka, Gurruchaga 1450 in Palermo back when I was working on finding a decent veggie burger here in the city – not an overly successful venture. But, when I'd checked in at the place, they didn't have one on the menu and had no idea why someone would have recommended them as having the best one – so I didn't stay, being dedicated to my search at the time. I'd gotten a recommendation for their grilled eggplant and zucchini sandwich and figured I'd stop in and check it out. The place is, well, odd feeling. I can't quite put my finger on it but I just felt vaguely uncomfortable the whole time I was there, and the inattentive staff didn't do much to make up for it. Actually, inattentive isn't exactly right, there was a waiter and two waitresses there, the former basically spending all his time at a couple of different tables peopled by young, attractive women, and then standing off to the side ogling them – a little creepy actually – and the two women seemed to be tethered to the front counter, almost as if they couldn't quite go more than about ten steps from it. So basically, most of the room got ignored for long stretches. Beyond that, it's a casual spot, with various Sufi slogans here and there, and an explanation of the core philosophy on the menu – for those for him it's of interest, their food is ostensibly halal, or at least they don't serve pork or alcohol. I ordered the sandwich, choice of breads, I went with the focaccia, turned out not to be a great choice, it was really dried out after being toasted. The filling, good – a mix of grilled eggplant and zucchini, tomato, basil, and melted cheese. But dry. There was a bowl of carrot puree on the table for the bread basket, I added that to the sandwich and it immeasurably improved it. But, disappointing, particularly at 48 pesos.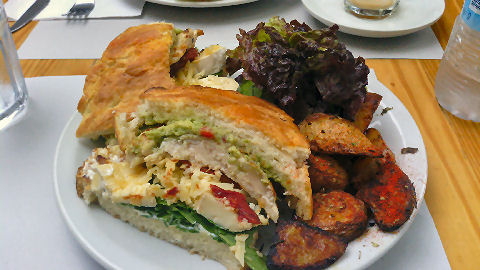 I don't know who Roger is or why he's important to the Loreto Garden Bar, Virrey Loreto 2912 in Colegiales, but, he's got a sandwich on the menu that came highly touted by several different folk. First, the place – it's comfy, but ugly. Seriously, it's an ugly little house that's been converted to a restaurant, and the "garden", at least the fenced in one in front of the house (I'm not sure if there's another garden out back, we didn't look), is poorly kept with scraggly plants, and a bit cramped. Service is about as ho-hum and slow as it gets, with "missings" – just lots of little niggling stuff – I got there before my friend, ordered a bottle of water and said I'd wait to order my meal until she got there, waitress didn't bring the water because I had said I was going to wait to order; my place setting had no napkin (and it's not that the places are preset, the waitress actually came with two sets of silverware and one napkin for the table); my friend ordered the house hamburger, rare, it arrived well done, with no condiments on the table, and had to ask for them to be brought; no movement on clearing things or seeing if we might want something else – we had to flag one of the two waitresses down each time we wanted anyting. So, overall, not impressed on those fronts. How about the food? The Roger Sandwich is interesting, kind of. It's a chicken breast sandwich with various components, and for the the components are okay at best, with no cohesiveness. The chicken was cooked just right and nice and juicy and hot, but it's sitting on top of thick slices of refrigerator cold brie, and coated with shavings of cheap "parmesan" (which it wasn't, not remotely, it was just the usual cheap queso rallado that you can buy in any supermarket – a mix of pre-grated cheeses), a guacamole that was nothing more than mashed avocado, wilted lettuce, some slivers of sun-dried tomato, and all sitting in a thin, crumbly, borderline stale, focaccia that simply fell apart within seconds. The accompanying potatoes were decent roasted potatoes with crusted with spices, except no salt. The pile of lettuce on the side was mostly wilted, browning in spots, and un-dressed – again, no condiments at the table to put on the salad. The burger fared about the same, but this isn't a burger post – it's not one that I'd bother with again. Same with the place. Not worth the effort to get there. If I were Roger, I'd remove my name from the sandwich.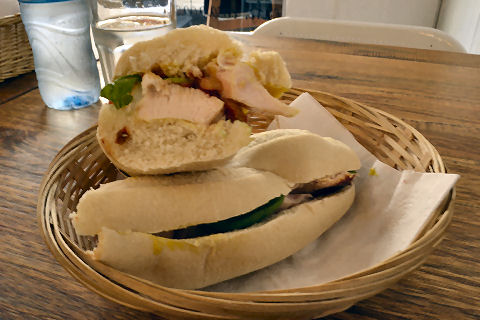 Several folk had recommended the sandwiches at a place called Entrepanes, right off the Congreso plaza, but when I walked by the given address of Av. Rivadavia 1400 it turned out to be a long abandoned space. A few doors down at #1411 there was a small cafe, Chez Nizi, but nothing in particular drew me to it. Then, today, I was invited to head out on a photo tour with the group Foto Ruta – a writeup of which will be forthcoming this week – and the meeting place turned out to be Chez Nizi. I arrived about half an hour early, figuring I'd check it out. They have a half dozen or so sandwiches available, and I asked the woman behind the counter which she recommended. One day, somewhere in BA, I'm going to get a real answer to that question and that place will become my favorite place in the Argentine universe. But, like everywhere else here, the immediate response was, "everything is good, it just depends what you want". Seriously, I'm not asking you to tell me which one of your children is your favorite while they all stand there expectantly – just give me a straightforward answer – which one's your favorite, which one's your customers' favorite, which one is the chef especially proud of, which one is the house specialty, the most unusual…? Something. I ordered the chicken sandwich, which I was immediately assured was a good choice. Glad to hear that since you already told me they were all good choices. Turns out, it's a good choice. Moist chicken breast, thick slices of fresh tomato, some arugula leaves, a sweet and spicy mustard, and some sort of a fresh herb dressing that had thyme and rosemary in it. I would have liked it hot rather than lukewarm, but I ate it without complaint. It's a bargain at 25 pesos, though it might have been nice if it came with some chips or something on the side. Not one to knock any of the current leaders of the chicken battle out of the lead, but a tasty option.