Back in May I posted a little trio of mini-reviews, out there looking for a mixed grill of seafood. It's well worth a read if you're into that sort of thing. I'm just sayin'. I haven't put much attention on finding more, it was a project of the moment, but, I do love my seafood, and when I was finishing up my walk along Lavalle (soon to be posted), where I'd left off at the eponymous plaza, I spotted a big sign that said "parrillada de pescados y mariscos" just after passing the Abasto. I was hungry, par usual, and stopped in at Rotisería Don José, Gallo 702 – taking over the space recently vacated by 702 de Gallo. [Closed]
Now, the menu listed only a parrillada for 2, at a quite reasonable price of 120 pesos. I asked the waitress how much food it involved, as I was solo, and she said, "way too much for one, but don't worry, you can order a mixed grill for one person". I asked how much, she said she'd have to ask the chef, but "just a little over half price". I sat down, ordered it, and awaited. The space has been redone, but is still sort of a casual, drop-in atmosphere, kind of coffee-shop-esque, but it's comfortable, and the service is friendly.
It did take a bit for the kitchen to get this out, especially given that the only other customers in the place were a party of three who were already finished. In fact, while I was there the only people who came in were a family of four and a woman on her own. Plus a middle aged Cuban guy who came in looking for a job and stopped at my table to tell me his tale of woe searching for work and then hit on me.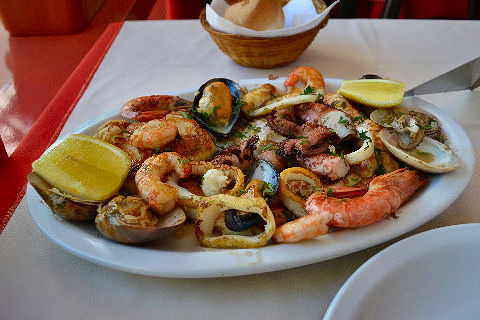 So, after about a 40 minute wait, during which time the waitress came by twice to let me know she'd be "right out" with my food, she arrived, with this lovely platter. I've got to admit, an impressive array of food – prawns, shrimp, clams, mussels, baby octopuses, large octopus tentacles, calamari rings, calamari bodies, and, underneath all that shellfish, five different fillets of fish – salmon, trout, sea bass, hake and perch. And a whopping good quantity. No accompaniments, just a couple of cheeks of lemon, some salt and pepper on the table – neither of the latter were necessary, all of the seafood was well seasoned with olive oil salt and pepper already. I added a squirt or two of lemon and dug in. All of it, absolutely delicious, and with the exception of the salmon fillet which I found a bit overcooked, everything else was cooked perfectly.
And, while the bill came in a little higher than "just over half price", at 90 pesos, it was well worth that for the quantity and quality, and making it the least expensive of the four places I've now checked out. I'd go back for this seafood mixed grill without hesitation. If their other fish dishes are as good, and why wouldn't they be, this is definitely a place to be visited by seafood lovers. Recommended.