Bobo is one of those simple words that, depending on the language, can mean vastly different things. It's also one of those sorts of simple words that seems to show up in almost every language. It could mean, as it does here, the village idiot, a fool, or elsewhere it could be something fake, something phony, or something affected and over the top. It's been used as a contraction for bohemian and bourgeois, generally referring to folk who started from scratch, made it big, and have gone all "I'm rich and you're not" on us. In Finnish it's slang for a particularly flamboyant and fashionista homosexual. It might just mean a blowjob. Or it could be a prelude act to something that you're seriously going to regret later. And more, and more. In Brazil, it's a dish, and one of my personal favorites. And, so, I decided to deconstruct it – more about that shortly, but let's launch in on the rest of last week's dinners.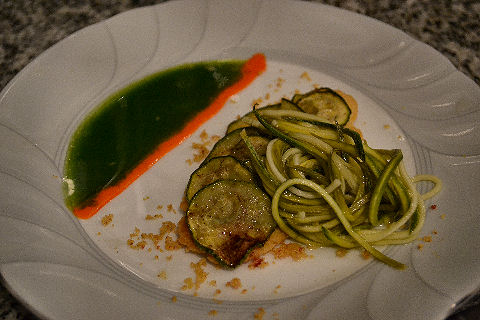 A zucchini galette – polenta and romano cheese crisp topped with roasted zucchini dusted with salt, pepper and cinnamon. A tangle of just warmed zucchini "spaghetti" tossed with lemon juice, pernod and hazelnut oil. Piquillo pepper and chive purees. A crumble of panko, serrano ham, and pecans. Favorite course of about a third of the folk who mentioned their faves!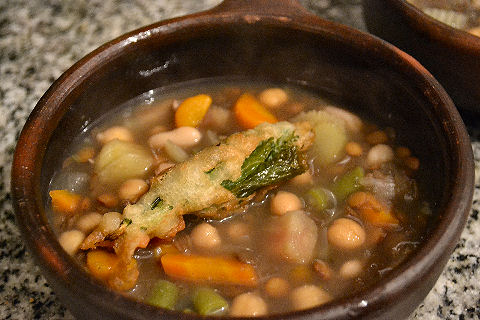 Brought back a past favorite, four bean soup (white beans, green beans, chickpeas, lentils), flavored with cumin, coriander and chili, lots of vegetables, and topped with a tempura battered celery leaf.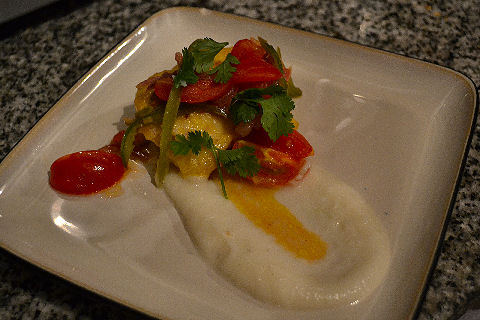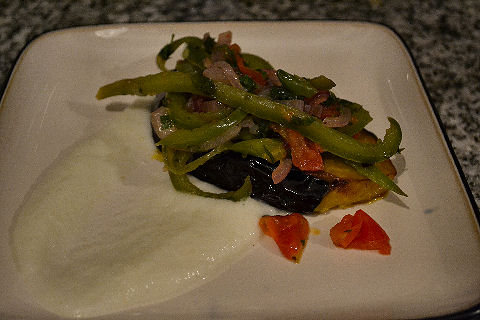 And, we get to the Bobo. The traditional sauce is one of diced green pepper, tomato, onion, a touch of chili and cilantro, all cooked down with dende palm oil in a sort of stew with fish and shrimp, generally served over rice and accompanied by yuca root. Here, the fish, a sand perch, lightly dusted with flour and chili flakes, seared in dende and olive oils and finished in the oven. Atop, a saute of julienned green pepper, red onion, fresh chili threads and quartered cherry tomatoes, finished with cilantro, salt and pepper. Beneath, a puree of daikon, green onion, garlic and coconut milk. For a few vegetarian folk over the week, the same using thick slices of eggplant in place of the fish. My favorite course of the week – both versions.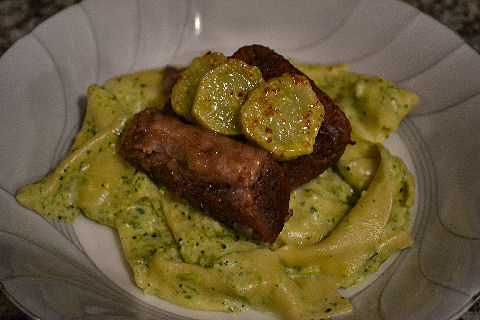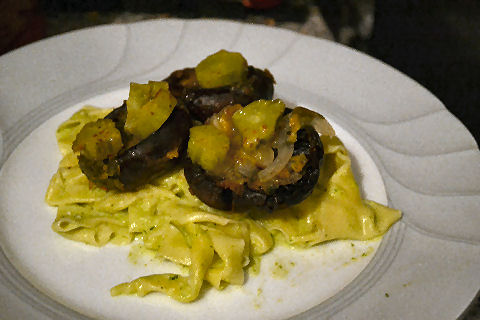 Main course, a slow braised shortrib of beef in a broth of sherry, red wine, onion, celery, carrot, bay leaf, garlic, ginger, parsley, star anise, and grapefruit peel – about 5-6 hours of cooking over low heat. Served over freshly made semolina pappardelle that's tossed with a camembert, cream, garlic and broccoli puree. Topped with "coins" of sauteed broccoli stems that are caramelized in whole grain mustard and sweet wine. For the vegetarian set, baked portobello mushroom caps that were wrapped in foil along with all the flavoring ingredients that went into the broth above. Personally, I like the mushroom dish even better than the shortrib one! That'll come back in some form as a pasta course one day soon.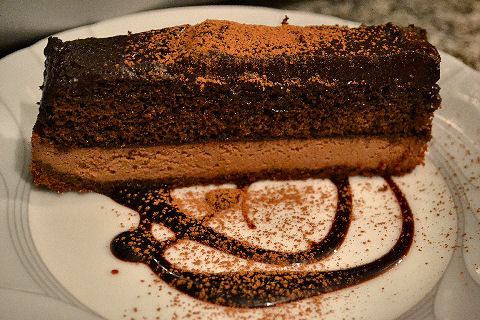 And, a slight reworking of a recent hit, a four layer chocolate torte. Bottom layer a dark cookie crust, then one of a dark chocolate and espresso cheesecake, a cocoa sponge cake soaked in Tia Maria, and our dark chocolate, honey and avocado mousse. The sauce, a reduction of port and espresso mixed with melted bitter chocolate.