My friend Belli, who owns Tandoor restaurant here, used to joke that there were only 70 Indians here in Buenos Aires and half of them worked at the embassy, and none of them were working in the Indian restaurants, which was why they were so bad. At the time, I think there were maybe four Indian cuisine restaurants in town. These days it seems like every time I turn around I hear about a new place that's opened up somewhere. In truth it's still a shade under twenty spots, but growing – there are even two puertas cerradas serving up Indian fare. I'd heard a rumble of a rumor of a new place in San Telmo, and last week, headed over to a local friend's house for a tea party, yes, a tea party, and no, it wasn't all girls or gay guys (though two expat guys who were there firmly asserted their masculinity by sneering at the tea by bringing their own mate, making sure to let people know that they were drinking that, not tea)… anyway, I got there muy temprano and had time, and hunger, for lunch.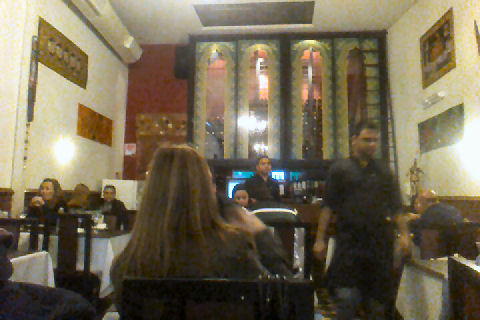 So, I plopped myself down at a table in Delhi Masala, Defensa 714, 4300-3790, for a bite. First off, the room – it's long and narrow and not overly comfortable. There are booths and large tables along both walls, for anywhere from four to eight people. They should have stopped there, but crammed in a line of four small tables for two down the center that sort of make the solos and duos feel like they're on display and in the way. Friendly waitstaff though not overly fluent in Spanish – I realized I probably should have switched to English. Reasonably extensive menu with a section devoted to vegetarian dishes (almost all of which were paneer (cheese) based, but there are some vegan options as well).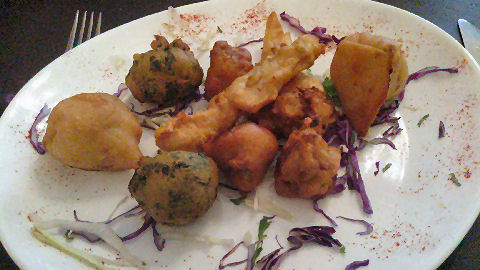 Mixed vegetable pakora to start – excellent. Not at all greasy, okay yogurt and sweet tomato dipping sauces, would have been nice to have something with some spice to it, next time I'll ask. Among the better pakora I've had here in BA. Here's where I should have gotten the clue on the language – I ordered the "pakora con verduras mixtas", which drew me blank stares until I changed it and ordered "mixed vegetable pakora".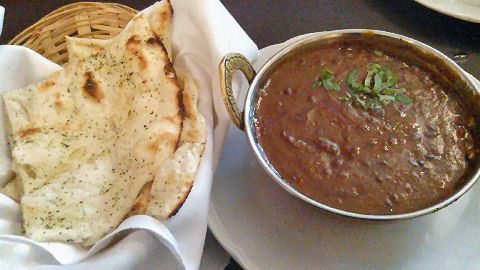 One of my favorite dishes is a good dal, and when I saw the slow cooked dal bukhara, which is pretty much, for me anyway, the king of dals, I had to order it. A side order of mint naan as well. The dal, really good, though just a touch saltier than I would have liked it – didn't stop me from mopping up every bit of it with the excellent naan. It's not as good of a dal bukhara as the one at Delhi Darbar in downtown, but the place is nicer, no question.
I mentioned the place to our tea party hostess who said she'd tried it when it first opened a few months back and thought it was overpriced and not very good. At least the two dishes I tried were good. Overpriced? I don't know. Maybe for casual San Telmo eateries, yes, but there are plenty of places in the barrio that are far more expensive, and this isn't a cafe or empanada/pizza place. The pakora ran 32 pesos, which for the quantity and quality I thought was on target, the dal, maybe a little pricey at 48, but it was a decent portion, the naan, just 10 pesos, that's fine. As usual I hate the cubierto charge that so many restaurants here stick on the bill that doesn't go to the waiters, just to the house, and here it's 9 pesos, so overall I might have liked to see the total price on the bill about 15 pesos less, but that's a quibble these days where we're talking about what equals about a $3 difference. Recommended.