Just catching up on last week's dinners – our internet has been wonky for the last two weeks, generally with service only a few hours per day, so posting has fallen by the wayside – a trio of nights packed with folk from various parts of the world, though a bit norteamericano focused (not entirely – we had folk from Israel, India, the UK, Australia, and here, as well) – included several return guests from other recent dinners.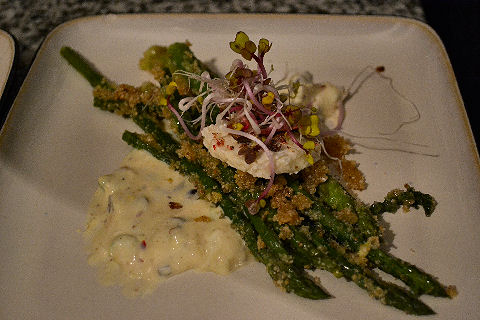 We started off with quickly sauteed asparagus tossed with farofa, a coarsely ground mandioca, or yuca, flour. Over our deviled egg dressing and topped with a thin slice of caramelized St. Maure goat cheese.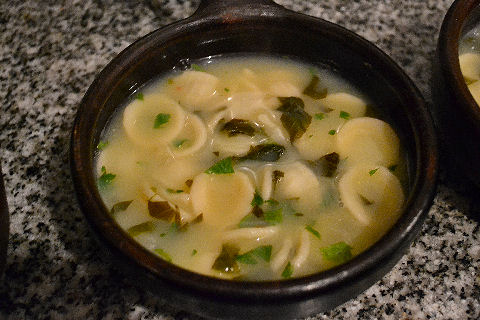 On to a simple pasta soup – I'd originally wanted to use orzo, but none to be found, and too hard to make – in fact, got me thinking, just how the heck to they make orzo pasta – or more to the point, how the heck did they make it before machine based pasta making? So, orecchiete – much easier to make – well, simply "make-able". The broth, a rich vegetable stock spiked with a bit of garlic and chilies, the soup finished with spinach, parsley, lemon juice and whisked in egg yolk.
I had to go look it up after asking the question – turns out making homemade orzo may not be all the difficult after all – albeit tedious.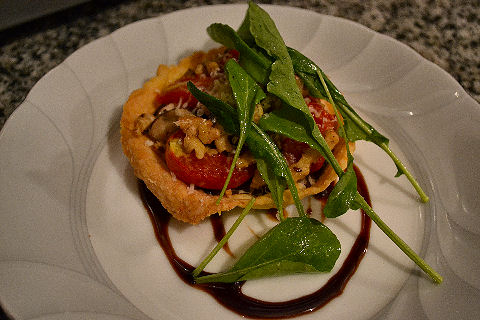 A return of our caramelized red onion and goat cheese tart with spiced walnuts, portobellos, and cherry tomatoes, and an almond flour crust. A little tomato vinegar dressed arugula and a balsamic reduction finish the plate.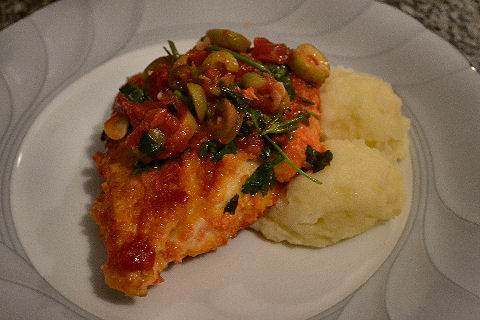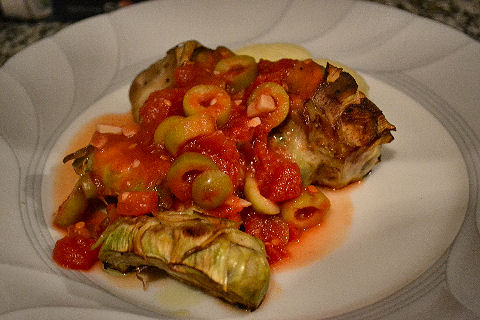 Spicy green olive chicken – one of my recent dishes for my Buenos Aires Herald column – so, details at the link. Served with mashed potatoes. For a vegetarian option a trio of fresh artichoke hearts prepared the same way.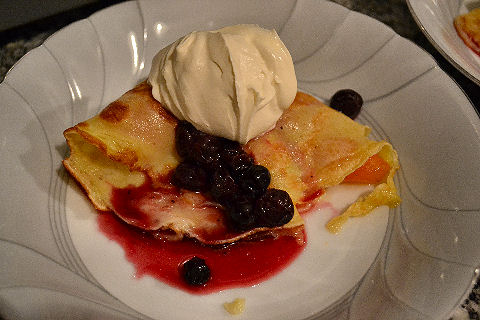 And, finished off the evenings with crepes filled with our homemade kumquat marmalade and topped with juice-simmered blueberries and some whipped cream.