…new sushi delivery spot. A chef friend of mine here told me about two years ago that the default position of restaurateurs here has become, "if your restaurant is failing, change your menu to sushi delivery, even if you don't know anything about it." And, sometimes it seems that that's become true. Given the limited range of what is considered sushi here (salmon, shrimp, octopus, and usually a single, unidentified white fish), and the poor quality of so much of it, it amazes me that they continue to pop up left and right. But, I gamely soldier on, here and there, to try out spots when they come on my radar, and so when BA Delivery added in Hoshi, I thought I'd give it a try. First positive, no delivery charge, even from the far side of Palermo to here in Recoleta – in fact, according to the menu that came with my food, to anywhere in the city. And no minimum order, not that one would generally be hard to hit with the high prices of sushi here.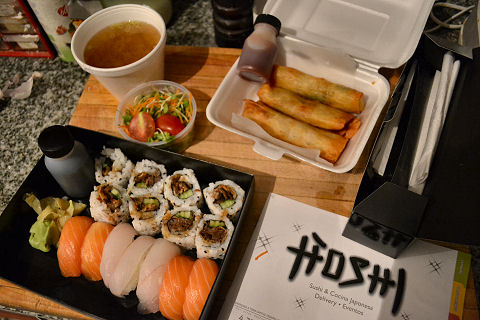 Next positive, after being given a time that was nearly an hour and a half after the moment I placed the order (which I wasn't happy about), they actually arrived in less than an hour. Points for that early doorbell ring! Points for cute delivery boy.
Nicely packaged (the food, I'm talking about the food). Moving on… I'd ordered a range of things to sample. First off, I was excited to see that they offered miso soup, a rarity here, particularly for delivery spots. Flavor-wise, really good. Odd texture only in that they used extra firm tofu rather than soft or silken tofu. But delicious. A little pricey for a cup of soup at 24 pesos, but not too bad.
On to the vegetable springrolls. Really quite good, though 37 pesos for 3 small ones was pretty outrageous, especially when I'm used to my neighborhood Chinese spot that serves up equally good ones at 32 pesos for 6. The winner here though – the sauce – instead of the usual sickly sweet, gloppy red sauce, this came with a semi-sweet and spicy tamarind sauce. I'd like to just buy a bottle of that.
And, the main event, the sushi. Good quality, fresh. But, the nigiri moriawase, a "selection of white fish and salmon" came with 4 pieces of salmon and 3 of one type of white fish – admittedly that might adhere to the letter of the law, so to speak, but "selection" usually implies more than just two, and in a classic moriawase (which means "sampler"), each piece is different. That was a real disappointment – moriawase selections are few and far between here in BA, in fact the only decent ones I've found have been Koi and Benihana (though the latter, while a nice selection, has other problems) – for 54 pesos I want a real selection, not the easy way out. The salmon skin roll with cucumber was one of the better ones I've had (and one of the few on the menu that wasn't laden with cream cheese), and comes in at 42 pesos. Points for what seemed to be freshly whipped up wasabi, it was vibrant and spicy, good quality soy sauce, and excellent pickled ginger. And even a small fresh salad thrown in on the side, no charge.
So overall, a happy experience. Definitely an expensive one, particularly given the small portions and size of the nigiri pieces – 157 pesos all told for this little extravaganza (one plus, if ordered direct from them, rather than through BA Delivery (sorry guys), they take credit/debit cards over the phone). The quality is there, which makes up for some of that, so, Recommended, but, I'll probably stick with Koi, here in the 'hood – faster, better, cheaper.