Somewhere in there last weekend's dinners just didn't get written up. I know they don't write themselves, but there I was busy posting round-ups of last momth's photos and didn't even realize I hadn't posted some of those that I should have. So, a trifle tardy, but a quick glimpse at what was served up around our table last week.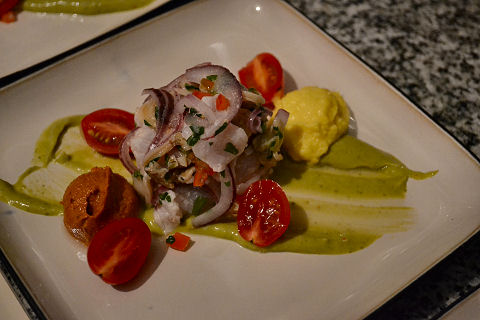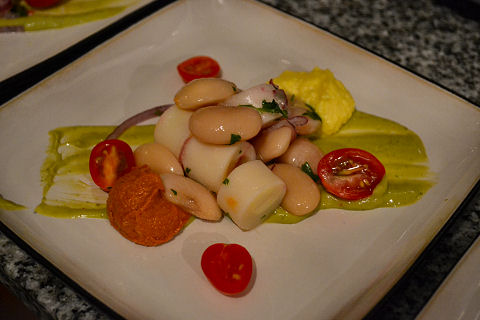 Grouper and cockle ceviche with rocoto chilies and a trio of sauces: guacamole, smoked cashew-chipotle sauce and corn puree. We had several vegetarian guests last weekend who got treated to the same preparation with hearts of palm and large white beans.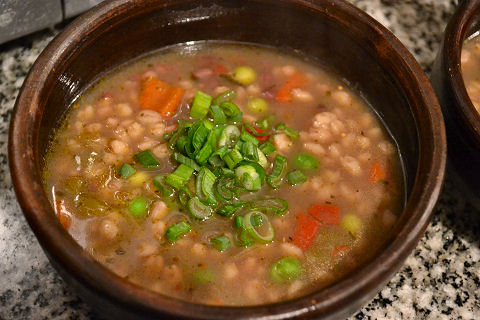 Everyone dug into a hearty wheatberry soup spiced with chilies, garlic, and a blend of spices that probably most closely resembles an Indian chaat masala, one that I like to mix up for vegetable dishes (dried mango powder, coriander, ginger, black salt, black pepper, asafetida, chili, caraway, mint, thyme).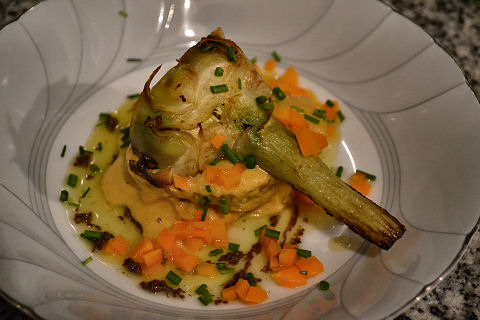 Artichoke season seems to keep going on and on this year – no harm in that, I love cooking with them. Here, a twist on the traditional papas a la huancaina from Peru with a slice of potato, sauteed artichoke heart, huancaina sauce, black olive puree and some finely diced carrot.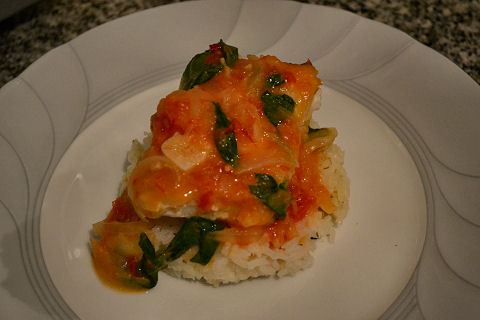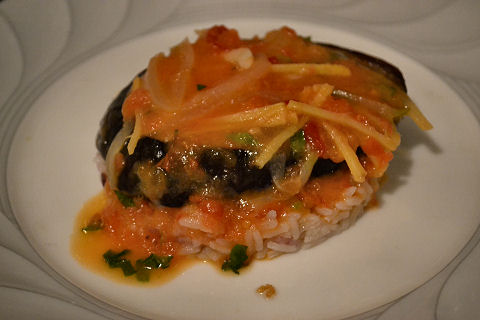 On to the main course and a thick fillet of salmón blanco, or Brazilian Sand Perch, lightly dusted in flour and sauteed, served over bay leaf and garlic scented rice and topped with a spicy coconut milk based sauce (onions, garlic, ginger, piri-piri peppers, crushed tomatoes, basil). For the vegetarian crew, the same treatment for thick slabs of eggplant.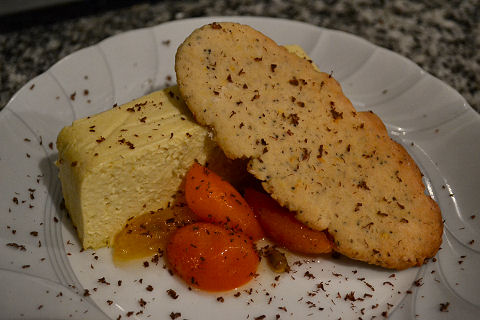 A lulo cheesecake. Lulo is a fruit from northern South America (Ecuador, Colombia, Panama) that's also called the naranjilla. The flavor is often described as similar to rhubarb with a touch of lime juice, and I can get that. Accompanying it, our kumquat marmalade and a soft coffee shortbread cookie. A little grated dark chocolate and that's dinner!