Earlier this year I stopped in and gave a cursory review to DF Restaurante Mexicano in Puerto Madero. I wasn't overly enamored of it, so it was with trepidation that we approached the new branch of it which has opened up a mere two blocks from our home. Given the dearth of any sort of spicier cuisines in our 'hood (the best we've got are a Peruvian and an Indian place, both roughly 15 blocks away), the glimmer of hope that maybe we could get something else here was a bit of a magnet.
The restaurant is located in the little strip of casual spots opposite Plaza Paraguay, at Larrea 1535, a former Munchis ice cream shop. As such, it's pretty small by contrast to the one in Puerto Madero – only seating maybe 30 people, plus a small outdoor area for nice weather. The decor is very different, sort of Mexican meets ancient Greek – a little odd, but at least comfortable and attractive, and not feeling like a cliche. The menu, as best I can tell, is exactly the same, possibly slightly abridged, my recollection was that there were a few more options at the other one, but I'm not sure about that. [Closed]
Recommendations were not forthcoming this time from our waiter, who freely and upfront acknowledged that he'd never tried anything on the menu and wasn't likely to. He had had the gratis tortilla chips and salsa (which was nothing more than herbed tomato sauce) and thought those were pretty good. To his credit, and the restaurant's, when we asked about something spicier he headed to the kitchen and came back with a small bowl of fresh chili paste which we mixed into the salsa. All of it. Possibly to his horror. But it was actually spicy and quite delicious.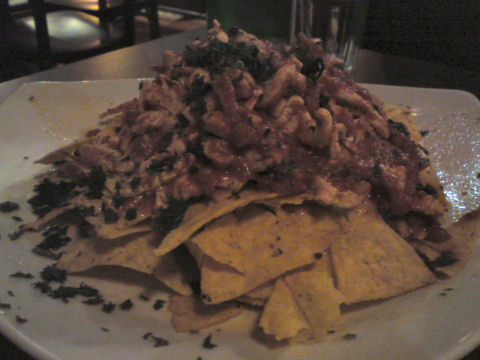 We both like
chilaquiles
. Unfortunately, this was about as far from that traditional dish as one might care to get. A mound of more room temp crunchy tortilla chips were topped with small strips of chicken breast and over that was ladled a scoop of the same tomato sauce, albeit with a hint of spice, and a handful of cilantro. That's just not what chilaquiles are – they should be strips of fresh tortillas simmered in a tomato and chili broth, topped with chicken and sour cream. Not boding well. I mean, it was at least a fresh tasting dish, it just wasn't what it was supposed to be.
We moved on to our main courses – for Henry a plate of enchiladas suizas de carne – two large wheat tortillas folded over what seemed to almost be canned tuna – it turns out they boil the meat and then grind it down to a paste – very odd, but, at least flavorful and topped with plenty of cheese, some sour cream, and, more of the tomato sauce (we kept adding more chili paste). My plate of flautas de cerdo were slightly crisp, slightly chewy corn tortillas that had been rolled, deep-fried, and stuffed with a decent mix of pork and vegetables, and served over a shredded lettuce salad. Tomato sauce and sour cream completed the dish. But, the surprise, it was room temp, even slightly cold. So I asked. Our waiter, not having ever tried the dish, and no one apparently having ordered it from him, had no idea, and returned to the kitchen. He shortly came back to say that it was intentional – the chef doesn't want to put hot flautas on top of cold lettuce, which would just wilt the latter and turn the whole dish into a mess, apparently. Someone should tell the Mexican people.
We'd noted that the menu had daily specials, and for Monday, it said "postre gratis para cada persona" – or, free dessert for every person. Despite it being on the menu, our waiter seemed unaware, in fact, he was unaware there was a daily special page (the first page of the menu). He went to check with the manager who'd spent the evening on his laptop sitting at one of the tables nearby. Apparently he got some sort of confirmation because he returned to let us know that we were going to be "allowed" one dessert for the table. We left it in his hands and shortly received what was actually a pretty good chocolate mousse torte with caramelized pineapple.
So, overall, we liked the place better than the one in PM. It's obviously closer to home. And, they have a really good chili paste available on request. And, the food was fresh and well made, if still not overly authentic. While I doubt it's somewhere we'll take to eating at weekly, it at least gives us a reasonably good spicy option here in the zone. It wasn't cheap – the three dishes, two bottles of water, and three margaritas (decently made) came in at 336 pesos, plus tip – though 90 of those were the cocktails, and included a 14 peso per person cubierto charge. I'd still class it as just Okay, but this one I might, at least, occasionally go back to, just for the convenience and being something different.