Picking up where I left off on my walk along Lavalle street, I thought I'd spend a little time wandering the three open square blocks of Plaza Lavalle, helpfully numbered I, II and III. I wouldn't say that each has its own character, there are certainly differences in the layout and the foliage, but overall, they're of a piece. The two buildings of major import on the plaza are Teatro Colón and the Tribunales, but there are others around the plaza with some historic or architectural significance, and I'll leave those for another day. Today is about the statuary – while all of them have some sort of inscription, for the most part it's little more than a name, perhaps a date, and a title. So, I've done the digging for you….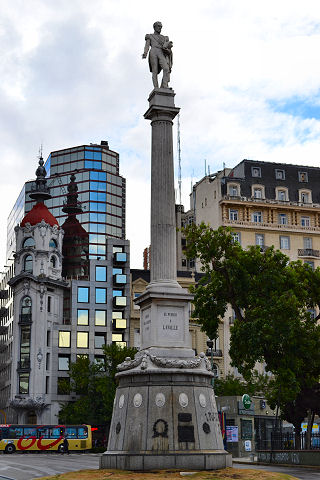 First, and probably the most important, is the monument to Juan Lavalle himself. Carved from marble and sandstone, this spire dominates the center of the plaza. Designed and executed by sculptor Pedro Costa, it was commissioned during the presidency of Bartolome Mitre, whom we'll get to one of these days. Ironically, the monument was placed directly in front of the home (no longer there I think, other than that bit of facade on the corner office building – or maybe it's the smaller yellow building next to it, I couldn't find that info) of Felicia Dorrego, the daughter of Lavalle's predecessor, whom he had executed in order to take power.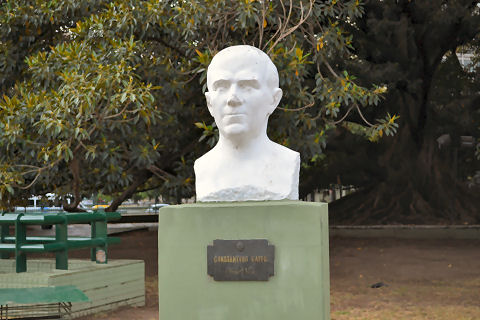 The plaque on this statue says nothing more than Constantino Gaito 1878-1945. That doesn't tell you much about him, and you'd be easily forgiven for not immediately knowing that he was a famed Argentine opera composer, accomplished pianist (part of the quite famous Argentine Chamber Music Quartet at the time), and a professor of music. Italian by birth, and trained in Naples, he was noted for integrating folklore music and themes into his operas, and is probably best known for his works Petronio, Ollantay, and La sangre de las guitarras. On YouTube I found a few of his chamber works, but none of his opera, though I'm sure with a bit of searching you could find some online recordings.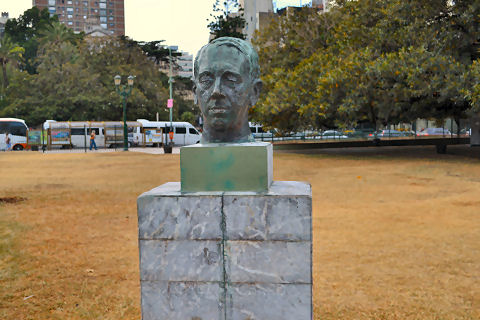 With "Asociacion Wagneriana, Buenos Aires, C. Lopez Buchardo" on the pedestal, you'd at least be able to guess that Carlos Félix López Buchardo was involved with music, and indeed, he was a was an Argentine composer. Born in 1881 in Buenos Aires, he was, despite being only a few years younger, a student of Gaito's. From there he went to Paris where he studied with Roussel. Returning to Argentina, he focused his works on the study of Wagner, though his own style of composing was quite different (and there are quite a few works – opera, masses, and musical comedy, interestingly – online to listen to). Most noted for founding the School of Fine Arts at the University of La Plata, and for his presidency of the Wagner Society. Died in 1948.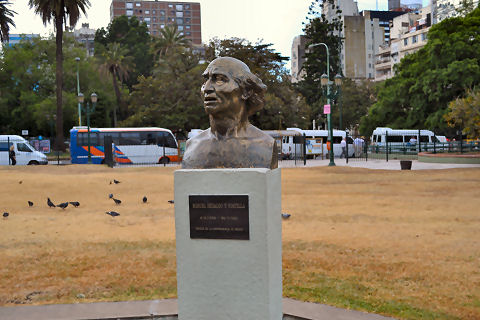 "Miguel Hidalgo y Costilla, 8/5/1753 – 30/7/1811, Prócer de la independencia de México" – doesn't tell you the whole story, but certainly clues you in. We could start with his shortened name, as his full name was actually Miguel Gregorio Antonio Ignacio Hidalgo y Costilla Gallaga Mandarte Villaseñor. He was a priest, and is considered the leader of the Mexican War of Independence. Born to Spanish parents, but in Mexico, he was raised in Jesuit schools until the Jesuits were expelled from the country. Although he had a priest's traditional education, he supplemented it with studies in philosophy and theology at a private university, and while he was ordained at the age of 25, he never conformed to the traditional model of a priest. Instead he became active in political and social causes, leading to more than one run in with the Church. In his 50s, he gave a rousing sermon calling for the uprising of the people against their colonial masters, and, in a nutshell, went on to lead a large part of the revolution, until his capture, defrocking and execution in 1811. In his memory, on the 15th of September (sometimes the 16th), the president of Mexico re-delivers the famed speech from the balcony of the National Palace in Mexico City, and various governors and mayors throughout the country do the same in their local communities. What his bust is doing in the middle of Plaza Lavalle, I can't help you out with.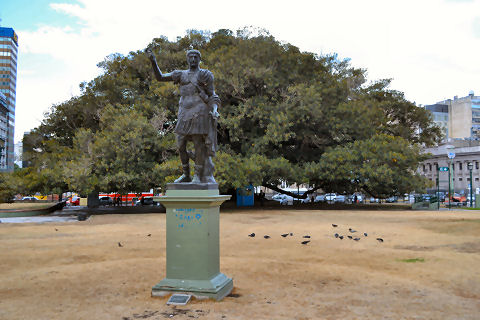 And as to why there's a miniature reproduction of the Roman statue to Emperor Trajan, who lived during the 1st and 2nd Centuries, I have no idea either. But it's there.
Amongst the various old busts and statues, this stands out as something completely different – a centennial marker for Argentine Futbol, or soccer, from 1993.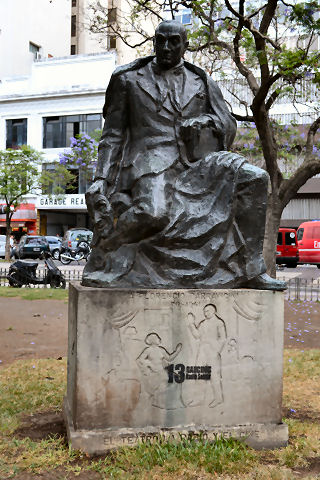 Back to little information – merely "Florencio Parravicini, 1876 – 1941". From roughly the same time period as our composers above, he was an actor, he was the son of a military officer who was the commander of the Federal Penitentiary. Early on he studied to become a priest. He was an active hunter, in his teens heading off to hunt wolves in Patagonia (on his own?). When his parents died he inherited a large amount of money and headed off to Europe where he whittled that fortune away quickly. Returning to Argentine he worked in various theatrical jobs, spent time as a smuggler, and, at age 30, turned his attention to the professional theater and film, where he made a notable career for himself over the next three decades. He died of cancer in 1941. In addition to this statue, there's a short, two-block street named after him in the northern barrio of Saavedra.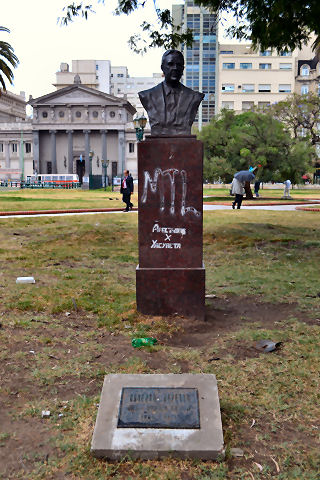 Roberto Repetto, judge and exemplary citizen, 1881 – 1950, is not a lot to go on. Why single out one judge in particular for honor here in the plaza near to the high court of Tribunales? Well, as it turns out, he was not just a "judge", but a Supreme Court Justice starting in 1923, and the president of the Supreme Court from 1932 until his death in 1946. He was most noted for his ideological stance against the military during the turbulent period of the 20s and 30s, and by many in the profession here is considered the embodiment of what it means to be a Supreme Court Justice.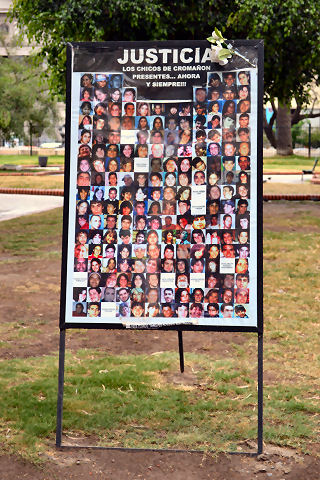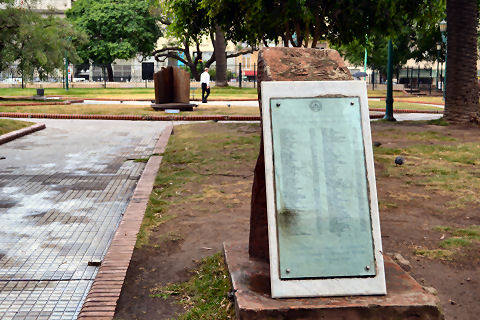 In front of the Tribunales building are a series of plaques, and temporary tributes, to a variety of folk who haven't been served by the justice system. The signboard is a memorial to the 194 young people who lost their lives (and another 714 injured – that number changes with every report I've seen, some bringing it up as high as 1,432, that may depend on what exactly was considered an injury) in the devastating República Cromañon fire in late 2004 – a fire that many blame on the government at the time, as well as the club owners, and for which the investigation and hunt for some of those responsible is still on-going, though many believe is being covered up. The stone plinth with the leaning plaque is a listing of the lawyers who disappeared during the late 70s and early 80s dictatorship. There are also several other plaques for other groups scattered in the same area of the plaza.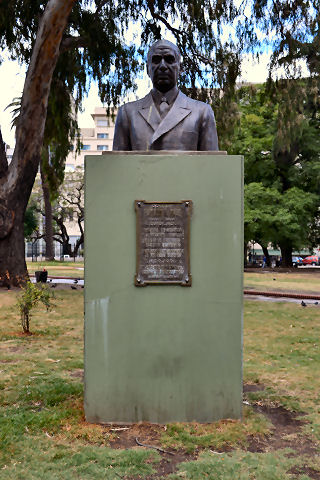 This one has quite a plaque that gives you a lot more information. In sum, Rómulo Sebastián Naón Peralta Martínez, 1875 – 1941, was a lawyer and politician, at one time the leader of the Ministry of Justice, at another of the Ministry of Education, but probably most noted for being Argentina's ambassador to the U.S. in the early 1900s. He was also noted for his anti-Nazi stand in the late 30s, a source of contention in a country that had a mixed relationship with Germany and the Nazis at the time.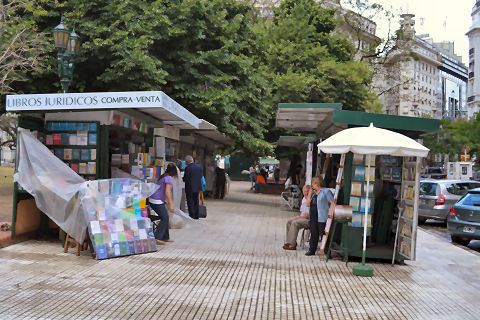 As in many other plazas in this city, booksellers abound. Here, the focus, not surprisingly, is law and theater, leaning more towards the former. I'll pick this up again soon as I continue down Lavalle street into Recoleta and Palermo.