The monthly roundup of unused photos, just for fun, of course.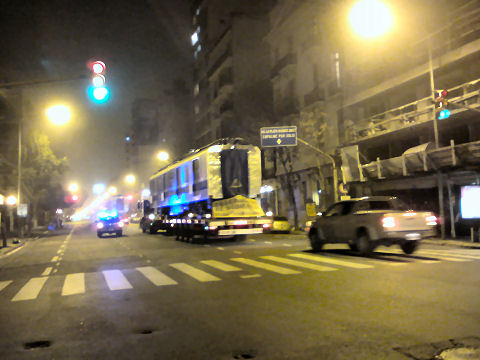 When we were leaving Aramburu a couple of weeks back we spotted the arrival of a brand new subway car on a flatbed trailer. Didn't have time to get the camera out, so grabbed a quick shot with the phone as it disappeared down the street.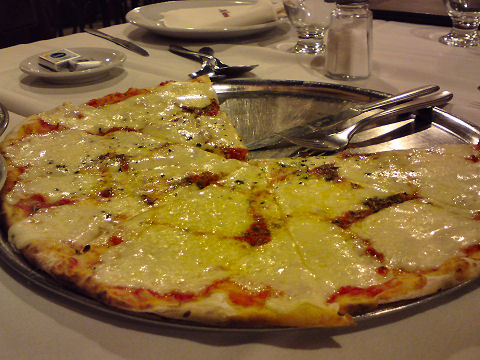 To be slated for a real review after a return visit and trying some of their other food, but met up with a couple of friends this last week at Albamonte, Corrientes 6735 in Chacarita, where we indulged in some of the best pizza I've had here in Buenos Aires. Cracker thin, crispy and smoky crust, a zesty, absolutely delicious tomato sauce, and a decent amount of it, and a proper amount of cheese – and it was good quality mozzarella for a change. Also a great arugula and parmesan salad on the side. One of my friends swears by their roast chicken and french fries served with a white wine sauce. To be tried.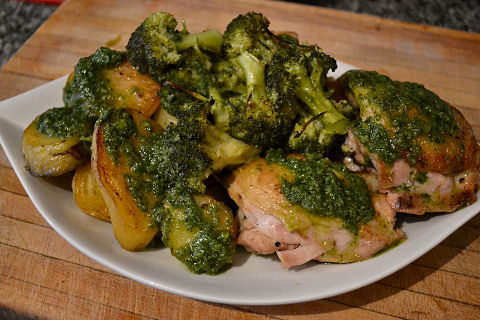 As long as we're on the topic, this last week's article and recipe for the BA Herald just so happened to be one of our favorite comfort foods here at home – roast chicken, fondant potatoes and broccoli. Albamonte is going to have to work to beat this one.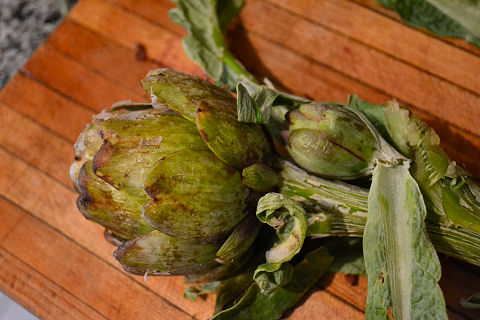 Not that I did anything special with it, but this artichoke came with a baby.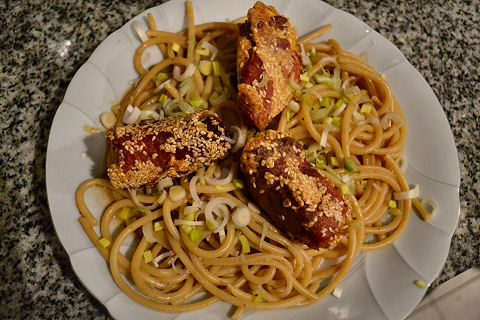 It's really unusual to find "real" turnips here, which is strange, because during fall and winter we can get navisas, turnip greens. I guess maybe they use the turnips themselves for livestock feed. Generally we can only find daikons and small white turnips, both in Barrio chino, rarely elsewhere. So when I spotted real purple and white turnips, I grabbed a bunch, and used them a few different ways over the week thereafter. One of the most interesting, I encountered a recipe for prosciutto and pancetta wrapped turnips crusted in sesame that sounded delicious, so I whipped up a batch of those and served them over warm sesame noodles, another favorite go-to comfort food dish. The combo works brilliantly, not surprising given the flavors – to be played with. Who knows, maybe some interesting version for a Casa S dinner one day.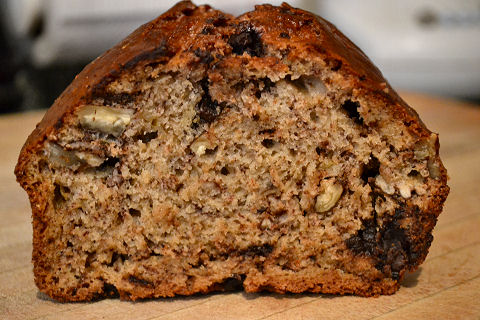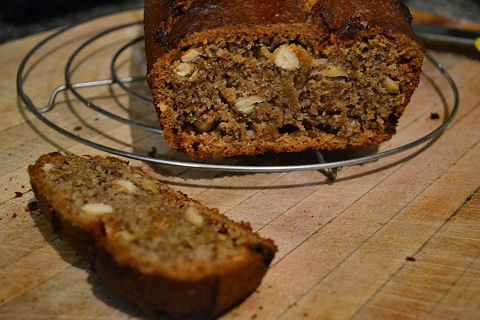 My neighborhood vegetable stand had a bunch of bananas "on the edge" a week or two ago and he was giving them away to customers who might want to make banana bread – so, a couple of experiments with new recipes. The first, a dark chocolate and pecan whole wheat banana bread that was delicious and light. The second, a vegan version with white chocolate (okay, not completely vegan as I couldn't find any dairy free white chocolate here), cashew and whole wheat banana bread. Dense and oddly flavored, not a winner and that recipe went into the bin along with most of the bread.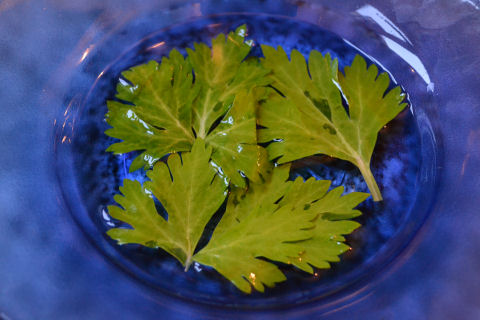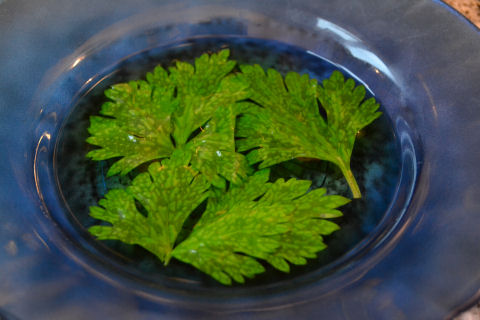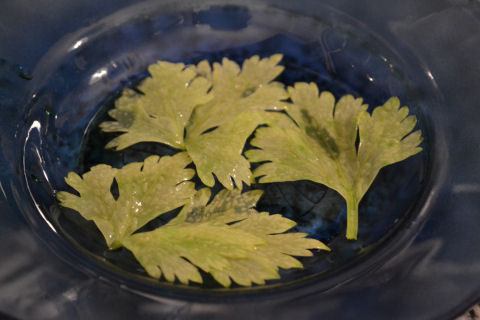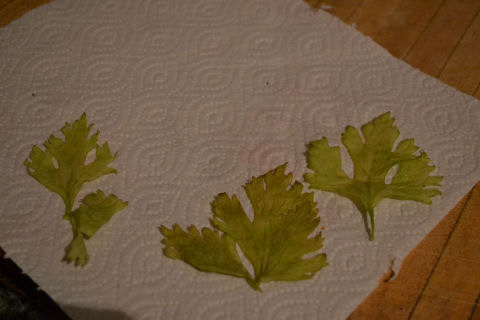 I've been reading through the trio of Arzak cookbooks – a bit of a slow slog because his Spanish is peppered with Basque names for ingredients and a bit of local to the region slang and phrasing, so I'm having to look up a lot as I go. I've already reviewed one of the books, Recetas (Recipes), and am working my way through the second, Secretos. I was intrigued by his description of a process for extracting the color out of herb leaves by soaking them in ethyl alcohol, leaving them crisp and at the same time, looking like pale ghosts of themselves. I gave it a try with both some parsley and celery leaves. The process works, to a point, but I have the feeling there's some missing step or information – After three hours, indeed, the color is mostly gone, at which point he says to leave them to dry and let the aroma/flavor of the alcohol used evaporate. Without any specification on how to do that, I simply laid them on some paper towel – by the time they'd dried out, ten minutes later, while the smell was gone, they'd also gone completely limp and were turning brown with exposure to the air. So – folks into the molecular gastronomy scene – what am I doing wrong?
[Edit: I've played with this a bit more and found that instead of air drying, if I quickly blot them off and then dehydrate them in the microwave they retain the crisp texture and color. What I do is sandwich them between paper towels and place that between two plates to weigh them down and keep them flat. Then I microwave for about a minute and a half on medium power (60% on my microwave) and they turn out perfect.]