Really, just wait for it. Or scroll down and feast your eyes. Because good as the rest of the dinner turned out, the eye-rolling and moaning started with the tart. Or, I could save you the work, here, I'm going to post this dinner in reverse….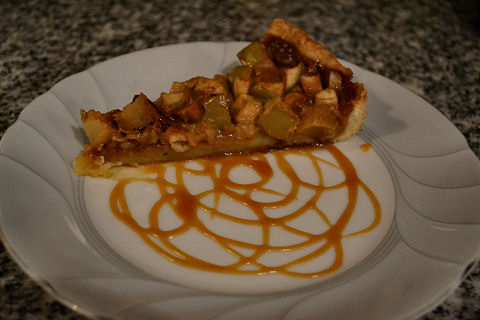 An apple, pear, cashew and brazil nut tart – more or less pecan style with all that luscious caramel inside. And just because you might not have noticed it, there's more caramel on the plate.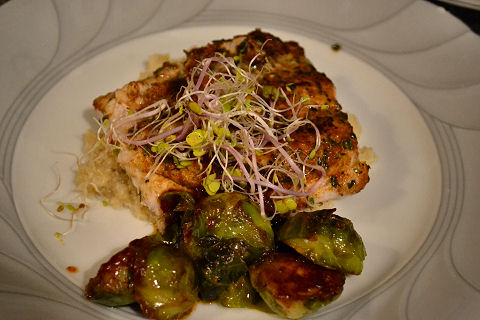 The main course, blackened albacore tuna served over creamy quinua, along with charred and spiced brussels sprouts, and a few more mixed sprouts atop for color. The last night, no more albacore to be found, I used what's locally called atún del mar del plata, or Mar del Plata tuna – it's not a tuna, but it's a nice, meaty, pomfret fish. Also, one night a substitute of chicken breast for the fish for someone who wasn't fond of fish, and on another, spice crusted portobello mushroom caps for a vegetarian guest.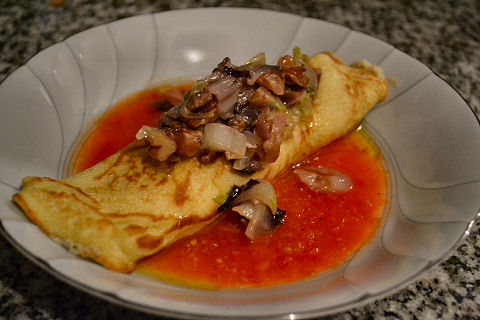 I've talked before about the difference between manicotti ("sleeves") and canelloni ("large reeds") – while not always adhered to, the former is, traditionally, a rolled crepe, while the latter is a rolled tube of pasta – beyond that, the fillings and sauces are often the same. Here, a manicotto filled with our homemade ricotta, charred eggplant puree, chickpeas, mint and garlic. Below, a fresh tomato sauce; above, a quick saute of garlic, walnuts, radicchio and endive.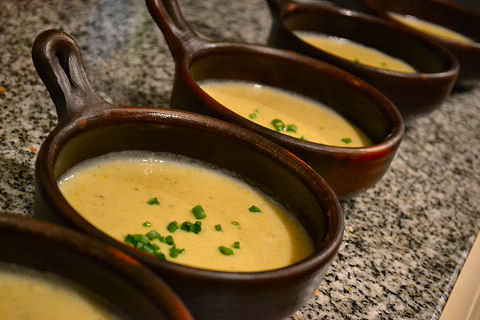 Before the pasta course was the soup, our slow-cooked onion, garlic and bread soup, or panade.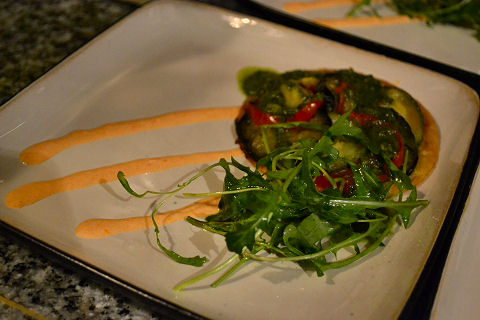 And, back at the beginning, our ratatouille tartlet over polenta crisp, with a roasted pepper goat cheese, salsa verde and some wild arugula lightly dressed with olive oil, salt and pepper.
You didn't miss that tart, did you? Just in case…