The theme turned citric… it wasn't planned that way, I think I was just feeling the need for some Vitamin C and Sunshine – and with all the rain we were under, citrus fruits were the best I could do. So, four out of five courses, lemons or limes or both.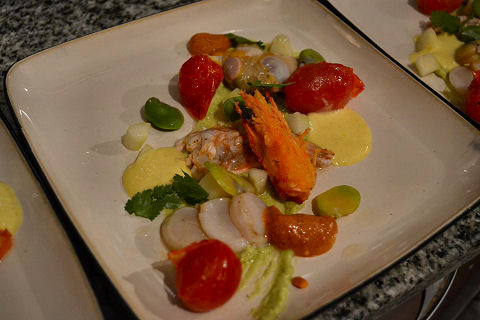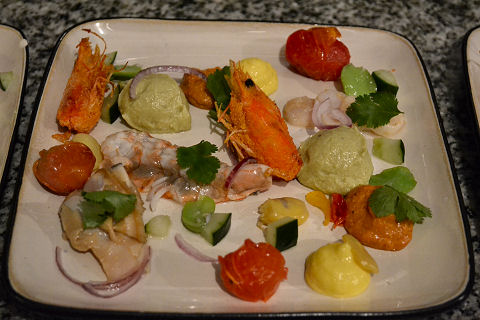 The shellfish ceviche was the linchpin of the meal – the first two nights I presented as in the first photo, but it just felt sort of constrained and not as pretty as I'd have liked. The second photo is what I went with the third night. A flash of inspiration – probably influenced in part by that lovely octopus salad at CasaCruz a week or so ago. The elements – ceviche of bay scallops, prawns and clams in a mix of lemon and lime curing liquid; avocado mousse, corn puree, chipotle-cashew sauce, salted cucumber, fava beans, deep-fried cherry tomatoes, red onions, cilantro, and, crispy fried prawn heads. My favorite dish of the eves.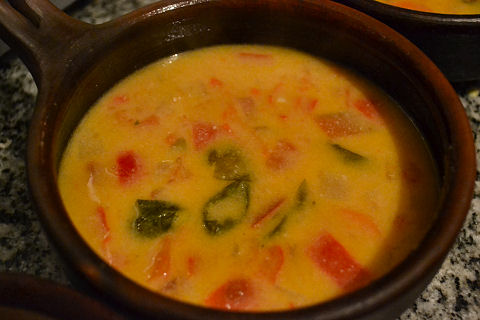 A twist on a Thai soup, tom kha – a peanut, sesame and tomato based along with red bell peppers, onion, garlic, chilies, basil, coriander and cumin.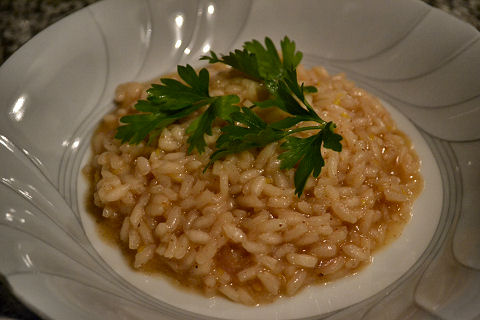 Crossing oceans again, off to Italy and my take on a risotto marchigiano, the risotto started in white wine, continued with a chicken and smoked pancetta stock, and finished with lemon zest, cinnamon and parmesan.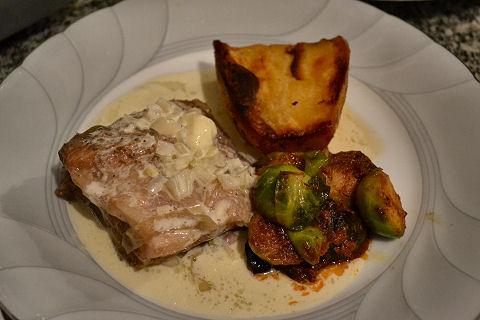 Brought back a favorite, slow braised pork breast in white wine and pancetta stock, along with onions, garlic, herbs; served with a creamy Morbier and shallot sauce and accompanied by our favorite caramelized brussels sprouts and a wedge of fondant sweet potato.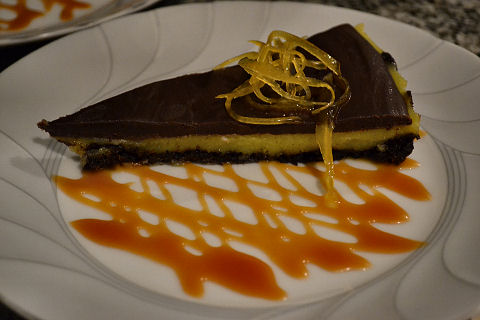 And, finishing up the evening with a dark chocolate and lemon curd tart with a good lashing of a limoncello spiked caramel sauce.
Not a bad way to brighten up the dreary days….