There are just soooo many sandwiches out there to try – and just not enough days in the week to check them all out. But, bit by bit, bite by bite, we'll get to all the ones you recommended for our Great Sandwich Hunt.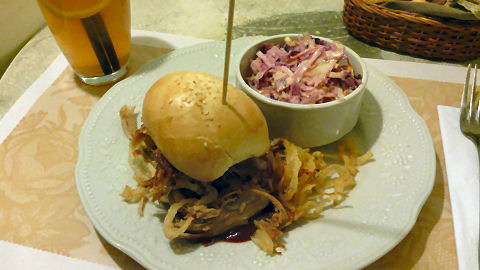 One of the top recommendations that rolled in was from friend Matt, who also recommended one of the earlier selections. He suggested a visit to Palermo and a stop in at
Pani
, Nicaragua 6044 and a taste of the pulled pork bbq sandwich – actually, it turns out he was passing on a recommendation from Zoe at
Abode BA
, whom I don't know. And, it turns out to be an excellent recommendation. It's a bit different from the sandwich of the same name from
Bar BQ
, the only other pulled pork we've found so far in BA. The meat at Pani doesn't have the smokiness of the slow-smoked pork at BQ, seeming a bit more as if it's been braised. It also doesn't quite reach that falling apart tender, fine shreds texture, being more hand torn strips of pork. On the other hand, the barbecue sauce is absolutely killer and tops the other. So does, I must say, the amazing kaiser-ish roll. As to accompaniments, it comes with semi-crispy thin onion rings atop – I could have gone for both crispier and more of them. There's a choice of sides, from BA's ubiquitous french fry option, to salad, to coleslaw. And, a fantastic red cabbage coleslaw it is – easily the best I've had in this city, and piling it atop the pork and onions makes for a pretty perfect sandwich. More smoke, more and crispier onions, and this would be heaven on a bun. A little pricey at 54 pesos, but so worth it. If you still have room afterwards, don't miss the amazingly delicious cinnamon rolls, a recommendation from Frances over at
The Lost Asian
. Nico over at Bar BQ, sorry, but this one edged yours out.
[This sandwich is no longer on their menu.]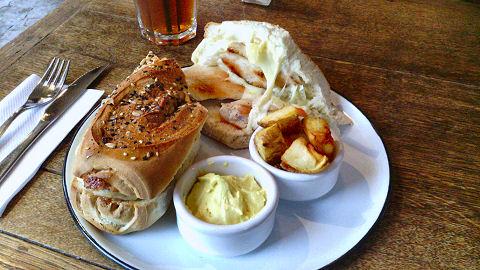 While no one directly recommended this place to me, an online search looking for a highly thought of chicken sandwich here in BA led me to several reports of what more or less amounted to "the best chicken sandwich in the world", but, at the same time, numerous complaints and ratings of this restaurant's speed and quality of service that more or less dumped that aspect into the bottom tier (our local online restaurant guide gives them 4 out of 30 for service). So, I left myself plenty of time and steeled myself for battle at
Mama Racha
, corner of Costa Rica and Armenia in Palermo. I arrived mid-day to find a comfortable, cafe style place at the corner of the pretty Plaza Armenia. I was greeted by a waitress, she brought me a menu, made sure I knew that they only accept cash, and, returned in about 3-4 minutes to take my order – the famed chicken sandwich and an iced tea (yeah!). The tea arrived in a couple of minutes – unsweetened just the way I like it, with a nice slice of lemon in it. The sandwich arrived about ten minutes on, certainly no delay – it consists of an excellent seed crusted sandwich bread stuffed with a very large grilled chicken breast (or two smaller ones, was hard to tell as it was sliced), topped with caramelized onions, confited tomatoes and gooey melted cheese. It's accompanied by a mild but thankfully not sweet mustard sauce and some slightly crispy potatoes. My waitress checked back with me during my meal to make sure all was well and I was enjoying myself, she brought me a refill on the iced tea when I asked for it, she brought the check within a minute of being asked, brought change, and thanked me. If that all sums up the worst service in BA then I've been missing out on the good stuff. The sandwich, perhaps not the best chicken sandwich in the world, but unquestionably, so far, the best I've found in this city. Slightly pricey at 53 pesos, but probably not for the neighborhood, several others I've tried in the area, like the one above, run the same. 
[Closed in early 2016]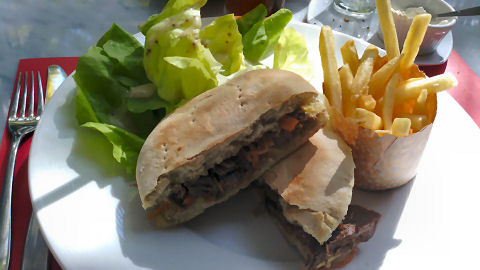 After I posted the last round of sandwich tastings with its two lamb sandwiches included, a reader sent me the recommendation for another – "expensive but worth it", at
Café des Artes
, in the MALBA, Av. Alcorta 3415. It took me a few weeks to get around to it, but another sandwich down the gullet. First off, great setting – I've never been to the cafe in the MALBA before and it's bright and airy, it has a garden section (which unfortunately was fully occupied), and even a counter where you can share space with others – and that's where I plopped down. The menu is indeed sticker shock level for a museum lunch spot – rivaling the prices at some of the top restaurants in the city – if you were to eat a full three course meal here (something I doubt many do) with a bottle of wine, the cost for two people would likely to somewhere around 600 pesos, possibly 700. The ostensible styling is French cooking, and there's certainly an influence. The
sandwich árabe
has succulent, tender, braised lamb shoulder – well seasoned, and topped with shredded carrots (that I'd have preferred had they been a little less cooked – they were pretty much the same texture as the lamb), and a cumin spiked mayo – all served up on a pita that almost resembles an English muffin (which is a good thing). It comes with a few leaves of lettuce dressed in a sweet, creamy mustard dressing, and a small cup of
pommes frites
, as long as we're going the French route. No question it was delicious – the lamb itself the best of the three lamb sandwiches I've tried, though lacking that zip and zing of the tangy sauce the other two had. Great bread (and a selection of breads brought to my spot too, which were uniformly excellent – and served with chive sour cream and herbed cherry tomatoes), and a decent iced tea – a little weak, but not bad. The question is the value – particularly as the portion was fairly small – the amount of meat probably equivalent to a typical fast food burger. If 93 pesos for a sandwich (and tack on an automatic 15 peso per person cubierto charge – highway robbery at this point, especially for those who just stop in for a coffee, as happened to two people sitting across from me, making their two espressos cost them a whopping 60 pesos), and 26 pesos for an iced tea that doesn't top 6 oz – I know because they use the same glasses we use for water, which are 7 ounces if filled to the brim – it's the priciest sandwich I've encountered in the city. Worth it? Not to me, even if it is a great sandwich.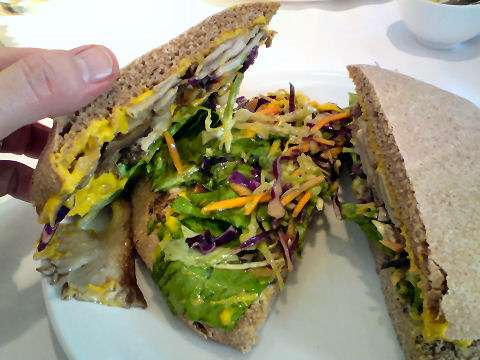 At the opposite end of the sandwich spectrum, the
lomito vegano
– or "vegan sandwich steak" – from
Kensho
, El Salvador 5783 in Palermo had to be a contender in the world of vegie sandwiches, no? Unfortunately, no. Expecting some sort of smoky, grilled oyster mushroom preparation, instead there were a few wimpy oyster mushrooms that were marinated in some sort of vinaigrette (maybe with a touch of liquid smoke) served with a few leaves of lettuce and some wisps of carrot and cabbage. The best thing about the sandwich were the two sauces slathered on the bread, which was unfortunately thick, dense and dried out – not nearly as good as the oyster mushroom wrap I'd reported on before. What a shame for a place where the food has been so good on past visits (Chef Máximo wasn't in house on this visit), but this time, the sandwich, the much liked quinua salad from the linked review, were both mediocre, and the pizzeta, while tasty, wasn't near what it used to be. Then again, things like the restaurant's blog on their website haven't been updated since January of 2011 with "news" or a class schedule, and the space is showing signs of needing some serious repair work, with peeling paint and plaster falling on the floor. Someone needs to put some attention into the details, soon.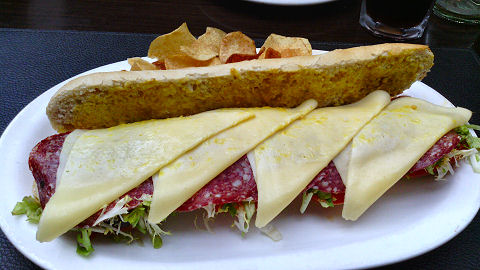 I'm disappointed and happy at the same time. Here's the thing – it suddenly occurred to me that it's been years since I dropped in at Big Mamma, and, in fact, I never reviewed this particular branch at Juramento 2156 in Belgrano. When I first moved here it was co-owned by casual friend Jorge Schussheim, a noted Argentine musician and singer. I popped in a few times to the
Las Cañitas branch
, which became Mama Europa (more on that in a moment), and then disappeared. I know I've eaten at the Juramento one a couple of times, but it's been years – and there was a reason. Not because it wasn't good, at one time it was. But you see, here I wandered in, continuing the sandwich hunt, to find a location that's so rundown it's barely recognizable. Everything's falling apart, it's absolutely filthy, I barely wanted to sit on a chair or banquette, and had to search around for a spot that I was willing to. Why I didn't leave right then is part of the happy thing… I'm getting there. So here in this filthy spot owned by a friend. Surly waitstaff. Almost no customers at lunch hour. Focaccia bread brought to the table so undercooked it was still raw dough in the center. Hummus that was grainy and tasted intensely of lemon and peanut butter, served up with stale slices of white bread. And an "American Hero" sandwich of Milanese style salami (barely), the cheapest supermarket single slices of cheese, wilted, browning lettuce, mushy tomatoes, a few shreds of roasted pepper, and sweet yellow mustard – all on a stale baguette – and served with a handful of cheap supermarket potato chips. Really a complete failure of a sandwich, and coming in at 39 pesos. And all I'm thinking is that I can't possibly write up a friend's restaurant for being so bad. And then I saw him online on Facebook and mentioned that I was there – turns out he hasn't been an owner in Big Mamma since the end of 2005, shortly after I got here, which is what prompted the change in the other branch's name – and, interestingly, I note that in my review of the place back in 2008 – but somehow it had gone out of my mind. Relief. I can trash this sandwich, and the place, without compunction. Fail.
Hopefully, on to better sandwiches in round 5 – actually, three of the sandwiches in this round were great, two of them enough to topple the reigning champions, and the third, close.