This week's Italian regional lunch class focused on the little known state of Le Marche, or "The Marches". Located on the east coast of Italy, basically in the center, Marches literally means "marches", which is an outdated way of referring to borders or frontiers, and this region was demarcated by three of those – Ancona, Camerino and Fermo. To the north of the region is the neighboring region of Emilia-Romagna and the principality of San Marino; Tuscany and Umbria are to the west, Abruzzo and Lazio to the south, and the Adriatic Sea on the east coast.
In some ways, Marche is the anti-Tuscany – located as a mirror image on the opposite coast, and as unknown as Tuscany is known. It is, as some would say, central Italy the way it was before hordes of foreigners started to invade the area, buying homes and farmsteads and getting themselves a piece of that Under the Tuscan Sun lifestyle.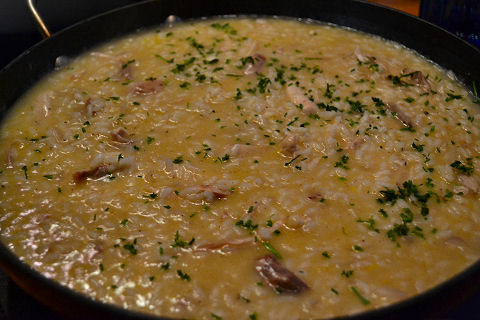 We started off with a Risotto alla Marchigiana – though the risotto technique is not particularly different from that in neighboring regions to the north, the spicing is peculiar to Le Marche, with lemon zest and cinnamon being the key flavorings, and a finish that pairs two cheeses from different regions on opposing sides of this area, Pecorino Romano from Lazio and Parmigiano-Reggiano from Emilia-Romagna.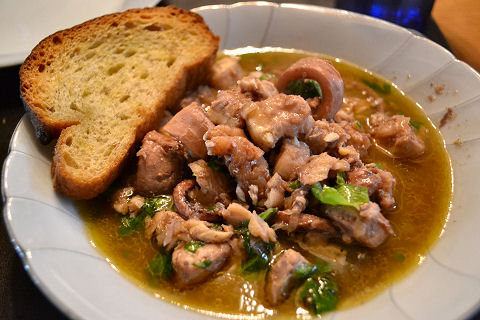 Our main course was a seafood stew – Brodetto di Porto Recanati, a classic from the somewhat touristy eponymous town on the coast. Traditionally, this fisherman's stew changes from day to day, based on the freshest catch right off the boat. Our version contained prawns, squid, codling, dogfish and sole. The stew is flavored with good olive oil, wine and saffron.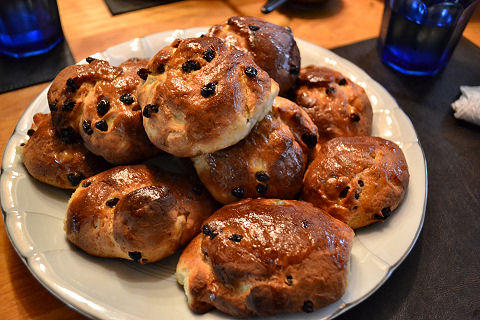 And, we ended class with a yeast dough sweet bread called Maritozzi, studded with raisins and candied citrus peel. We missed having you in class!
Next week we head west to finish off Northern Italy with a visit to Tuscany and some delicious La Ribollita, Totani al Prezzemolo, Pollo in Salsa Piccante, Ciambelline Rustiche – you'll have to attend to learn how to make these wonderful dishes, or simply wait until next week to drool over the pictures.