One of the things you might have noticed is that I've been playing more and more with varied textures in our Casa S meals. More and more you'll see plates that focus on a single ingredient presented in multiple forms. I realize it's either all the rage in chef circles, or maybe a little past-rage, but I'm having fun with it. As part of that, if you don't regularly check in our restaurant website, you might not have noticed that we're going to be offering, at least as a trial, a series of once or twice a month midweek dinners at a much reduced price. Guinea pig nights so to speak (though we're calling them R&D nights) – few if any details will be given upfront, no substitutions or special requests will be entertained, they will likely be based around various presentations of one or two ingredients – dishes that I'm experimenting with. And, I, and sometimes Henry, will be joining the table – much more casual in format, we won't be doing the whole waiter service thing, plates may show up family style or individually, and for the 100 peso cost we'll be just including whatever dishes I decide on for the night (which may vary in number as well) and bottled water – the rest is BYO. And, I'll be asking for on the spot feedback.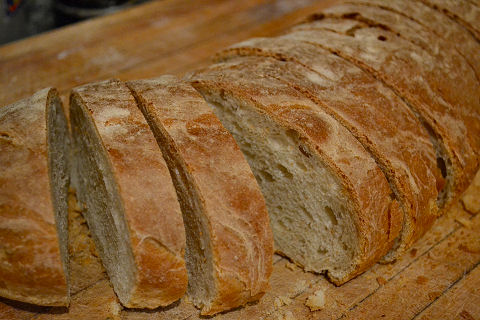 Some new breads as well are making appearances (and look for my recipe for ciabatta bread coming up in next weekend's BA Herald column) – here a nice rustic Italian white bread.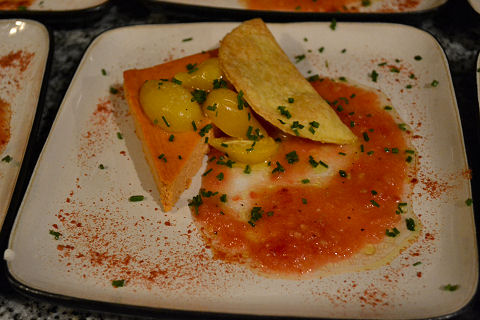 So here's a take on "textures of tomato". A smoked sun-dried tomato and ricotta cheesecake, sans crust. Served over a grated plum tomato salsa with olive oil, salt and pepper. Roasted yellow cherry tomatoes. Tomato powder made from a mix of beefsteak tomatoes and tomato paste. Chives. Curried polenta crisp. Textural fun and successful.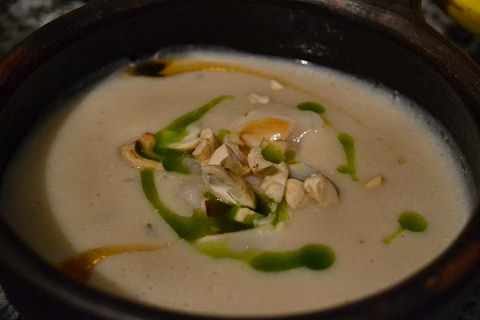 A cauliflower soup with litchis and cashews – I've done the same one in a chilled version before, here served hot. Hmmm… I think it works better chilled, though it was still tasty.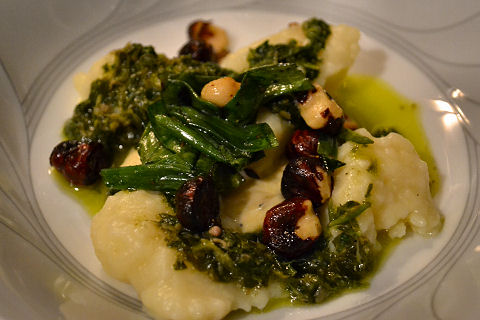 What happened? That's what I want to know. I tested out the gnocchi when I formed them early on, but when I went to cook them off for the dinner they were all really wet and just sort of fell apart and blew up in strange shapes. Something was going on in the refrigerator, because the dessert was covered with moisture as well – as a guess I stuck something in there that I thought was cooled off enough, but it wasn't, and it steamed up the insides. At least the flavors in this dish worked and I'll be doing it again, hopefully with more textural success. Potato gnocchi, a mint and parsley salsa verde, mayo infused with "shrimp bacon" (more about that one of these days), green onions and hazelnuts sauteed in bergamot infused olive oil, grating of manchego cheese.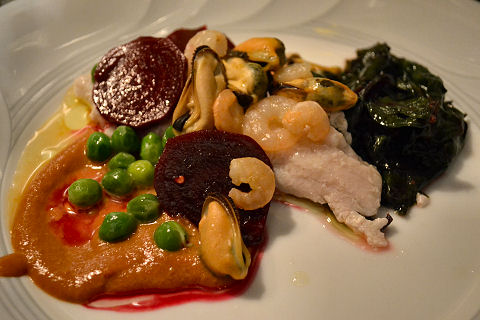 A riot of color, no? A modification of a recent shellfish dish. Prawn infused hollandaise. Spiced olive oil poached codling. Sauteed beet greens. Szechuan pickled beets. Saute of shrimp and mussels. Fresh peas. Meant to put some cilantro scattered around the plate, but looking at it now, I missed that. Needs something crispy I think.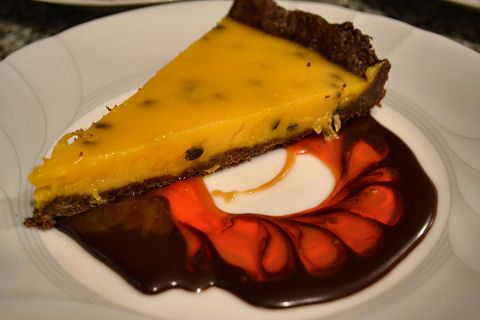 Passionfruit curd. Cocoa crust. Three sauces – dark chocolate, rum caramel, passionfruit-cherry. The latter a take on the syrup that Hernán Gipponi used in a dessert that I really liked on my first visit to HG restaurant that involved dissolving tic-tacs in syrup – I don't know if they're available everywhere, but here there's a mixed pack of the little candies in cherry and passionfruit flavors – they dissolve very nicely in hot sugar syrup to make a very vividly colored and intensely flavored condiment.
All in all, other than the texture of the gnocchi, a successful dinner. A shame we only filled up one night this last weekend.